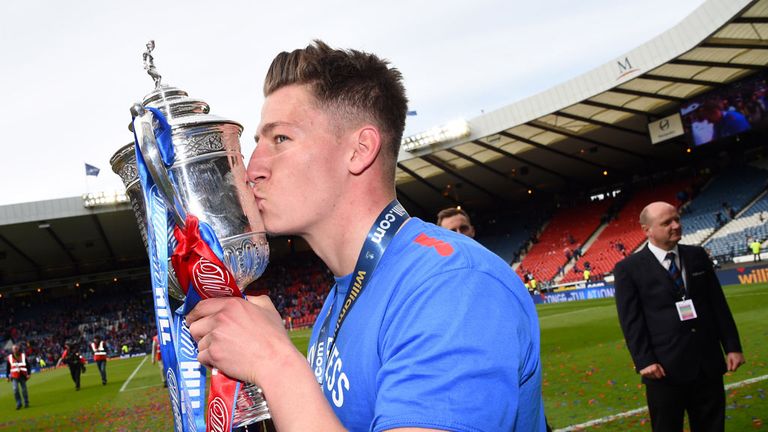 Josh Meekings hopes Inverness Caledonian Thistle's Scottish Cup success persuades more players to join them in the future.
John Hughes' side enjoyed their first major trophy victory with a dramatic 2-1 win against Championship side Falkirk at Hampden Park on Saturday.
That came just 21 years after the club was formed when Highland League teams Inverness Caledonian and Inverness Thistle merged to create a new body which joined the senior ranks.
Steady progress has been made since then but Inverness have often been hindered by their remote location in comparison with many other Scottish sides.
The Highland capital is an arduous three-hour drive from Glasgow and Edinburgh along the much-criticised A9, a largely single carriageway road which campaigners are seeking to have upgraded.
Having such a difficult journey to and from Inverness for games has often put prospective signings off committing to the club.
Meekings is optimistic, though, that the way they have gradually risen to prominence will convince transfer targets to give the north of the country a chance.
The defender said: "I hope this is the kind of thing that will persuade more players to give Inverness a try. This season has just been absolutely fantastic.
"Obviously we are out the way a bit and up the road. No-one really likes making that journey up the A9 but when you are up there it's fine.
"In fact, it's absolutely fantastic. I always say it makes the dressing room even better and you go into training enjoying it all.
"It's a brilliant place to be around because you spend a lot more time with the lads as there is not much stuff to do so it makes for a really tight bunch."
As it is, only three local players – Ryan Christie, Nick Ross and Liam Polworth – are regulars in the Inverness side at present.
Yet the fact they have been able to recruit further afield is only the result of much hard work scouting England's lower leagues
Former Ipswich Town trainee Meekings, 22, is one such player who was discovered by the Scottish side that way.
He relished his team's victory at Hampden, particularly after he was cleared to play following his controversial goal-line handball in the semi-final win against Celtic.
Meekings was retrospectively charged by the Scottish Football Association after the incident was missed by referee Steven McLean but was then cleared by a disciplinary panel.
He added: "That is what football is all about. You get the ups and downs but you just have to take those lows on the chin.
"It was obviously a difficult few days when I didn't know if I was playing or not but it makes this even more special to have come through it all and ended up with a winner's medal. I'm just delighted.
"What we have done this season has been huge. If you had told me at the beginning of the season that we would end up in Europe and win a cup, I'd have bitten your arm off for it.
"It could take a few weeks for it to sink in what we have achieved. The boys had to dig deep to get us through. We never seem to do it easily when we are in these situations but we got it done and won."
Graeme Shinnie, meanwhile, was delighted to end his Inverness career with his career highlight before he joins Aberdeen this summer.
The defender captained the side and played a part in Marley Watkins' opening goal before hoisting the trophy aloft after the full-time whistle.
Shinnie told Sky Sports News HQ: "It's the best way to go out. Securing third place in the league was the main thing for the club but taking the cup home was the cherry on the top.
"The club can go even higher now. It will always be hard to emulate a season like this because the achievement is so high but the experience of European football next season for the boys is massive."
Inverness boss John Hughes added: "It's fantastic for the city and for the supporters and when you see all the kids with Inverness tops on, so hopefully that's an inspiration for these guys in the future.
"The last 24 hours have been a mixture of emotions, a little bit overwhelming but I'm sure in the next few days it will all sink in.
"I'll enjoy this - it might never happen again so I will take every minute in and I'll tell that to the players.
"The players have been magnificent and the way we play football deserves success."