​Arsene Wenger admitted he told Liverpool manager Jurgen Klopp to "calm down" in the thrilling 3-3 draw at Anfield.
Arsenal led 3-2 heading into injury time, but Joe Allen struck a dramatic late equaliser for Liverpool, although the result keeps the Gunners top of the Premier League.
In a pulsating Anfield affair that produced four goals in the opening 25 minutes on Wednesday night, Liverpool led twice through two Roberto Firmino goals but were pegged back by Aaron Ramsey and Olivier Giroud.


Arsenal's French striker looked to have sealed the points when netting his second on 55 minutes but Allen, who had only been on the pitch for eight minutes, struck as the clock ticked into injury time.
Both Wenger and Klopp were involved in various conversations in their technical areas during the first-half.
The pair have previously spoken very highly of each other in their press conferences and Wenger revealed he was trying to help his opposite number out by warning him about the danger of being sent to the stands at Anfield due to the tight nature of the technical areas. 
"I told him 'calm down because they will send you into the stands here'", said Wenger with a grin.
"At Liverpool, it is very tight - you are very close to each other.
"He had a little problem with the fourth official that he will explain much better than I can because I don't know why.
"It was alright, there was no bad feelings at all."
With Manchester City being held to a goalless draw at home to Everton, Arsenal missed the chance to open up a five-point gap over their third-placed rivals as Leicester's win at Tottenham ensured they stayed level with the leaders.
"I am frustrated by the result and not disappointed by the performance," said Wenger, who confirmed they have finally concluded the transfer of Basle midfielder Mohamed Elneny and he could be in contention to face Stoke at the weekend.
"We started a bit apprehensive in the first 20 minutes, a bit on the back foot and went 1-0 down, came back convincingly, went 2-1 down, showed character again, made it 2-2 and then 3-2.
"The frustration comes from the fact that at 3-2 we had three situations where we should have made it 4-2 and made bad decisions.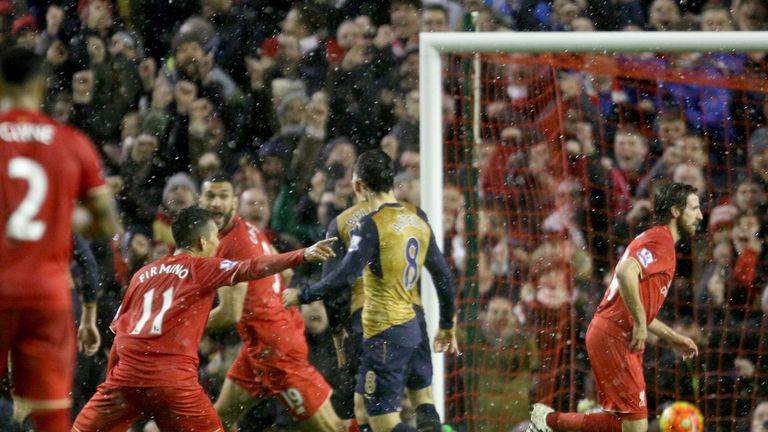 "The frustration then comes from conceding a goal in the last minute. We have shown again great character to come back with a point.
"We have to transform the frustration in the dressing room into even more motivation. There are a lot of positives. What happened in this game should strengthen our belief."