Bayern Munich and Germany defender Jerome Boateng has said he is saddened by comments made about him by a right-wing politician.
Alexander Gauland, the deputy leader of anti-immigration party Alternative for Germany, was quoted as telling a German newspaper: "People find him good as a footballer, but they don't want to have a Boateng as a neighbour."
Speaking about the comment after Germany's 3-1 friendly defeat to Slovakia in Augsburg on Sunday, Boateng said: "I can only smile about it. In all honesty, it's sad like something like that is said these days.
"I am happy to be a German, I'm proud or I wouldn't be here in the team. I believe I am well integrated and there is nothing more I need to say. I think enough people have said something about it."
Fans made their feelings clear about the remarks at the match, displaying banners around the stadium, which read: 'Jerome, move in next to us' or 'Jerome, be our neighbour'.
Boateng said, in reference to the banners: "I think there were enough positive answers in the stadium. I saw a few placards."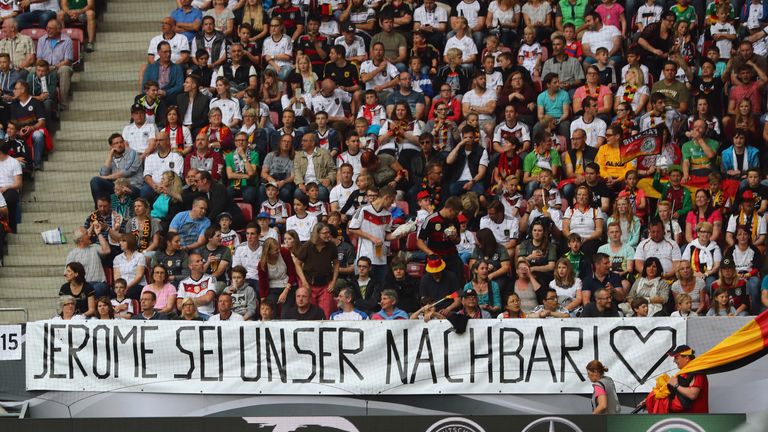 Reinhard Grindel, president of the German Football Association, condemned Gauland's comments as "simply tasteless," while the German team released a video under the motto 'We are Diverse' showing the players' faces in unison.
Team manager Oliver Bierhoff added: "We are a very diverse team. Such unqualified statements are therefore dismissed as what they are.
"It doesn't bother Jerome, but it's not pretty, because he is drawn into a discussion he doesn't want to join."
The 27-year-old defender, who was born in Berlin to a German mother and a Ghanaian father, has been capped 58 times for Germany since making his debut in 2009.
He is expected to make the final 23 and line up for the German international team at this year's Euros.