Cristiano Ronaldo says he wants to play on beyond the age of 40 but what would he look like then? No, we're not talking age-recognition technology but his evolution as a player. Adam Bate examines the numbers to reveal the speed of decline and assess his chances...
"I'm at the best club in the world and I want to retire here," said Cristiano Ronaldo upon agreeing a new five-year contract with Real Madrid. Nothing particularly unusual about those platitudes, but the final two words of the sentence were intriguing. "At 41," he added.
That would be unusual. Sir Stanley Matthews, the first man awarded the Ballon d'Or, played at 50, but none of the seven retired winners since the turn of the century were active in Europe after the age of 36. Even Ronaldo's old team-mate Ryan Giggs didn't make it to 41.


However, Ronaldo is a different case. If he doesn't wish to bow out close to the peak of his powers (like 2003 winner Pavel Nedved) and he can maintain the appetite to continue in the face of diminishing returns (unlike 2001 winner Michael Owen), then the opportunity is there to go on.
Neither Ronaldo's Brazilian namesake nor his compatriot Ronaldinho possessed the Portuguese star's extraordinary commitment to physical preparation. Dedication is a huge part of staying at the top and Ronaldo's focus is perhaps unparalleled within the game.
But time cannot be resisted indefinitely. Decline is inevitable and Ronaldo will not be immune. In fact, the evidence is already there. The transformation in his game is apparent and it's born of necessity not choice. The marauding figure of old is now long gone.
Ronaldo recently reminisced about the appearance for Sporting that helped launch his career with Manchester United, but the dribbles that induced such dizziness in his markers are a thing of the past. The numbers reveal that much.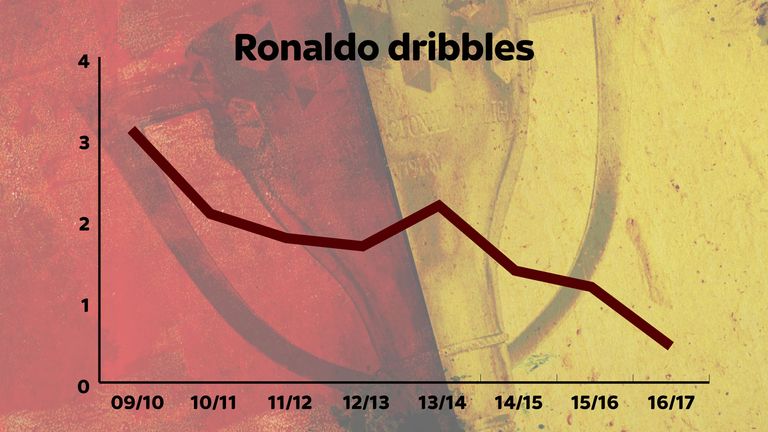 In Ronaldo's first season at Madrid, he was completing 3.3 dribbles per 90 minutes. By last season, that number had more than halved. But the real change has been evident since the summer with a further dip. He's now only completing one dribble every 135 minutes.
That's common for wingers as they adapt their game, but it's not only the dribbling that's changed. Ronaldo no longer takes over football matches in quite the same way. He's getting fewer touches and passing the ball less often too.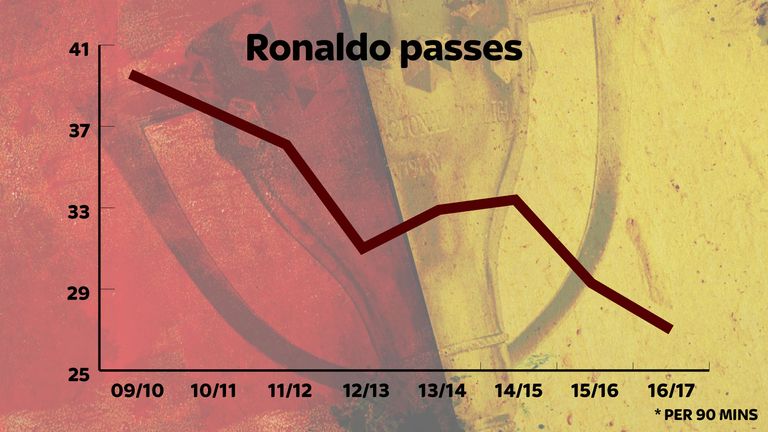 In his first year in Spain, he averaged more than 40 passes per 90 minutes. He's not done so since. In fact, his pass numbers have declined year on year to the current low of 28 so far this season. That too is a consequence of him gravitating towards the opposition goal.
The emphasis is now firmly on scoring goals and it's a formidable record. Ronaldo has found the net 265 times in 244 La Liga appearances for Real Madrid. In all competitions, he's passed the 50-goal mark in each of the past six seasons.
Even as his game has changed, he's found ways to keep on scoring. And that's happened despite the downward trend in his shot numbers. Ronaldo averaged more than seven shots per 90 minutes in each of his first four seasons, but below seven in each of the last three.
That's surprising given Ronaldo is now a killing-stroke specialist, but it follows a trend identified by analytics experts. "For reasons unknown, players from the age of 27 onwards just cannot generate shots at the same rate they once did," wrote StatsBomb's Ben Pugsley.
At 31, Ronaldo is due another dip with some analytics work suggesting the number of shots could soon fall off a cliff. Even so, as well as his change in position there is another reason to expect Ronaldo to continue scoring - he has considerable leeway in this department.
Such were his astonishing numbers during his peak, Ronaldo still had far more shots last season than any other player in La Liga. For example, he had over twice as many shots as Athletic Bilbao's Aritz Aduriz and that didn't stop the Basque striker scoring 20 goals.
Aduriz, of course, is 35-years-old himself and could provide an instructive example in more ways than one. A powerful header of the ball, the Spain international has enjoyed the best goalscoring form of his career thanks to his work inside the six-yard box.
Delve a little deeper into Ronaldo's shot volume and there's a noticeable trend in terms of the types of opportunities that he's been having. While the overall numbers are down, that's largely due to him cutting down on the speculative efforts from long distance.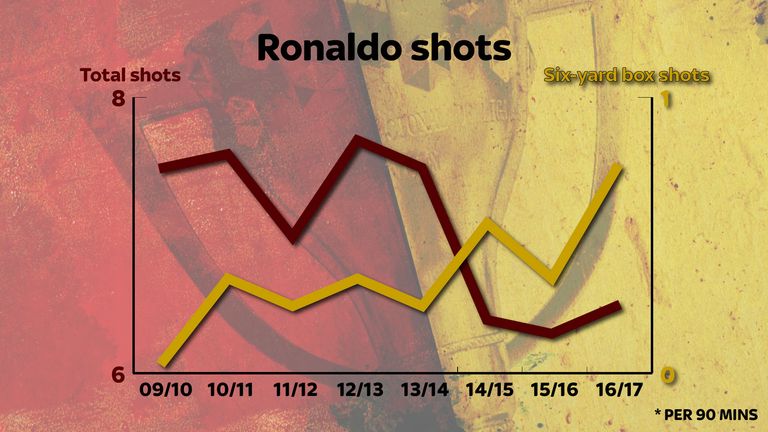 From a high of 4.2 shots from outside the box per game in his first year in Madrid, those numbers are now down below three. Meanwhile, the number of shots from inside the six-yard box are higher than ever this year. Ronaldo has morphed into a penalty-box predator.
He has the physique to play the target-man role and the technique to take the chances. The free-flowing athlete that was Ronaldo in his prime turned himself into the world's best player. A man whose movement is restricted could still become the world's best poacher.


Zlatan Ibrahimovic has endured some criticism at Manchester United but he's among the top scorers in the Premier League and the statistics show that he's had more shots than anyone else. The only man in England to have had more clear-cut chances is Jermain Defoe and he's 34. It is still possible for veterans to get into the right positions.
And if they can do it then why not Ronaldo? Some will question the decision to play through the decline, but he's well used to ignoring such criticism. And besides, even the next version of Ronaldo can be effective. There could be many more goals yet to come.
Upgrade to Sky Sports now to watch Man Utd v Arsenal this Saturday and get the first six months half price!