Barcelona defender Gerard Pique admits it is "worrying" that his side have only won half of their home games in La Liga so far.
The reigning champions were held to a frustrating goalless draw by Malaga at the Nou Camp on Saturday afternoon, the third time in six matches they have dropped home points.
A 1-1 draw with Atletico Madrid can be excused, but this result, coupled with the shock 2-1 defeat to Alaves, will be difficult to stomach for Luis Enrique's men.
Pique, who had a goal wrongly ruled out for offside and deserved a penalty when he was hauled down in the area by Mikel Villanueva, conceded there was concern in the home dressing room.
He told Sport.es: "It's worrying that we have lost so many points at home. No one wanted a draw in a game which realistically we had to win."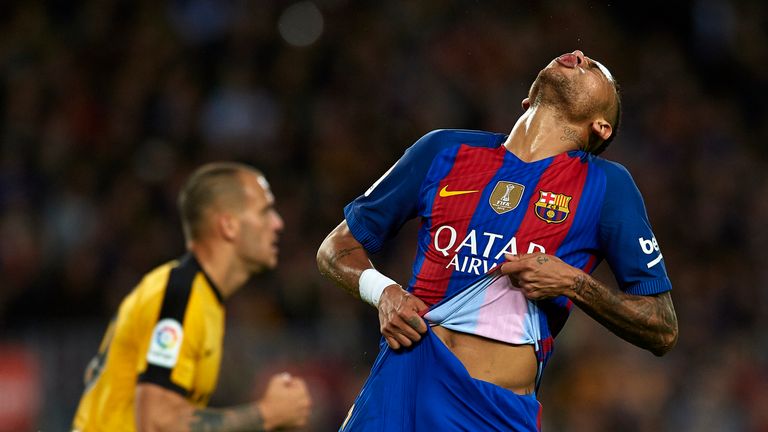 Barca were without Lionel Messi - at home with a vomiting bug - and the suspended Luis Suarez, but Pique said: "We are Barcelona and we cannot make excuses. We have players who are worth a lot of money and a budget which is outrageous compared to Malaga."
The pressure on Malaga increased after Diego Llorente's 69th-minute dismissal.
In those final 20 minutes, Pique had a goal disallowed when referee Ricardo de Burgos and his assistants thought they spotted an offside, and the Spain defender was then justifiably upset when De Burgos rejected his penalty claim for a clear foul by Villanueva.
Barca thought they had won it when Neymar's header appeared goalbound in the 94th minute, but Carlos Kameni, who had produced a series of saves throughout the game, pulled off one more to claw it away at the near post.
"With numerical superiority it has been easier to get on the attack, but it has not been so because Kameni has been very good, and we have also been denied a goal (for offside)," Pique added.
Kameni said of his save: "For me until the ball reaches the net it's not a goal. I had to go right to the end to stop them scoring. I tried to cover my near post and I did it well."
Next up for Barcelona is a trip to Glasgow to face Celtic in the Champions League, and then on to San Sebastian to take on Real Sociedad before El Clasico against Real Madrid on December 3.
Pique struck a pessimistic note by adding: "Anoeta (Real Sociedad's ground) hasn't been a good one for us in the past either."