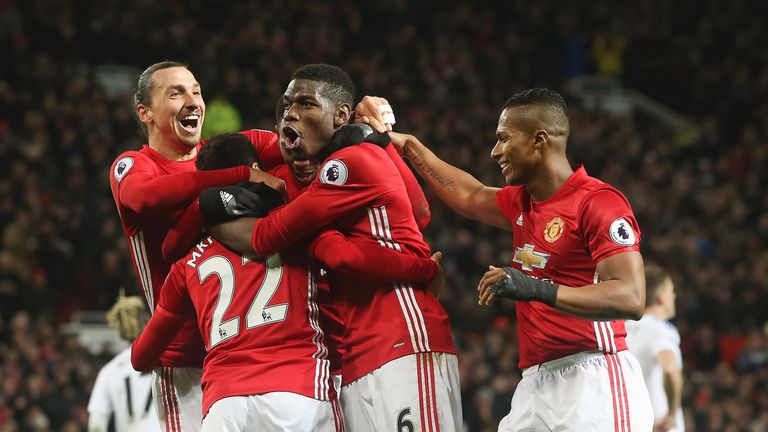 Find out who impressed in the Premier League on Boxing Day, as Chelsea kept up their winning run and Manchester United continued their revival against Sunderland.
We asked former Arsenal midfielder Ray Parlour to give each side a grade, based purely on their post-Christmas performance. 
So, how did your team fare? Do they get a stunning A, a woeful F, or perhaps something in between? Read on to find out...
Manchester United - A
United are making Old Trafford a little bit more of a fortress. People were enjoying going there, but now it's another three points for the home side. Paul Pogba produced a much better performance than he was giving at the start of the season and Michael Carrick is a massive plus point for them in midfield. I'll give them an A because of Henrikh Mkhitaryan's goal as well! What a finish.
West Ham - A
It just shows what Christmas can do for you. It was looking a little bit worrying but suddenly they're looking much healthier, and in a better position in the league. It's difficult to score four goals anywhere - even if you're playing at home - so to score them away in the Premier League is really special.
Chelsea - A
Without N'Golo Kante and Diego Costa, to score three goals, they deserved this. Pedro is coming really good now. He's carved out a position for himself. Eden Hazard was playing up front, but they're so defensively strong. That could win them the league this year, and this was another clean sheet.
Manchester City - B
Kelechi Iheanacho's goal was a very important one, once you go 2-0 up, with the quality of the players they have, it was always going to be difficult for Hull to get back into the game. But Man City did exactly what they had to do and put their chances away. They're still in the title hunt.
Everton - B
They would have been gutted from the Merseyside derby but this was a good away performance. Ronald Koeman will be delighted with the clean sheet and Romelu Lukaku showing why he is getting a new contract. Things are looking up for them.
Burnley - B
This was a key game against Middlesbrough as both teams could be in a relegation scrap. It was a great performance and a clean sheet - which is so important for them. There was a little bit of fortune with the goal but they'll take that.
Arsenal - C
I was at the game against West Brom and Arsenal did make hard work of it in that first half. We knew West Brom would go there and defend well like they did at Chelsea. It took another Olivier Giroud header and a Mesut Ozil assist though in a game they would have expected to win.
Crystal Palace - C
They got the goal to get them in front but away from home you are always looking for a point. Sam Allardyce will look at the home form as to whether he can get points. But away from home this was a decent result.
Watford - D
Allardyce's first game at Crystal Palace was always going to be a tricky game for Watford, but at home Watford fans would have thought they maybe could have got a result there. They're 10th in the league but showed their inconsistency.
West Brom - D
They're hard to break down and have got an experienced back four. Looking at their performance, they went there for a point though and didn't get it.
Middlesbrough - D
It was very unlike them. Victor Valdes made a mistake for Burnley's goal. They nearly got what they went for, which would have been a good point away from home.
Bournemouth - D
This was a bonus game for them, so they didn't really target this game to get a result. They went to Stamford Bridge and didn't get anything out the game, but not a lot of teams do.
Sunderland - D
It was another bonus game for David Moyes' side. They'll be disappointed coming back from Old Trafford, Moyes' first game back there, but they've got to worry about teams around them. They wouldn't have expected a lot but didn't put up much of a fight.
Hull - D
They competed in the first half. It was poor decision from Andrew Robertson to give that penalty away and that really set Manchester City on their way. But Hull gave everything and showed a lot of effort.
Leicester - E
It's baffling to see how their performances in the Premier League are so poor given their Champions League form. Riyad Mahrez was left out yesterday and is not trying hard enough in training. It's a worrying sign for me having just signed a new contract. This performance was a real worry for them going forward.
Swansea - F
Some of the goals they conceded were awful. It wasn't a good performance and Bob Bradley must be under pressure. To concede four goals at home I have to give them the worst possible mark. They need defenders in the transfer window.