Gary Neville and Jamie Carragher look back on Manchester United v Liverpool clash
Last Updated: 11/01/17 1:15pm
Gary Neville and Jamie Carragher sat down to share their memories from the moment they squared up at Old Trafford.
Liverpool travel to Manchester United on Nissan Super Sunday, and Carragher and Neville will be at the ground to analyse the game for Sky Sports.
The duo famously clashed in March 2010, when Liverpool - led by Carragher - protested referee Howard Webb's decision to award United a penalty for Javier Mascherano's challenge on Antonio Valencia.
Wayne Rooney saw his spot-kick saved but scored from the rebound, cancelling out Fernando Torres' early header, before Ji-Sung Park grabbed United's winner in a 2-1 victory.
Carragher and Neville had shared a pitch many times before that day, but ahead of Merseyside v Manchester, the pair met up to recall their memories from a particularly fiery confrontation...
Man Utd 2-1 Liverpool, March 2010 - Carragher and Neville square off after a Javier Mascherano tackle
NEVILLE: Mascherano had pulled down or tripped someone, I can't remember who he tripped, maybe Ronaldo [Editor's note: Mascherano tripped Valencia, with referee Webb awarding a penalty to United. Rooney scored from the rebound after Pepe Reina saved his spot-kick].
CARRA: He hadn't been sent off yet and you were in the middle trying to get him sent off.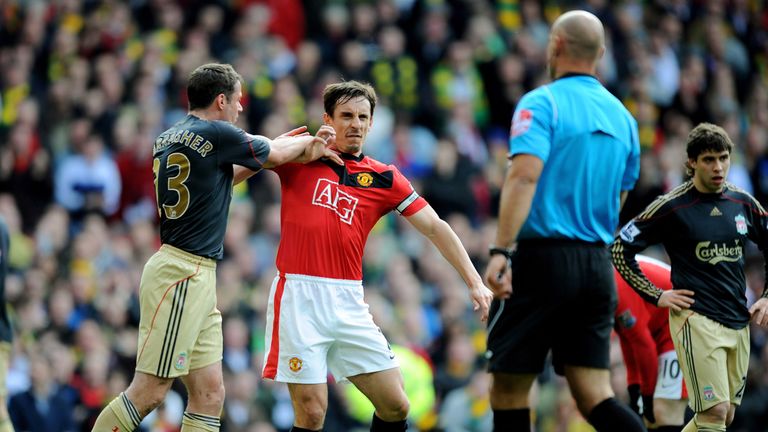 NEVILLE: I went straight to the referee because one of the big things in these games is if you can get someone sent off, you do it straight away. He [Carragher] knew what I was doing and he would've done the same, by the way. In those days, you would go to the referee, talk to him and say 'are you going to make a decision?'
CARRA: I was trying to stop him getting to the referee because I knew what was coming.
NEVILLE: Part of the big games is influencing the referee. You had to. Arsenal did it, Liverpool did it, we did it. Other clubs like Chelsea did it and I genuinely believe you could influence them. Not in a way that makes them a cheat or dishonest, no, but just that the pressure of being in Anfield or Old Trafford with that weight, it's not easy. It can't be easy to cope for one man to think they don't know who is telling them the truth. He's saying one thing, I'm saying exactly the opposite, the fans are saying something different, the managers are all up there and he's got to keep cold and make a decision and you're trying to influence that. It wasn't a massive part of the game, but it was part of the game that was there and this incident was over influencing the referee.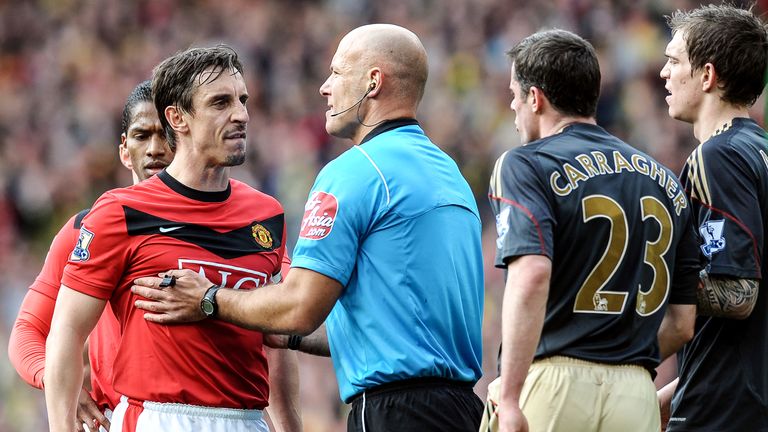 CARRA: My first reaction was to push Mascherano because he pulled someone's shirt back, and they came at an angle and there was no need to pull the shirt. He didn't have to do what he did.
NEVILLE: It wasn't a red but it was a red. When Mascherano played for Liverpool, would you think he would've gone on to do what he did for Barcelona?
CARRA: No I wouldn't. I always thought he was a top player, but not a Barcelona type of player. To be honest, when he went there, he wasn't quick enough with the ball to move it so I think they've actually reinvented him at centre-back.
NEVILLE: That was a pretty regular happening in Liverpool v United games, players moving each other away from the referee.
Everton host Manchester City in the opening game of Merseyside v Manchester before Liverpool travel to Old Trafford to play Manchester United at 4pm.