Danny Higginbotham
Football Expert & Columnist
Newcastle v Aston Villa: Danny Higginbotham's tactical preview
Last Updated: 20/02/17 10:01pm
Newcastle are aiming to return to the top of the Sky Bet Championship when they face struggling Aston Villa live on Sky Sports on Monday night.
Rafael Benitez's side slipped to second place after Brighton's 2-0 win at Barnsley on Saturday, but they are strong favourites to return to the summit against Villa, who have not won in eight Championship games.
But what are the tactical talking points ahead of the St James' Park showdown? Sky Sports pundit Danny Higginbotham examines the areas where the game could be won and lost…
Villa's midfield issue
Earlier on in the season, the problem was that they couldn't score goals, but they didn't concede them. It's a little bit the other way around now. They are conceding more goals but still not scoring the goals needed to get the results.
The problem they are having in the midfield area is that there's no real defensive midfielder who is going to sit there and protect that back four. It's something that has been quite apparent with Aston Villa recently. They're trying to score more goals and get on the front foot, but they're leaving themselves a little bit exposed at the back.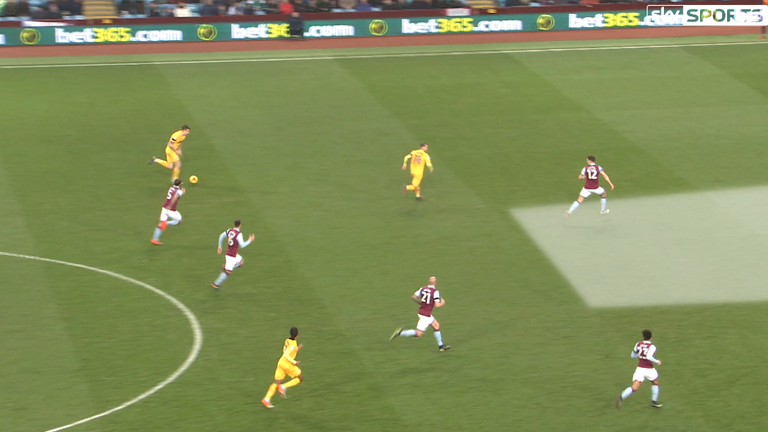 Henri Lansbury and Conor Hourihane are two of the best midfielders in the Championship, but the problem is that neither is defensively-minded. Aston Villa are starting to be open to the counter-attack. There are huge spaces, so one pass can turn defence into attack for the opposition.
James Chester and Nathan Baker are going into areas they shouldn't because they haven't got that out-and-out sitting midfielder. That's where I think the return of Mile Jedinak could be key for them.
Importance of Shelvey
For me, Jonjo Shelvey has been fantastic this season. He was missed while he was out during his suspension. He brings so much from the midfield area. You either have Isaac Hayden or Jack Colback as the sitting midfielder, and that gives Shelvey the licence to drive forward and show what he can do in the final third.
His decision making is absolutely spot on, and his long distance passing as well. He's quite prepared to drop deep and play the quarter-back role at times, but because he has the insurance of a Colback or Hayden behind him, he can also get in the right place at the right time to score goals.
He is a very important player for Newcastle. It will be interesting to see how Villa deal with him.
Yedlin's attacking threat
Another area to look at is the relationship between Newcastle's DeAndre Yedlin and Matt Ritchie. Yedlin plays almost as a right winger at times. He's the one that gives the width on that side, and he has been a standout player in recent games.
He is so quick, so he can get back with his recovery runs, but it's what he does with the ball as well. We see him controlling the whole of the right-hand side. He has been so key for Newcastle and he gives them such an attacking threat.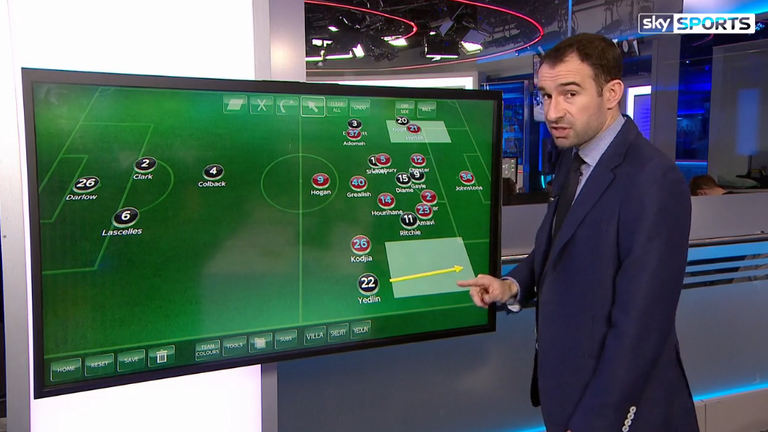 On Villa's left flank, it means Jonathan Kodjia could have have a big defensive job to do. Because if Yedlin is going down that side and Jordan Amavi has had to go inside with Matt Ritchie, then that area will be free. Yedlin will love that.
If Kodjia switches off and doesn't do his job, then Yedlin is going to have room to go into to get crosses into the box. Kodjia needs to be mindful and follow him down there. Then on the turnover and with the pace that he's got, he can get up quickly to support the likes of Scott Hogan.
Pressure off Villa?
From my point of view, I think it's a really interesting game. Everybody would expect Newcastle to win but the pressure is on them, so maybe Aston Villa will be able to play with a sense of freedom. They've got to defend strongly and when they counter, they've got to use the pace of their forwards.