Sutton reserve goalkeeper Wayne Shaw has agreed to resign from the National League club.
Shaw took the decision to resign after the Football Association and the Gambling Commission opened investigations into his pie-eating during Monday night's 2-0 FA Cup fifth round loss to Arsenal.
A British newspaper's betting company, which sponsored Sutton United for the game, offered 8/1 odds that Shaw would eat a meat pie during the match.
And, after Sutton had used all their substitutions and there was no chance he could be brought on, Shaw was shown on the BBC coverage eating a pie while he sat on the bench.
Sutton manager Paul Doswell told Sky Sports News HQ on Tuesday afternoon: "I woke up this morning and a mini-crisis had started.
"We realised the implications of what had happened, with regards to the FA and the Gambling Commission, and unfortunately Wayne has resigned from his position on the back of that.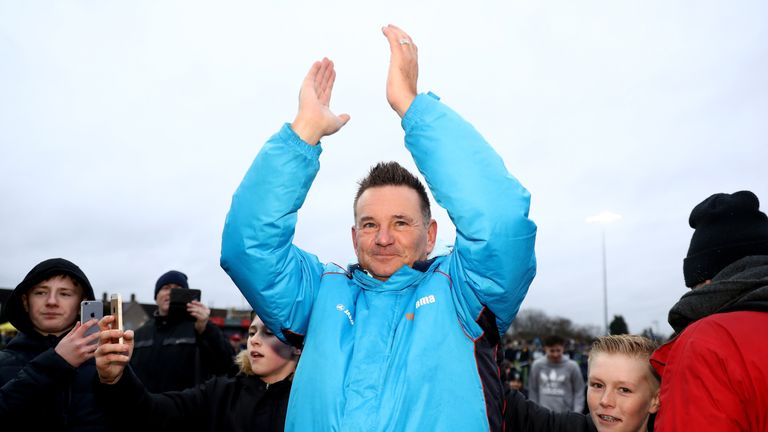 "As I understand it, he talked in terms of an 8/1 fun bet if he was to eat a pie. None of us were aware of that situation, because obviously we would have advised him very clearly not to have done it.
"For a club that holds such great values and ethics, and I think we have conducted ourselves superbly through this cup run, it is very unfortunate.
"He is a very good friend of mine but it is something which the board in particular found unacceptable.
"We know in football that you are not allowed to bet. The implication that I was involved or [coach] Ian Baird, or the chairman [Bruce Elliott], held a strong connection for us, and we felt we had to take very strong action because, as a club, we just don't accept that type of behaviour."
Asked about the exact circumstance regarding Shaw's resignation, Doswell added: "It was not anything to do with myself. This was taken at boardroom level via the chairman.
"As I understand it, Bruce spoke to him this afternoon and Wayne offered his resignation.
"He has left the club as of now, with a heavy heart from my perspective. I thought for three weeks it was great banter that he provided for people. Knowing Wayne as I do, he was swept along with that, but he has made an error of judgement.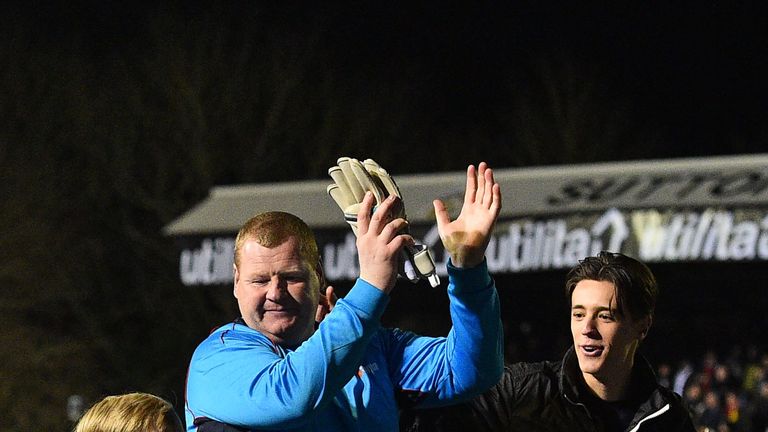 "I'm devastated and the chairman is devastated. I am not going to hide the fact that we are all very emotional about it. I have spoken to Wayne on the phone this afternoon and the guy is in tears, he was crying down the phone.
"Ian Baird and myself try to run the most professional non-league club we can be, and to then find out someone has been eating a pie behind us, it might be funny to some people but it shows me, Ian and the club in a bad light.
"And to find out it was done with regard to some 8/1 bet, just exacerbates the problem. The chairman was very clear this morning how he felt and I back the chairman 100 per cent.
"It is one of the saddest stories in football today, because Wayne is a great character and also president of our community and our disabled teams and the girls' teams.
"We are all being looked at as to whether we had a bet and it is a depressing day for me."
Asked whether any members of the squad had placed a bet, Doswell added: "I can clarify that for you now.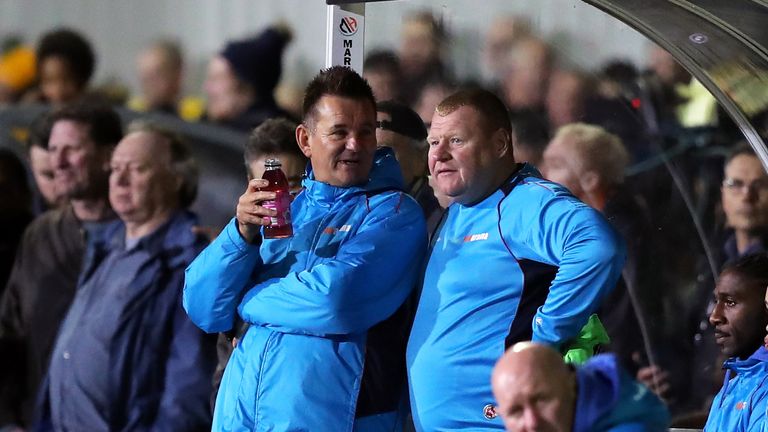 "None of the players were aware of this scenario. There was talk at half-time, I have heard since, but you would have to not be on a football pitch to make that bet.
"If any of our players or any of our staff have bet on that, they will also suffer the same consequence.
"I hope and pray that none of the players were involved. I am absolutely convinced they would not have been, but then I would not have thought Wayne would have done that either.
"I can't hand on heart say that I know, I can only say that I hope I know."
The FA has announced that it will launch an inquiry to determine whether Shaw breached its gambling regulations.
"We are investigating to establish whether there has been any breach of The FA rules relating to betting," an FA spokesperson said.
And there could also be fall-out for the bookmakers, with the Gambling Commission confirming that it will hold an investigation into the incident to decide whether the betting company had breached its licence requirement by offering such a bet in the first instance.
"Integrity in sport is not a joke and we have opened an investigation to establish exactly what happened," Richard Watson, the commission's enforcement and intelligence director, said in a statement.
"As part of that we'll be looking into any irregularity in the betting market and establishing whether the operator has met its licence requirement to conduct its business with integrity."