Antonio Conte will not bow to Jose Mourinho, claim Premier League Daily panel
By James Dale
Last Updated: 14/03/17 6:40pm
Antonio Conte's touchline behaviour was to prove he will not be influenced by "tough guy" Jose Mourinho, says the Premier League Daily panel.
The pair clashed for the second time this season in Chelsea's 1-0 FA Cup quarter-final win over Manchester United on Monday night, with Conte frustrated by what he said was United's persistent fouling of his players.
Former Chelsea manager Mourinho did not shake Conte's hand at the final whistle, after both managers had to be separated following a late challenge by Antonio Valencia on Marcos Alonso in the first half, and former Celtic striker Andy Walker believes Mourinho's predecessor was out to prove he will not pander to the United boss.
Asked if Conte has got under Mourinho's skin, Walker said: "Yeah I think he is. I think you saw by Conte's actions last night he didn't want to come across as a meek individual where the big tough guy Jose Mourinho is having a word in his ear and trying to tell him how to manage.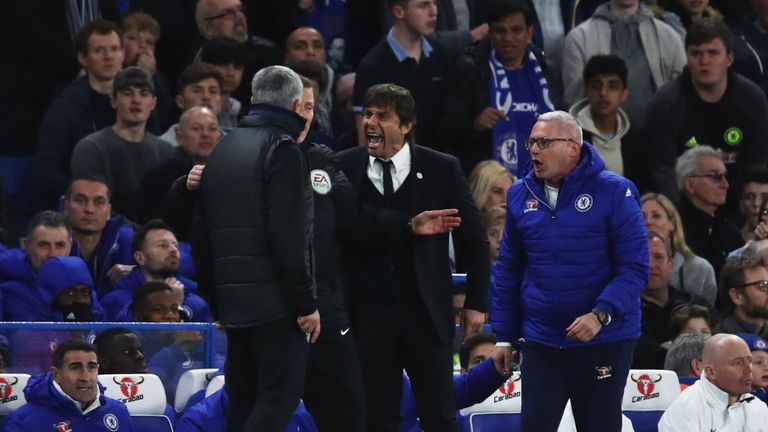 "That's why you saw him being so demonstrative last night. Let's not forget both managers were screaming last night at the referee for various yellow cards on players."
Walker also believes the tension between both bosses is fuelling the drama around their next Premier League meeting on April 16, live on Sky Sports 1HD.
"It's added a bit of spice, not that it needed it," he added. "I think the managers, the way they go about their business, it just adds to the whole event."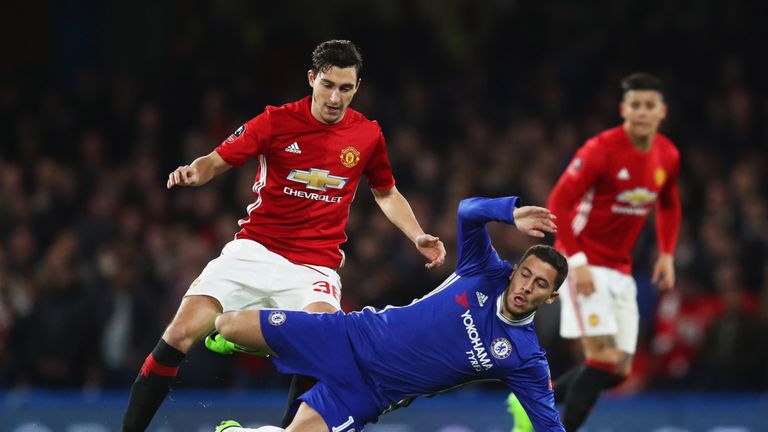 Conte was particularly frustrated by United's treatment of Eden Hazard, saying in his post-match press conference it was "impossible" for his player to play football for 20-25 minutes of the game because he was repeatedly kicked, and Walker believes Mourinho has no excuse to argue with Conte's claims.
"What Conte was saying was just an echo of what Jose Mourinho was saying a couple of years ago, that he feared for the future of Eden Hazard because, when he was the Chelsea manager, everyone was targeting Hazard," said Walker.
"I think if United had taken their chances last night it could have been a different story. But it's not the only way to beat Chelsea, to kick their best players. I think Man United showed last night that they're capable of a really good, sound defensive display and they hit them on the break with [Marcus] Rashford."
Mourinho, who won the FA Cup during his first spell in charge of Chelsea, was subjected to jeers from the Stamford Bridge crowd on Monday night, but maintained his collection of trophies at the club means "Judas is number one".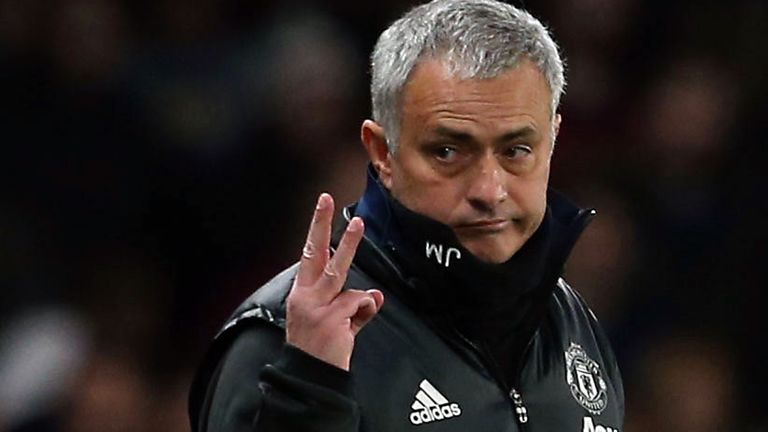 Walker believes Mourinho, who held up three fingers to remind Chelsea supporters of the three Premier League titles he won during his two terms as the club's manager, was right to hit back at fans.
"Without Mourinho, Chelsea would be nowhere," Walker said. "He's no Judas. It was the players who turned against him and wanted him out the door.
"The relationships had broken down with the senior players so Mourinho did the right thing, he got out. He's at a club now where he knows he can be as, if not more successful, than Chelsea. So he's right to remind the Chelsea fans, who want to give him criticism, what he did for the club.
"It's tribal in England. It's Man United, one of your rivals, and all the history they have. Chelsea created their own history under Mourinho, and that's why they hated it, the fact that Mourinho is now at United, and could hurt them.
"Maybe not this season but next season if he puts together a squad capable of taking the title away from Chelsea and dominating in Europe again."