Pierluigi Collina wants referee crowding 'killed' from football
By Bryan Swanson, Chief News Reporter in Tuscany - Exclusive
Last Updated: 16/03/18 5:20pm
Pierluigi Collina, the most powerful refereeing official in world football, has called for incidents involving players crowding referees to be "killed", to enhance the image of the game.
Collina, a former World Cup final referee, became the new chairman of the FIFA Referees Committee in January and gave a wide-ranging interview on Sky Sports News HQ as part of 'Support the Ref' week.
"This is something we want to kill," said Collina, at his Italian home in Forte dei Marmi, close to Pisa. "We started years ago; we were very strong with our referees telling them they cannot accept this kind of behaviour.
"We were very clear with managers and players, telling them we have instructed our referees to be very strong with this kind of behaviour. I have to say, with some exceptions, from the UEFA point of view, certainly the attitude on the field of play, in terms of respect, has improved a lot. We need to continue.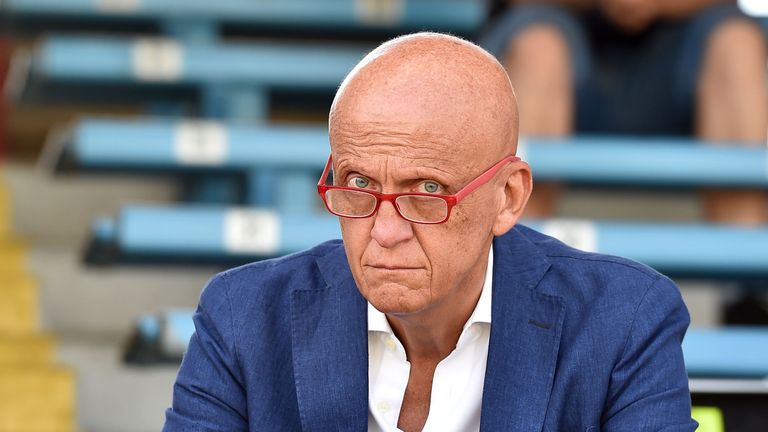 "I would say it's certainly coming from emotion, sometimes it's also a lack of respect. Referees know that they cannot accept it. We have been clear with them. They know what they have to do. If they accept, this is their decision and they will pay for their decision."
Hull City, Manchester City and Manchester United are Premier League clubs to have been fined by the Football Association this season for surrounding referees.
Collina was interviewed on condition he would not discuss specific incidents involving players and officials, and FIFA did not want to compromise the 'neutrality' of his position.
He was asked, more generally, whether fines were a strong enough deterrent and replied: "I'm a referee, not a member of a national association or disciplinary body. This is something more for them.
"We need to give youngsters the positive message. We need to educate the youngsters, the footballers of the future, about the correct behaviour. On a short-term basis, of course we need to react appropriately when something wrong is committed.
"Punishments are normally the tools to react on a short-term basis. To convince people not to do it, on a short-term basis, you need to work on this. Then you should convince [them] through an educational programme on a medium to long-term basis that this is not the kind of behaviour. Certainly when we see someone on the field of play shouting and saying something very hard against the referee, close up on television, this is not a good image we want for football."
There's much more from Pierluigi Collina on Sky Sports News HQ throughout the day, including his views on the role of captains, Video Assistant Referees and a warning about the future of refereeing in the grassroots game.
Sky customers can now upgrade to Sky Sports and get 12 months for just £18 per month. Upgrade now!