Former Manchester United star David Beckham wins PFA Merit award
By PA Sport
Last Updated: 24/04/17 12:40am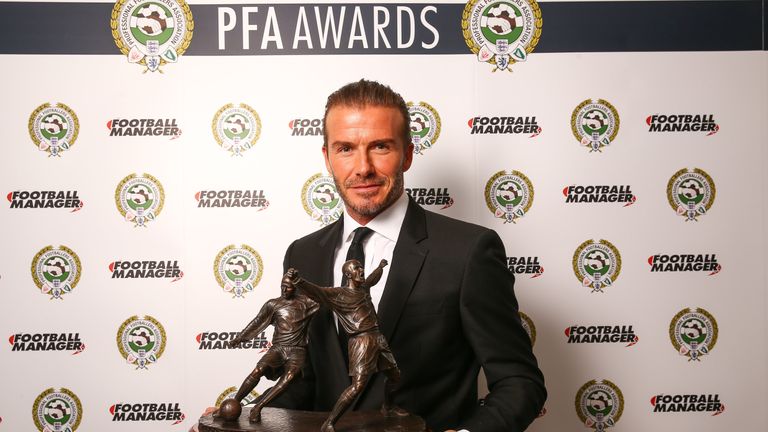 David Beckham has received the Professional Footballers' Association's Merit award for his achievements for club and country.
The 41-year-old follows former Manchester United team-mate Ryan Giggs in receiving the accolade after the Welshman won the award in 2016. He also won a Merit prize in 2013 when it was awarded to the Class of 92, the group of United academy players who went on to star in the first team under Sir Alex Ferguson.
Beckham won 115 senior caps for England and captained the team at the 2002 and 2006 World Cup, which saw his side reach the quarter-finals on both occasions.
"The PFA's such an important part of the game, to be awarded this is special," Beckham said. "I was lucky to have the career I had, to have played with the teams I played for, with the managers I've had, and obviously the team-mates I've had, it's been a special career for me - 22 years.
"I played in different countries, and obviously represented my country for the amount of times I did. I feel very blessed."
The former Real Madrid and AC Milan midfielder also won the PFA's young player of the year award in 1997.
Beckham, who was born in Leytonstone in east London, joined United as an apprentice aged 16. Along with Giggs, Gary and Phil Seville, Paul Scholes and Nicky Butt, he progressed from the youth ranks to the first team and first came to national prominence with a goal from the halfway line against Wimbledon in August 1996.
The former England captain won six Premier League titles with United between 1996 and 2003 and was part of the side which won the treble of the league, FA Cup and Champions League in 1999.
He was sold to Real Madrid in the summer of 2003 and won La Liga four years later. Beckham later joined the Los Angeles Galaxy where he lifted two Major League Soccer Cups. He also had two loan spells at AC Milan before signing for Paris Saint-Germain in 2013 and retiring later that year.
On player of the year N'Golo Kante, Beckham added: "What I love about him...he plays the game in such a humble way. I was at Stamford Bridge a few weeks back when United played Chelsea. He works hard, he can pass the ball, he can tackle, he can score goals like he did that night.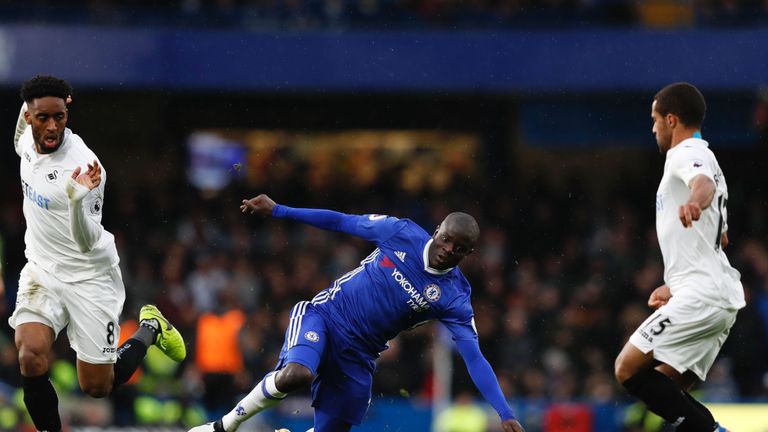 "When he was running into players, whether it be an accident or not an accident, he reacts in the right way, and that says a lot about him as a personality. He's a special talent, and to be the man mountain that he is, and the size he is, says a lot about him."
Beckham was also full of praise for Tottenham midfielder Dele Alli, who won the PFA Young Player of the Year prize.
"He's a special player...a joy to watch," he added. "We're lucky as a nation to have young talented players coming through, and he is without doubt one of the shining lights of these young players.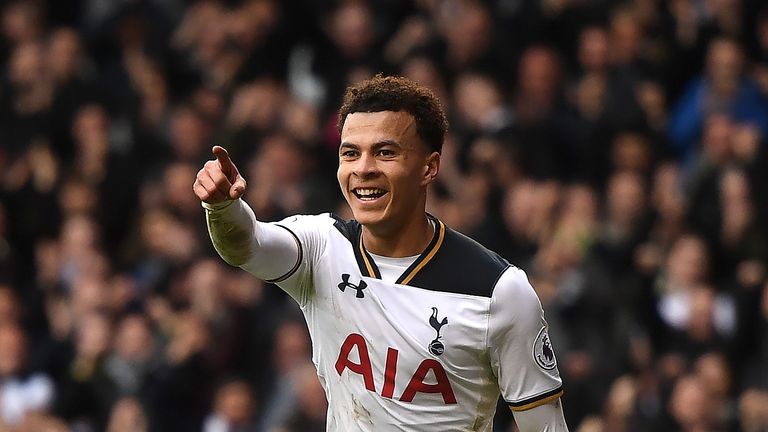 "He plays the game with a certain arrogance, and it's good to have that arrogance, because a lot of top players have that. They play in a way where you expect great things from them, and the last couple of seasons he's produced those things.
"I think [Mauricio Pochettino] is a special manager, and he's looking after him in the right way. I hope he continues to get better week after week, because as an England fan, we want to see these players perform the way he's performing."