Champions League play-off possibilities for Liverpool, Man City and Arsenal
Last Updated: 15/05/17 3:38pm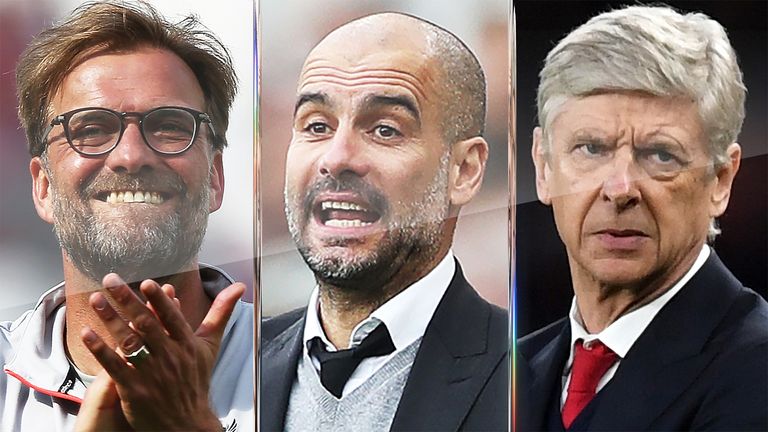 Could the Premier League be heading towards an unprecedented play-off to decide next season's Champions League qualification?
Chelsea and Tottenham have already booked their places in next year's group stage, leaving Liverpool, Manchester City and Arsenal to fight it out for the other two qualification spots. Manchester United's 2-1 defeat to Spurs means their only hope of making it is to win Europa League final.
So, with only four points separating third-placed Liverpool and fifth-placed Arsenal as we head into the final week of the season, we examine the play-off possibilities…
What are the current standings?
As it stands
| Pos | Team | GP | W | D | L | GS | GA | GD | Pts |
| --- | --- | --- | --- | --- | --- | --- | --- | --- | --- |
| 3rd | Liverpool | 37 | 21 | 10 | 6 | 75 | 42 | 33 | 73 |
| 4th | Man City | 36 | 21 | 9 | 6 | 72 | 38 | 34 | 72 |
| 5th | Arsenal | 36 | 21 | 6 | 9 | 72 | 43 | 29 | 69 |
Liverpool sit third on 73 points knowing they will guarantee Champions League qualification if they beat Middlesbrough in their only remaining game of the season.
City also have their fate in their own hands on 72 points with a game in hand, but Arsenal, who also have two games remaining, need their rivals to slip up.
What are the remaining fixtures?
On Tuesday night, City host West Brom live on Sky Sports 1 HD while Arsenal are at home to Sunderland on Sky Sports 2 HD. On Sunday, Liverpool welcome relegated Boro to Anfield while Arsenal host Everton and City travel to Watford.
How would a Champions League play-off come about?
Champions League qualification would be decided by a play-off at a neutral venue if a combination of the three teams finish level on points with the same goal difference and goals scored. Unlike in other European leagues, head-to-head results are not a determining factor.
Section C of the 2016/17 Premier League handbook reads: "If at the end of the season either the league champions or the clubs to be relegated or the question of qualification for other competitions cannot be determined because two or more clubs are equal on points, goal difference and goals scored, the clubs concerned shall play off one or more deciding league matches on neutral grounds, the format, timing and venue of which shall be determined by the board."
So what needs to happen for a Liverpool-Arsenal play-off?
A Liverpool-Arsenal showdown is the most likely play-off possibility. It would require Jurgen Klopp's side lose 1-0 to Middlesbrough on the final day and the Gunners to win one of their remaining games 3-0 and draw the other 0-0.
That would leave Arsenal and Liverpool level on 73 points with identical records for goals scored (75) and goals against (43). Providing City do not lose both of their remaining games, it would mean Arsenal and Liverpool would be facing off for the fourth and final Champions League spot.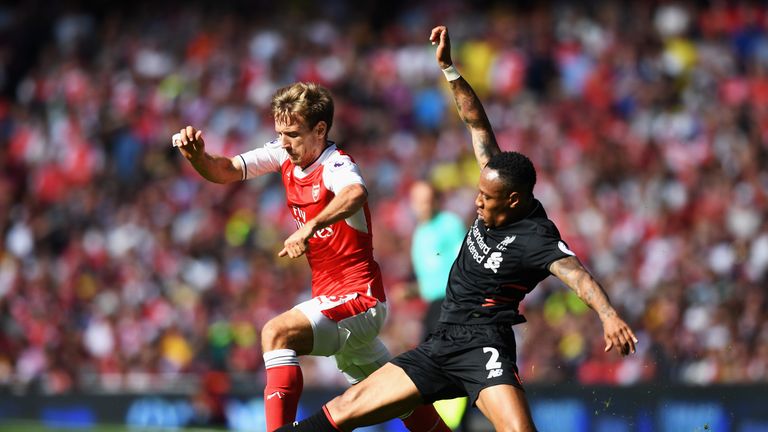 And what about a Liverpool-Man City play-off?
The chances are remote, but there could also be a play-off between Liverpool and City to decide who gets third place and therefore avoids next season's Champions League qualifying round.
This would require City to win one of their remaining games 5-3 and draw the other 1-1, with Liverpool beating Middlesbrough 3-0. That sequence of results would leave the two sides level on 76 points with 78 goals scored and a goal difference of 36.
Could there be a three-way play-off?
Well, it's not impossible! If (and it's a big if) Arsenal win one game 3-0 and draw the other 0-0, Manchester City draw one game 3-3 and lose the other 0-2, and Liverpool lose their final game 0-1, then all three teams would be level on 73 points with 75 goals scored and a goal difference of 43.
However, according to Sky Bet, the odds of those exact results occurring are 14,798,822/1.