Arsenal legend Ian Wright believes Jack Wilshere isn't in a good place at the moment following his sending off while playing for the Gunners' U23 side on Monday night.
The midfielder, who spent last season on loan at Bournemouth, is hoping to prove his worth to Arsene Wenger, but his dismissal for retaliating to a foul committed by a young Manchester City player didn't impress Wright.
Speaking on The Debate, he said: "For me, he doesn't show that he's in a good place to retaliate like he did. It's worrying times for him - I do feel for him.
"I know he's been injured and the guy's caught him a bit late, but you've got to be bigger than that, he's got to get on with that and show that he's in a different place."
Wilshere struggled to make an impact at Bournemouth, rather than becoming the integral player Wenger wanted him to be at the Vitality Stadium, another sign that the former England midfielder has a long way to go to reach the heights he enjoyed earlier in his career.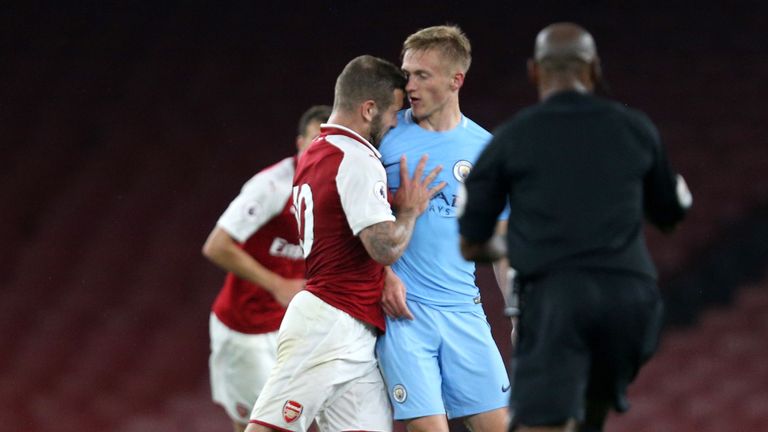 "He's got to look at himself this morning. He's been through injury, no fault of his own, he went to Bournemouth and didn't pull up any trees.
"Arsene Wenger, in particular, thought he was going to be the best player at Bournemouth, it didn't happen, and now he finds himself playing in the Under-23s, where you're young, up and coming players who want to put it about.
"He needs to realise where he is, where he needs to be and where he needs to get to."
Wright, who also played for West Ham and Celtic, had more enjoyable memories from his time playing for the second string in the latter days of his career, and Wilshere has to adjust to being an experienced player in reserve team football.
"I remember when I played in the reserves at that stage of my career, I was getting towards the end, kids were kicking you, you were having banter back with them."