Ref Watch: Mike Dean correct to send Man City's Raheem Sterling off, says Dermot Gallagher
Last Updated: 28/08/17 9:33pm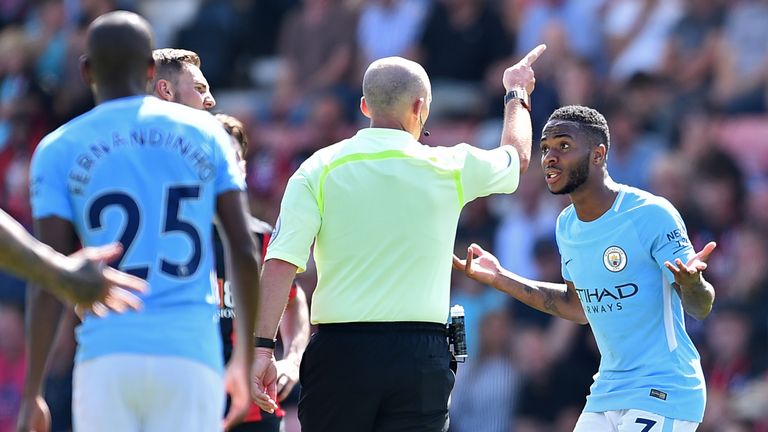 Ref Watch is here to debate a number of the weekend's controversial talking points from the third round of Premier League fixtures.
Former top-flight official Dermot Gallagher has been in the Sky Sports News studio to give his view on several incidents from the last two days' action.
Red cards given and not given, goalkeepers off their line and offside decisions all feature in this week's edition...
INCIDENT: Raheem Sterling is sent off for a second bookable offence after scoring City's winning goal
SCENARIO: Mike Dean shows Sterling a second yellow card for his celebration with the travelling City fans, moments after the winger netted a 97th-minute winner
DERMOT'S VERDICT: Correct decision
DERMOT SAYS: In view of what I've read with regards to Mike Dean being the 'party-pooper', we should make one thing clear, Dean has become a victim of this - he has to apply law, he can't pick and choose them. He also can't pick the time of the game. People say, 'Well it was in the seventh minute of stoppage time' - it doesn't matter when it happened, he had to do it.
People paid a lot of money to go to that ground, but they might not be going to that ground again because they will be getting stadium bans for where they are on the field. It did look very messy, but we are also the victim of consequences. If the first booking hadn't occurred, we wouldn't be talking about this, we would have accepted it. But it did happen, and I think Dean dealt with it correctly
INCIDENT: Nathan Ake receives a yellow card for his challenge on Gabriel Jesus
SCENARIO: Ake is the last man when bringing down Jesus, who had nipped in to intercept the Bournemouth defender
DERMOT'S VERDICT: Wrong decision
DERMOT SAYS: If you take Ake out of the equation, would Jesus have had a clear run on goal? I think the answer is definitely yes. Dean, unfortunately, because of his position, can have no element of depth, and he's therefore not sure so he has gone safe. You can't give a red card if you're in doubt.
INCIDENT: Watford's Miguel Britos is shown a straight red card for his tackle on Anthony Knockaert
SCENARIO: Britos is given his marching orders after 24 minutes for a wild, knee-high lunge on the Brighton winger
DERMOT'S VERDICT: FA's call on further punishment
DERMOT SAYS: The pictures say it all for me. I'm so pleased Knockaert isn't seriously injured, because he could have been. The referee identified it and dealt with it properly, and the player was dismissed. It's up to the FA what they do, they will take it from what the referee says.
INCIDENT: Kasper Schmeichel saves Romelu Lukaku's second-half penalty
SCENARIO: The Leicester goalkeeper produces a fine save to keep out Lukaku's spot-kick at Old Trafford, though Schmeichel is off his line when making the stop
DERMOT'S VERDICT: Wrong decision
DERMOT SAYS: If you're going to have a penalty retaken, then this is one. He is too far off his line. Goalkeepers don't dive sideways, they dive forward, but when you go further and further forward, the assistant should have told the referee that it has to be retaken.
INCIDENTS: Juan Mata sees a goal disallowed for offside, while Marouane Fellaini nets from a seemingly offside position
SCENARIOS: A tight call sees Mata flagged for offside and denied the opener in the first half. Fellaini goes on score United's second in the 82nd minute after Jesse Lingard's cross-shot was diverted home by the knee of the Belgian.
DERMOT'S VERDICT: Mata decision correct, Fellaini decision wrong
DERMOT SAYS: Lightning strikes twice because this is almost identical to the Alexandre Lacazette incident last week. It's so tight, so marginal, but it's just offside.
Fellaini is offside. I heard an interesting view of it on the weekend, because of it striking Wes Morgan on its way through, but that's immaterial as that is all it was - Morgan doesn't play the ball and Fellaini is just offside.
INCIDENT: Aleksandar Mitrovic escapes punishment after appearing to elbow Manuel Lanzini
SCENARIO: Referee Neil Swarbrick misses Mitrovic's challenge on Lanzini, in which the Newcastle forward appears to lead with his elbow
DERMOT'S VERDICT: Likely to face retrospective punishment
DERMOT SAYS: I think Mitrovic was very lucky Saturday, but he won't be so lucky today. This is a red card. It's like Marko Arnautovic's last week and it would not surprise me if he got a phone call asking for his observations.
INCIDENT: Idrissa Gueye is booked for a challenge on Cesc Fabregas
SCENARIO: The Everton midfielder's late challenge results in his studs catching Fabregas on the ankle
DERMOT'S VERDICT: Wrong decision - but only after seeing replays
DERMOT SAYS: I never thought I'd use this phrase, because some referees use it and I don't like it, and that's 'TV red'. If you're ever going to use that term, this is it, because when you see the first take it's a yellow card, but when you see the replay, it's a red. The referee at the time had no chance of seeing that, it took three or four replays to pick that up so you have to be fair to the referee there.