Life on trial: The challenge facing young players without a club
Last Updated: 11/09/17 5:09pm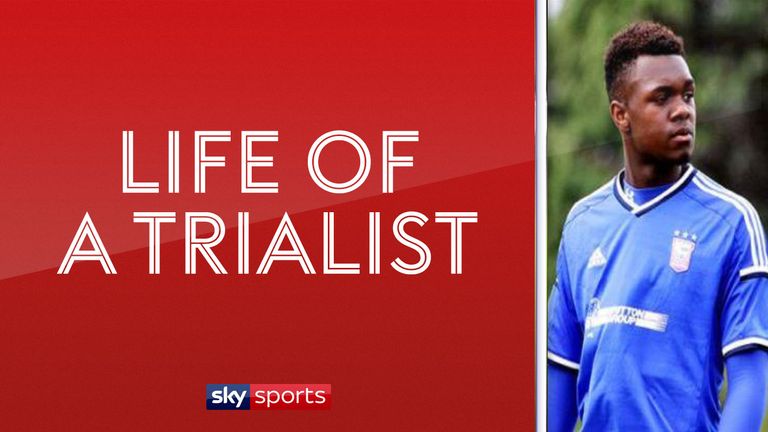 What is it like to be released at 18 and looking to get back into the game as a trialist? Adam Bate talks to former Ipswich defender Kieron Cathline about the challenges…
With the transfer window closed, there has been much focus on those players who had been pushing for a move only to see their dream deal fall through. But while there is little for Diego Costa, Alexis Sanchez, Philippe Coutinho and the rest to worry about in the long term, there remain hundreds of free agents wondering what is to become of their careers.
Keiron Cathline is among the many. An 18-year-old defender with strength, speed and the ability to bring the ball out of defence, Cathline's teenage years have been spent in the academies of Watford and, most recently, Ipswich. Released at the end of last season, he has had to adjust to a very different world this summer, trialling in the non-league game.
"Last pre-season I was playing against Manchester United, Liverpool and Tottenham," Cathline tells Sky Sports. "This pre-season I have been playing against teams like Hornchurch and Great Wakering. It has been like a different sport, to be honest. The facilities, the way they play, the quality of the training and the matches. Even the gym and the food."
Cathline feels he has had little support from Ipswich and with no representation either, it has been a lonely summer. "It is very difficult, especially when you don't have an agent," he explains. "It is difficult just to stay fit. You do what you can and I even got myself a personal trainer. But obviously you are not earning anything so it is hard to be able to pay for it."
He has trained with both Queens Park Rangers and Dagenham and Redbridge but the trial experience can be a tough one for a young player. The test is more mental than physical. "You do not feel as comfortable and the problem is that you can be better than the players who are already there and still not get signed," adds Cathline. "You have to be a lot better."
It is a sentiment echoed by Lewis Kinsella, a former Arsenal and Aston Villa academy player who is now at Colchester United after numerous trial games elsewhere that led to nothing. He does not have fond memories of those experiences. "It is awkward because you don't know anyone and you are going into their environment," Kinsella tells Sky Sports.
"At the end of the day you are trying to take someone else's place. Even if it is not them at risk, it is one of their team-mates' places. That team-mate might be one of the main characters in the changing room so when you come in they sometimes do not want their friends to go. So it is very hard but you have to be selfish and worry about yourself."
That is what Cathline is trying to do but he finds himself in a world for which he was not prepared. Even dropping down the leagues is not the simple solution that it might seem. "Non-league clubs are not really looking for 18-year-old defenders," he says. "They do not have the budget to be paying players if they are not going to be in the side straight away."
For Cathline, this is the conundrum as he goes in search of that next contract. By his own admission, he needs to be playing first-team football but the only clubs willing to offer it to him are looking for very different qualities in a defender. The brand of football that he has been taught to play at academy level is not the one that awaits him now.
"At Ipswich we tried to play football a lot," he says. "The best thing that they taught me was to be good with my feet at passing the ball. When I joined I was not the best at that but by the time I left it was one of my best attributes. Now it is being sucked out of me again as I am not using those attributes in non-league. I feel like I have stopped improving on them."
Even so, he remains a positive. "If I keep working hard I can still get better," he adds. "Non-league can work both ways. It could take out my attributes like passing and driving out with the ball, or it can help me physically by giving me experience against older men. I do not want to go to another academy. I want to go somewhere where I can play every week."
Costa gets to enjoy his extended break. Sanchez and Coutinho retain their international places. But for Cathline and hundreds of others like him, this is a particularly tense time. He trains and he hopes. He watches and he waits. He encourages friends and followers to share videos of his best bits on social media. Eventually, he believes the chance will come.
"The social stuff is the best thing I have done because since then I have had a lot of agents get in touch," he says. "I never thought I would sign with an agent but now I am thinking it is the best option because they have more contacts than I do. I know that I am good enough so I have to keep trying. I just need to find the right club for me and keep working hard."