Julio Arca interview: Playing Sunday League, loving the North East and finally getting to Wembley
By Russ Taylor
Last Updated: 05/10/17 8:39pm
Plenty of foreign footballers head straight back to their native homeland after retiring, unlikely to ever return. But not Julio Arca.
After a foot injury brought a premature end to the career of the former Middlesbrough and Sunderland fans' favourite, Arca naturally headed home to his native Buenos Aires. But he didn't stay long. He missed the North East so much he got homesick.
"I went home for four months with my family but got sad post-retirement," Arca says in an interview with Soccer Saturday that will be broadcast this weekend. "I told my wife: 'We are going back to the North East!'"
Luckily for the Arca family it was a mutual decision.
"The people here have always treated me so well. My wife and family love it here too so we came back."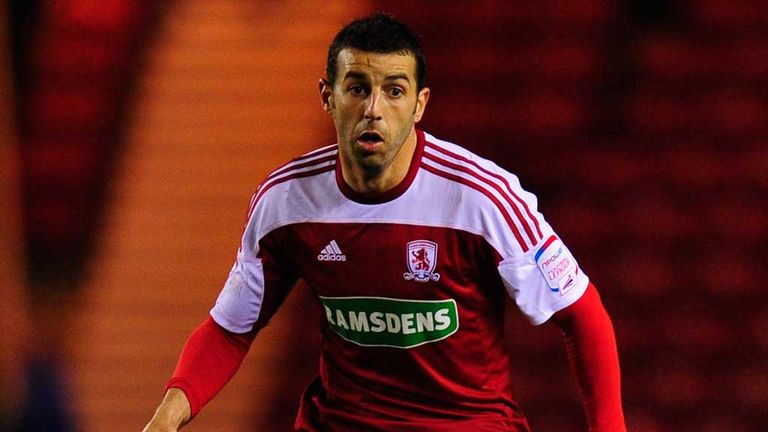 Soon the Argentine, signed originally by Sunderland for £3.5m in 2000, had the unrelenting desire to lace up his boots again.
"A friend of mine asked me to play for his Sunday League team - Willow Pond FC - so I agreed. It cost me £3.50 subs per game and the man of the match got two free pints!"
From Premier League to Sunday League in the blink of an eye - but the passion remained.
"It was a big change. I played in some random places. It was like going back in time to my childhood. But football is an addiction to me. I was so sad to retire. I just didn't think it was the right time. Injury had intervened so I wanted to keep on playing at any level."
It wasn't long before ambitious non-League side South Shields FC asked Arca to join.
"He's like a God in South Shields," laughs joint-boss Graham Fenton. "It's much easier to sign players now when you can say, 'You'll be playing with Julio Arca!'"
But the Argentine has lost none of his professionalism.
"He's a model pro who's an inspiration to us all," says Carl Finnigan, himself an ex-pro formerly at Newcastle and Falkirk to name but a few. "He turns up to every training session and gives 100 per cent. You'd think he'd be pampered but he's certainly not. He's a genuine guy the players and the fans love and his passion is still burning bright."
That passion was one Finnigan admitted led Arca to get emotional leading his side to Wembley last season in the FA Vase.
"I'm sure he won't mind me saying but there were tears. It was a burning ambition of Julio's to get to Wembley. It meant so much to him."
Arca got to lift the trophy at Wembley - one of four trophies the 'Mariners' picked up last term - and the ambitious North East club are showing no signs of letting up.
This season they top the Evo-Stik North table and only last Saturday they knocked National League North York City out of the FA Cup to set up a home tie with Jeff Stelling's very own Hartlepool United.
"The first thing I thought of at seeing the draw was Jeff!" laughs Arca. "It will be a great day and another full house here."
Arca shows no signs of slowing down - so much so that he's just signed a two-year contract.
"My legs feel good so I have no plans to retire," he says. "Well, definitely not again!"
Watch the full interview with Julio Arca on Soccer Saturday from 2pm on Sky Sports News.