Justin Fashanu's status in British football as a legend, in the truest sense of that word, is hard to dispute.
His name has become notorious, his past actions either venerated or vilified, and his legacy frequently referenced - often without much context. From the time he burst onto the British football scene with goals and gusto at Norwich City in the late 1970s, right up to his suicide in an East End garage in 1998, Fashanu was a man who was talked about. Almost 20 years after his death, it's a mixture of authentic anecdotes and tall tales - some he concocted himself - which continue to shape our perceptions of a football trailblazer who was too hot to handle for society at the time.
'Forbidden Games: The Justin Fashanu Story', a new documentary from the makers of 'The Crazy Gang' film which charted Wimbledon's ascent to FA Cup glory, attempts to bring some clarity to the fantasy that still surrounds Fashanu. Given up for adoption along with little brother John at a very young age, Justin's formative years with his foster parents in rural Norfolk put him on course for sporting success, all set against the backdrop of Thatcher's Britain. His ambition and ability shine through while with the Canaries, most memorably in the exquisite turn-and-volley goal he scored against Liverpool at Carrow Road in February 1980.
A year later, aged 20, he was sold to Brian Clough's Nottingham Forest for £1m - the first black player, and first under 21, to carry that price tag. Justin was now learning more about himself, his sexuality and his personality, and as his form deserted him so the helter-skelter descent of his life began. Quickly jettisoned by an inconsiderate Clough, he dropped down to Notts County and Brighton, a serious knee injury presenting yet another hurdle to overcome. He became the quintessential journeyman, always chasing new starts (he played for 22 clubs in seven different countries) and the money that he hoped would fuel happier moments, even if only for a short time. Meanwhile, after also leaving Norwich, John forged a more stable career which included the Dons' Wembley cup success, England recognition and then after retirement, primetime TV. The brotherhood, however, irreparably broke down.
Woven with archive footage, vignettes of dramatised reconstructions, and new interviews from friends and family - including John - 'Forbidden Games' is a compelling study of a complex sporting icon. The film is also a welcome unwrapping of the Justin mythology, presented with moments of mirth as well as melancholy, and accessible to football fans familiar or unfamiliar with the Fashanu history.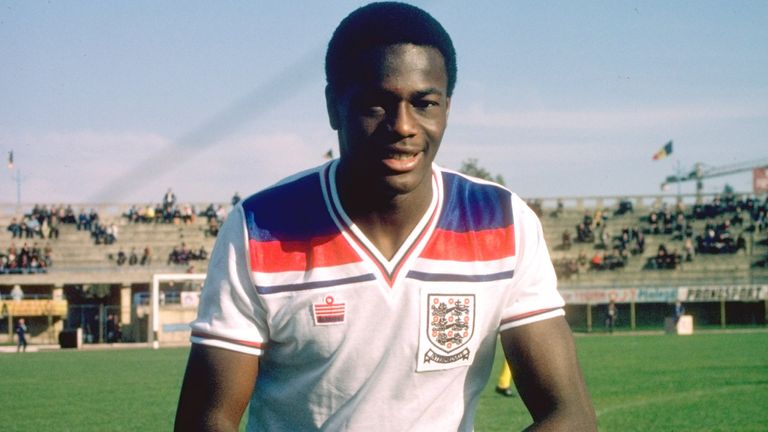 Jon Carey co-produced and co-directed the documentary with Adam Darke, and spoke to Sky Sports about the film-making process, the discoveries they made, and Justin's legacy...
Sky Sports: What led to your decision to make a documentary about Justin? There's a crossover of course with John's story, which was partly covered in the 'The Crazy Gang' documentary...
Jon Carey: When we were working on 'The Crazy Gang', we saw some archive footage that covered both of their upbringings and through the interview we did with John for that, we were able to get his assistance with some key family contact details. He's not creatively involved in the project, but he was helpful in terms of arranging that for us.
There's a similarity between John and Justin in that they both craved celebrity, for validation. That's our own theory on their background and how they reacted to it afterwards. With John, his profile is obviously less than it was and so any limelight that he can get now, he's interested in. I don't know whether it was about Justin's story being told for him. I suspect he would see the benefits of that for himself.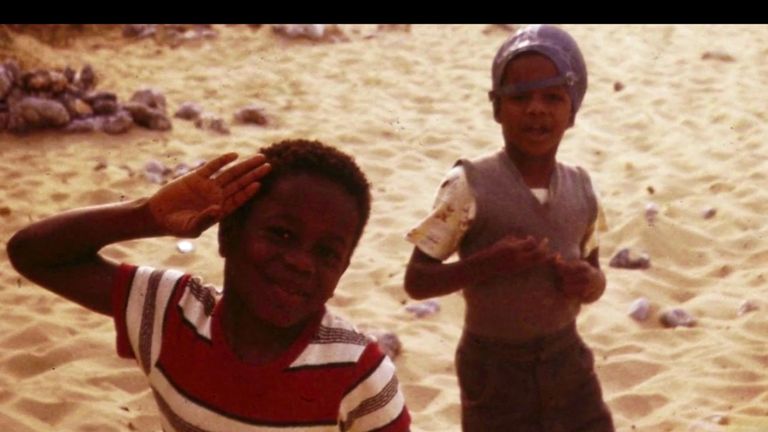 Was there an acceptance that, because of the complex nature of Justin as an individual, that this would be a very difficult film to make - or did the fact that so many stories about him were out there make it seem somewhat less challenging?
We like to make films with depth, and we're really passionate about making films that are authentic as well. With Justin's story, we knew that it was going to be complex and that there were going to be many elements to it - and as we delved deeper, more and more stuff came out. As you're working on it, you gain the trust of those contacts and you're able to get into the real detail. Part of our process is showing people the work you've done previously, and let them speak to people that we've worked with to gain assurances if necessary.
Were there hopes and fears from those you interviewed on camera about what the documentary would achieve?
It's about being sensitive but also wanting to get to the truth. The way that we work, Adam's a very gifted interviewer - we're both very interested in psychology and human behaviour. When we do the interviews, there's a lot of preparation that goes into that and they're very extensive. John's interview was about two hours long and if you break it down, he's probably in the final cut for about a minute and a half. It's a process that's designed not to get what we need, but to get to the truth. It's about being able to read people and work out whether they're telling the truth and bring that to the viewer so they can also make up their mind. In a lot of the work that we do, we pose a lot of questions for an audience. We don't necessarily give loads of answers, we present it and everyone may have a different opinion. That's the kind of stuff that we enjoy watching and enjoy making.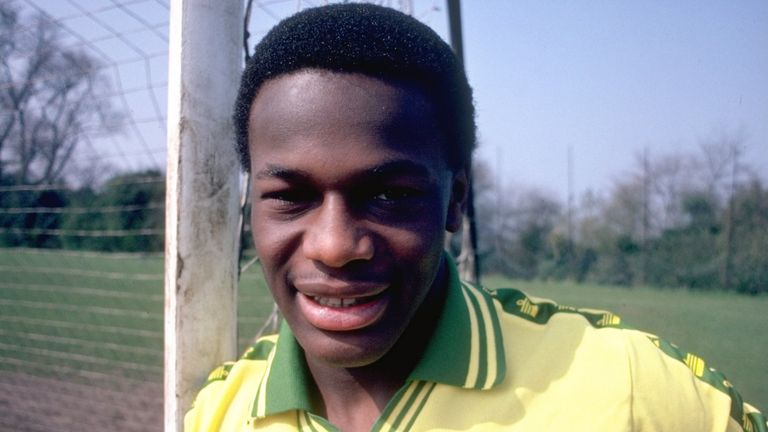 There's a quote about Justin from John Colquhoun, who was his team-mate at Hearts, that there were "10 different people" in his head. Was there a conscious risk that you could almost end up following only one of those, rather than the other nine?
When we worked with John on 'The Crazy Gang', it's a very different personality that he gives in that film [to this one]. It's a borrowed tabloid persona of a hardman. There are very different facets to him; he's a very complex man, and managing him at times can be difficult. I see through the archive and the stories that people tell us about Justin, that that was a very similar situation. Justin was very deep. Him and John were and are multi-faceted personalities.
What we seemed to find was that, because Justin kept moving around - you've seen how many clubs he played for - he went to a different town and it was like a fresh, new start for him. He would go there and eventually it would go wrong. He was in this pattern of deceit, to a degree. He was cheating people, taking and borrowing money from people and not paying it back. He looked at himself as a commodity. When the football wages began to go down, he realised that he was a commodity, and his personal life was a commodity - and the stories became more and more fantastic. The tabloid money was still coming in.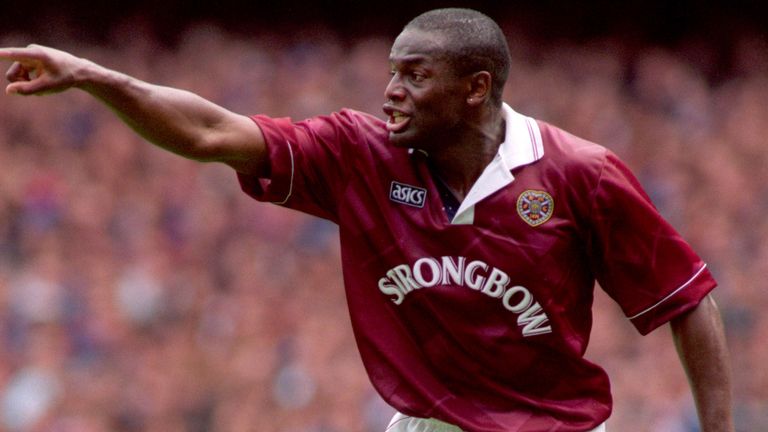 I was surprised to learn that Justin had a fiancee for a short time, while at Forest...
With that engagement, at that point in his life, he was very confused sexually. We try to show it in the film, punctuating it with archive clips, putting it into context the fact that homosexuality was not accepted, by political figures and the public, because that was the rhetoric they were getting. He struggled with it, he got drawn to the Church and religion as a way of stopping those urges. I think he didn't want to be gay because it wasn't accepted and he was made to feel different about it.
Early on in the film, we see a reporter ask Justin about wealth and fame, and he admits he's materialistic - that he felt showing outwardly that he was successful was the route to acceptance and respect. That seemed to me as a viewer to shape his life perhaps more than anything else...
Fame, celebrity and money - it appears that he felt they were going to give him validation. I think John has the same belief system. I don't know where they get that from. It's a crucial bit of archive for us, that. You can almost see young footballers falling into that trap even now. They have to have the flash car, the amazing looking girlfriend, the fancy suits, the jewellery, the watch, whatever it is... it's outside validation, because it's not coming from within. The kids now, with Instagram, Facebook etc - it's constant validation for 'this is my life, I'm doing amazing, I need people to like this'. It's a bit of a defect in human behaviour.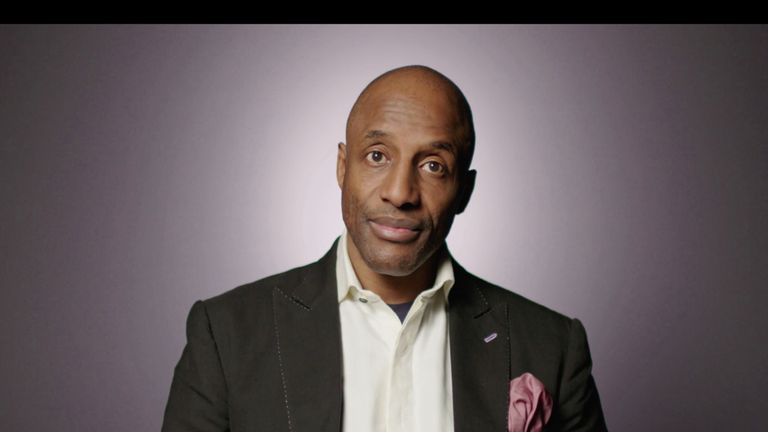 John's always been painted as a villain... we tried to show what John believed Justin had done to him. I'm not justifying his behaviour, but it was really important to give it context.
There's a lot that is known widely about Justin, and a lot that people think they know - but what surprised you the most in the making of the film?
For me, when you start looking at the detail behind some of the politicians' stories [where Justin's involvement is uncertain]... it was very difficult structuring that, without getting into legal difficulties. We present it without judgement - it's a timeline, really. You make of that what you will. I knew quite a lot about John, and the comments that he made about his brother when Justin came out. John's always been painted as a villain for doing that. He says 'I wouldn't get changed with him, I don't know how other footballers would feel... I'm his brother and this is how repulsed I am by him' - we tried to give that context, and show what John believed Justin had done to him. Also, it was important to note how John's star of fame was, compared to Justin's at that point. I'm not justifying his behaviour, but it was really important to give that context. We can all relate to envy, to being attacked... and John felt he was being attacked. In the match after Justin came out, John was playing [for Wimbledon] and he got wolf-whistled every time he touched the ball. Even now, when friends and colleagues have asked me what I'm doing, and I say I've been working on this Justin Fashanu film, they say 'oh, he was on Gladiators, he's this, he's that', and it's like, 'no, that's John'. They still get confused. They were entwined, and at times, I don't think either of them wanted to be.
There's other bits that we weren't able to put in the film. It's always tricky, because you're finding a balance - you use reconstruction and you use archive, but you need to break those interviews up from a creative standpoint. John's girlfriend, who is Amal's mother, split up from John after a tabloid exposed an affair that he was having. John moved out of the family home. Not long after that, Justin moved in with John's ex-partner and Amal. John told us that one day, he was walking round to go and see Amal. Justin passed him, driving John's car, wearing John's clothes, and had John's daughter in the back of the car. It runs pretty deep, the resentment that they had.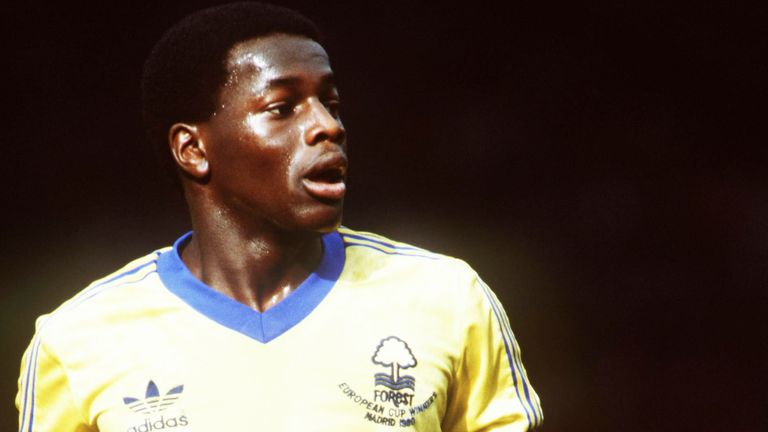 With Justin now - his name being so often a footnote in any story about the lack of openly gay male footballers - he's like a legend, a myth in British football. What do you hope the viewer takes away from the film?
There's two things. We wanted to show how much we've progressed as a society compared to then, and make young people aware of that change, but it was also important to flag up that we still have some way to go. Homosexuality still hasn't been accepted in male football; let's debate the reasons as to why that it is. It's a choice as to whether somebody comes out or not, and I don't think football has created an environment where that's particularly easy. Football supporters are going to have a huge part to play in that, and the FA and various other governing bodies are going to need to kick out homophobia in the same way that racism was kicked out.
When we've shown it to young people, they can't quite get their heads around the political landscape and the things that were said at that time. Their acceptance is far greater, depending on where they're based and their background. We're really interested in legacy and change, as well as being authentic. If this could help create an environment where footballers do feel that they can come out and it isn't a problem, then that would be something really positive to take from this project.
In terms of the film as well, we've always felt it was a test of empathy - to see a flawed man, to see the situation that he was in, the complexities of his upbringing, and the things that were going on in the media and the political landscape at that point. You take on board all of that, warts and all, and how do you feel about this man at the end? We really wanted to test the audience.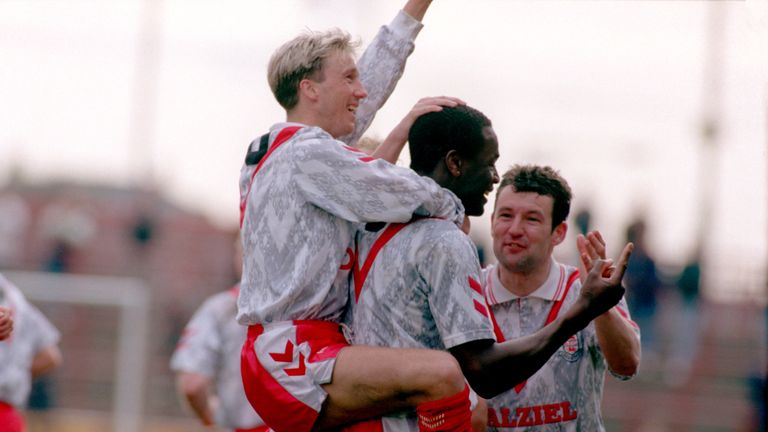 What's next for you both? Any more sports-related films?
The projects feel more like 'sport wrappers', if you like - we're always interested in the human behaviour. We're looking at football players in Kiribati - a country that's potentially the first to be wiped out by climate change. It's an island in the middle of the South Pacific, and there's no part of the land that's more than six metres above sea level. They have a very poor football team but they're going to be coming to London for a tournament. It's almost like a 'Cool Runnings' sort of thing.
'Forbidden Games: The Justin Fashanu Story' is available to watch now on Sky Store.