Cristiano Ronaldo was named Best FIFA Men's Player ahead of Lionel Messi for the second successive year.
The Real Madrid forward received 43.16 per cent of the total votes and was presented with the 2017 award by Diego Maradona and former Brazil striker Ronaldo at the London ceremony after beating off competition from Messi and the world's most expensive player, Neymar.
How was the voting process calculated?
The men's and women's player and coach awards were decided by a two-part process in a 50-50 split. The captains and head coaches of all the world's national teams count for 50 per cent of the result and the other 50 per cent was made up of votes from 200 football journalists and an online public ballot.
FIFA introduced the 'Best Football Awards' last season after splitting with France Football magazine, which meant they had to end their association with the Ballon d'Or award.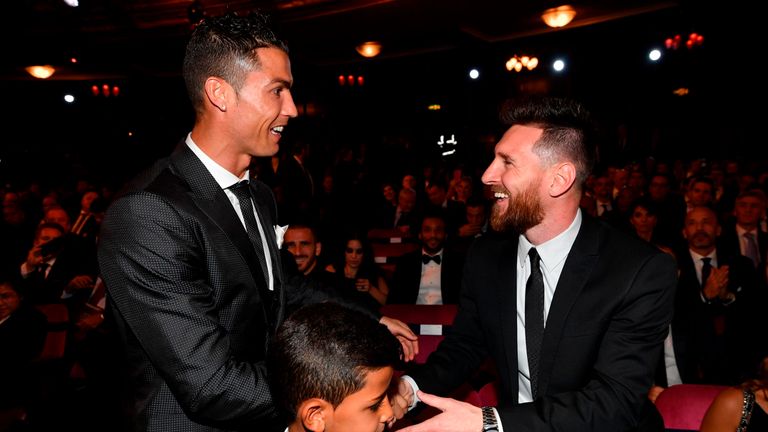 Messi and Ronaldo did not vote for each other in any of their three nominations for the award.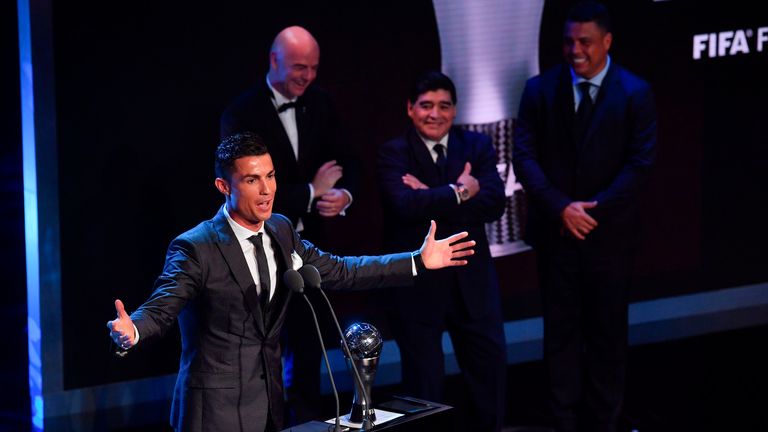 This is a great moment for me. I know I have fans all over the world so thanks a lot for the support.
"Thank you a lot, to the guys who voted for me," Ronaldo said. "Real supporters, my team-mates, my coach, my president, I have to thank them too.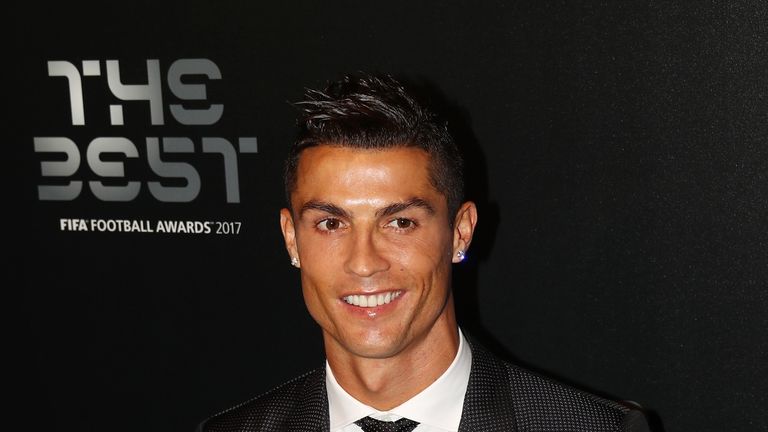 "We are in England for the first time and I win consecutive awards. This is a great moment for me. I know I have fans all over the world so thanks a lot for the support."
Asked how many times he could win the accolade, Ronaldo said: "I want seven. Five is good but seven is my lucky number so seven would be great."
The Best FIFA Men's Player 2017 - vote share
Cristiano Ronaldo: 43.16%
Lionel Messi: 19.25%
Neymar: 6.97%
Zinedine Zidane (46.22 per cent of votes) made it a double swoop for Real Madrid after beating off Chelsea's title-winning manager Antonio Conte (11.62 per cent) and Juventus' Massimiliano Allegri (8.78 per cent) to be named Best FIFA Men's Coach.
Zidane became the first coach to win back-to-back Champions League titles and led Real Madrid to their first La Liga title in five years.
Arsenal striker Olivier Giroud won the FIFA Puskas Award for goal of the year.
Giroud's stunning scorpion-kick goal scored against Crystal Palace in January beat off competition from Venezuela's Deyna Castellanos and South African goalkeeper Oscarine Masuluke.
Gianluigi Buffon won the best goalkeeper prize after he guided Juventus to a sixth consecutive Serie A title and managed 600 Champions League minutes without conceding a goal.
The 2016/17 FIFA FIFPro World XI was also revealed, with no Premier League players selected after a record number of 26,622 players from 71 countries voted for the team.
Scottish champions Celtic, meanwhile, picked up the Best Fans prize ahead of Borussia Dortmund and FC Copenhagen supporters.
Barcelona Femeni took the top prize in the women's awards, though, as Lieke Martens was named Best FIFA Women's Player ahead of Deyna Castellanos (Santa Clarita Blue Heat/Florida State Seminoles) and Carli Lloyd (Houston Dash/Manchester City Women).
Netherlands coach Sarina Wiegman was named Best FIFA Women's Coach after guiding them to Euro 2017 glory on home soil this summer.
Francis Kone has won the FIFA Fair Play award after he was hailed as a hero back in February for saving an opponent's life during a game in the Czech Republic.
The Slovacko striker reacted quickly when Bohemians goalkeeper Martin Berkovec was knocked unconscious after a collision with his team-mate Daniel Krch half an hour into the game.
FIFA BEST AWARDS
Best Men's Player: Cristiano Ronaldo
Best Women's Player: Lieke Martens
Puskas Award: Olivier Giroud
Best Men's Coach: Zinedine Zidane
Best Women's Coach: Sarina Wiegman
Best Goalkeeper: Gianluigi Buffon
Best Fans: Celtic
Fair Play: Francis Kone