Zlatan Ibrahimovic opens up to Thierry Henry about his aspirations with Manchester United, Romelu Lukaku's form and how family have aided his rehabilitation.
Ahead of Manchester United's lunchtime kick-off against Tottenham on Saturday - live on Sky Sports Premier League - Henry headed to Carrington to sit down with the United striker.


Ibrahimovic remains on the comeback trail from a serious knee injury, and admitted to Henry that he doubts about continuing to play before he suffered the ligament damage in April.
However, the Swede is back at United for another year and is intent on adding to his 33 trophies.
Here, we bring you the full transcript with Henry, which covers competing with Lukaku, the Champions League, and some classic Zlatan one-liners...
Thierry Henry: Big man, listen, I'm very happy to see you, to see you back. First and foremost from me, how are you?
Zlatan Ibrahimovic: I'm motivated, I train very hard. I'm back at the club for a month, I see my team-mates, see them train, a different atmosphere obviously because I've been training on my own for five months.
The last memory of Carrington for me is that I opened the place [first in], I trained, and then closed the place [last out]. I see people now though so it gives you more motivation and most positive energy.
It's not easy working alone for a long time, doing the same exercise every day to become stronger, but mentally you need to be focused and to decide what you want.
I decided giving up was not an option. My decision was to come back, and do it with a message. So let's see when that day will come, but it will come, and I know I've been working hard for it, and that is no secret.
I know what I've gone through these months, and now we just have to see the results.
TH: How far are you?
ZI: Of course I could play tomorrow, but it's not the way to do it. One thing is running straight, one thing is changing direction, but all those things are different in a game, it is impulsive, instinctive.
I take it day-by-day, and when the coach, club, team-mates think I'm ready, I'm ready. When that day is, we don't know. I take it step by step.
I've done a lot of hard work for five months. Just because I see I am close to the target, I don't want to rush to the finish.
TH: Did you have any doubts on coming back? And also on coming back to United too?
ZI: In that moment when it happened, it was easier for me to say that I would come back because then I had a challenge.
The challenge was that I never had a major injury, and all these people talking that it's over or he's too old, all these doubts that I had in my whole career.
When that happens, it triggers me because it gives me energy and an objective. I'm challenging what I am able to do, how far I can take my body.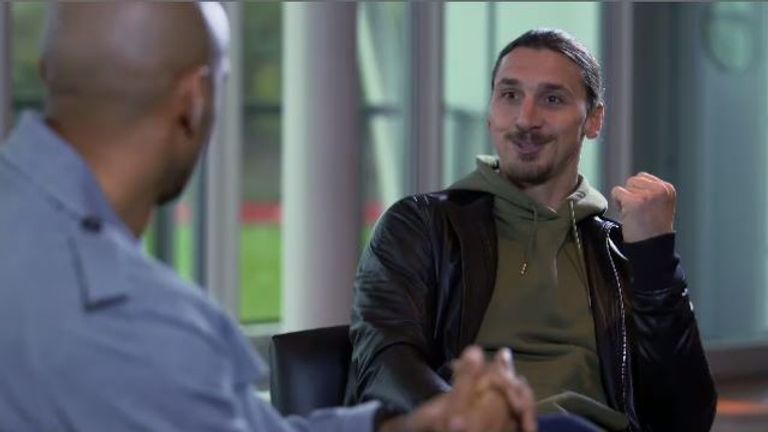 I will walk out just as I came in, I will not walk out limping. I will walk out the way I want to walk out. Even if I have to walk on water I will do that also.
In the last years, when you're thinking how many more years you are going to play, that is where you are hesitating.
But when the injury happened it was easy for me. I had one target, and that is to come back and play the game.
I will walk out just as I came in, I will not walk out limping.
I will walk out the way I want to walk out. Even if I have to walk on water I will do that also.
TH: You have to say something!
ZI: That is the easiest part, but to not come back. No. In my career, it was always about challenges. People saying I cannot do this or that. I don't like the easy way, I like the hard way, because if I succeed I will be more satisfied.
Before my injury I was on top, training every day, doing my routine every day. All this procedure.
From there I fell down to the point where I could not move. I just stood still. Normally when you do that you would go on vacation, but I could not do anything.
My first target when coming back from injury was to play with my kids.
My physio said 'I will not allow you to go in a wheelchair, because I cannot see Ibrahimovic in a wheelchair. You have to do the crutches.' So I'm there limping and limping, and I said I need to do this for my children. I want to see them grow up by me being active with them, fooling around and playing games.
TH: Now let's talk about competition. Because when you came back, I laughed, because when you signed, you said 'I came to finish what I started'. I had to laugh, you always used to make me laugh anyhow, and I laughed because I was like 'What does he mean?'
Sometimes you say stuff and you actually mean it, sometimes you say stuff and you play, but there is a little bit of meaning in it. So what did you mean?
ZI: I said have come back to finish what I started.
Everything I built up in the first season - obviously we won the three trophies - the ending for me was not the ending I wanted, or nobody wanted, especially after how the season went.
The target is the Premier League. That is my target to finish.
Everything I started in the first season, we will finish in the second one.
TH: So what do you think you can bring to that team? Because you're going to have to share a position, and maybe be in a position that you've never been in before.
How are you going to manage that one?
ZI: I'm part of the team, I bring my qualities the day I come back and am able to play. I bring my spirit, my mental part, my experience, and my qualities.
The team is stronger this season. Lukaku is in the team scoring a lot of goals, and he is making the job easier for me, because last year when we were playing we could not change that role.
We had one scoring the goals, and doing that job, and there was no variations for the coach. This season it is easier. Lukaku is only positive, because he makes my "comeback" less pressured, it gives me a lot of time, and I'm happy for that.
The more time I get, the better it gets. He's scoring his goals and doing what he needs to do. When I come back, the coach is there, we will see how things go.
I think I have a lot to bring. Now I have been off for six months, how much more it will be we don't know, but trust me when I come back I will be motivated. Very hungry.
TH: There's one thing I want to say before we finish. You didn't mention the Champions League. People are talking about [Gianluigi] Buffon, saying 'He has to win it', 'It will be great for him to win it'.
I think for me, you deserve the Champions League. For me, you're in my top five best strikers in history, and one of the best professionals I have seen. Hands down. Every day, working hard.
So only for that, I don't know how long you will play, I will love you to see you win the Champions League, because I think you deserve it.
ZI: Of course, winning the Champions League would be massive, huge. That is one of the targets, every season. But in the whole picture, if I could change one Champions League for my whole other 33 trophies, no. The way I see it is in the long term, what you achieved in the long term. I see many players who have won one Champions League and then nothing.
Then you can say it in a different way - he won it because of luck, or because the team was good, but I have been winning every year. Wherever I've [gone] I have won. I didn't win the Champions League, which everybody knows, but I'm doing everything to win it. And if I could, I would be on top of the world.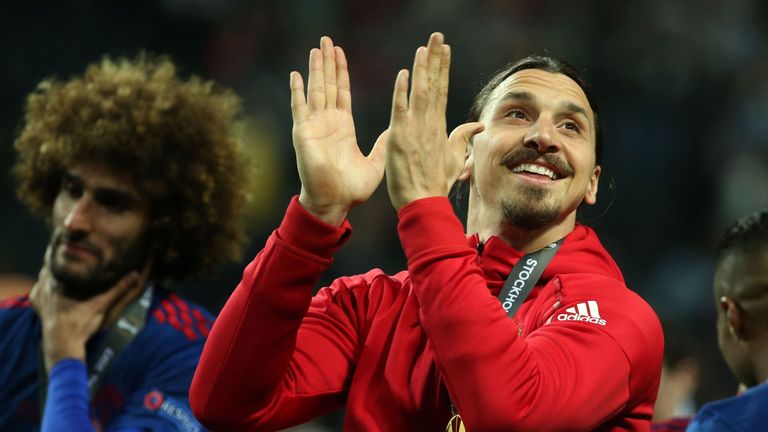 I see many players, they won the World Cup and they didn't even put their foot on the field, yet they still say they have won the World Cup!
But in my career, I won everything. I see many players, they won the World Cup and they didn't even put their foot on the field, yet they still say they have won the World Cup!
I won 33 trophies. I won in Holland. I won in Italy. I won in France. I won in Spain. I won in England. I won in five different countries, so my career is full of achievements.
I don't know who to compare it to. Say players in a club like, [Steven] Gerrard, with all the respect. He won the Champions League but never the Premier League. If you ask him what he would rather win, I think he would say the Premier League.
So in the long term, it's about what you achieved. For me the aim is to win every year. It's not an excuse that I don't want to win the Champions League, of course I want to win the Champions League, if I win it, I'm there, if I can lift it up, I'm there. We all want to win it.
TH: For me it was just a wish, because for me that will not define your career. For me you inspire people, and you changed the game. Why do people like you? Because you're a different sort of 9, 10, whatever. You impacted the game and inspired people.
What I'm trying to say, I have a wish for you, but if you don't have it, it won't make it worse. I hope you can have it.
ZI: I hope also one day. Thank you.
TH: Hey! This time Paul didn't come! He didn't know.
ZI: I thought Lukaku would come!