Paul Cook and John Coleman: Rising through the leagues
Last Updated: 10/11/17 1:27pm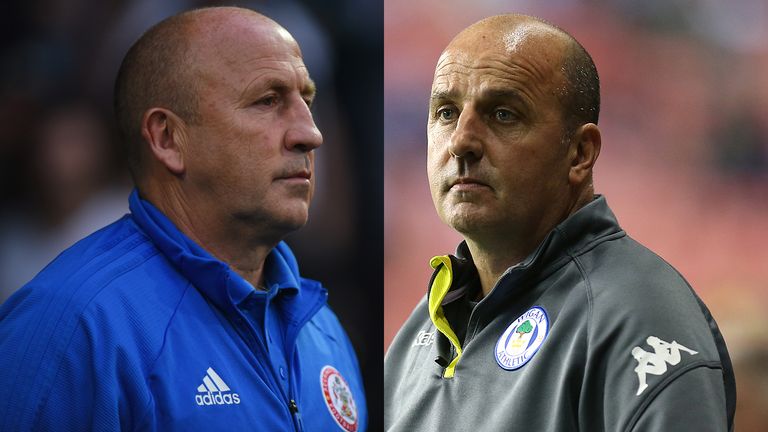 On a sunny Spring Saturday afternoon in April 2006, a crowd of 2,665 watched a little piece of history at Woking's Kingfield Stadium. It was the day Accrington Stanley's return to the Football League was confirmed.
A 1-0 win over the Surrey club sent them up from the Conference as deserved champions, ending a 44-year exile from the league.
The promotion was masterminded by John Coleman, the third time he had won a title with the tiny Lancashire club.
Their rise from the Northern Premier League First Division was one for the romantics.
Assisting Coleman for three of those seasons was player-coach Paul Cook. Once promotion to the Football League had been achieved, Cook forged his own path and took up a short-lived position as Southport manager.
The Liverpudlians' paths have crossed several times since but their stock has never been higher than when they met on Tuesday evening, against the subdued backdrop of a Checkatrade Trophy fixture at the DW Stadium.
Coleman, in his second spell in charge at Accrington, saw his senior side run out easy winners against Cook's Wigan Athletic, who fielded a team of youngsters.
The Latics lie second in Sky Bet League One, vindication of Cook's decision to leave newly-promoted Portsmouth in the summer.
The South Coast club won the League Two title on the final day of last season with a memorable 6-1 home win over Cheltenham, but Cook and his assistant Leam Richardson - a member of the Accrington team that won promotion 11 years ago - were not given the job security they felt their achievement merited, as Pompey's ownership changed hands.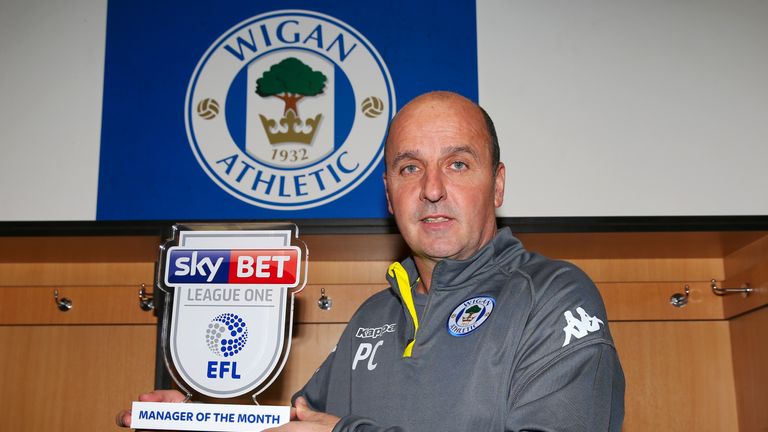 "It was never in our minds to leave. The Portsmouth situation turned for us the wrong way very, very quickly," Cook explains.
"I think things like that should remain private. Leam and I have our opinion and the club would obviously have their opinion, but we were very disappointed how it ended at Portsmouth. It shouldn't have ended like that, but it did and life goes on."
Cook is clutching the Sky Bet League One Manager of the Month award for October, in readiness for a photocall, as we sit down in the home dressing room to talk about the season so far, with Wigan lying second in the table.
"We are 16 games into a 46-game season and you can get ahead of yourself far too quickly and that's' something we won't do. We are enjoying where we are at the minute and we are enjoying the challenge of trying to stay where we are."
What can't be denied is how quickly his Wigan team put the disappointment of relegation from the Championship behind them.
"People can be critical of what has gone on before. For me, as a manager going into a club, that's your time.
"It's irrelevant what has gone on in the past, albeit we had been relegated. There was a disappointment around the club but on the flipsid, it was quite apparent we had good players.
"From training and pre-season you could tell we had good players, although the group has been trimmed quite a lot as there were far too many players in the building. We probably have the core of a 22-man squad now that will see us to January."
Further down the corridor, Accrington have just arrived for the Checkatrade Trophy clash. Coleman and his assistant Jimmy Bell have helped Stanley to second place in League Two.
"Fantastic job. They had the disappointment of not going up 18 months ago against Stevenage and last season was difficult," Cook adds.
"I think they'll go close this year and for Accrington to get into League One would be an absolutely fantastic achievement. It's not luck is it, he [Coleman] does it every year. In the end, it might be because he knows what he is doing and he is a good manager."
That disappointment Cook refers to was the dramatic end to the 2015/16 season when Accrington missed out on automatic promotion due to a last-day 0-0 draw at home to Stevenage, a game they dominated, hitting the woodwork three times.
Earlier in the same campaign, an over-zealous official blew for half-time a fraction of a second before striker Billy Kee's shot crossed the goal line in another 0-0 draw with AFC Wimbledon. It was a bizarre decision, compounded by AFC Wimbledon's promotion via the play-offs at the end of the campaign.
Last season Stanley toiled early on and many suspected the chances of mounting another promotion challenge had gone.
"First day of pre-season we sat them all down, even the kit man, and told them what our aim was and that was to gain promotion," says Coleman.
"I was reading a book about President Kennedy going to visit NASA and there was a fella cleaning the floor. The president asked, 'What do you do?' and he said, 'I helped put a man on the moon.' And I thought that was inspirational really, that everyone felt part of it.
"With the way we finished last season, with those 16 games unbeaten before we lost a couple, historically the second half of the season is good for us. We went through a spell last season where we couldn't score goals. Obviously Billy Kee's problems were well-documented, but we've found a way to score goals now."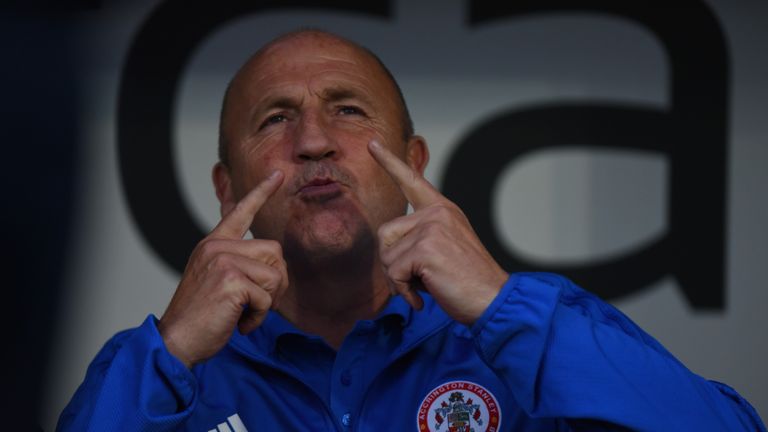 Kee is the player who makes Accrington tick, but last season the 26-year-old walked away from the game, suffering with depression. Both player and manager worked together to help manage the illness. Now Kee is back amongst the goals, very much a part of the team again.
"After I left Rochdale [following his dismissal in January 2013, less than a year into the job] I had a bit of a bad time myself so I could see some of the similarities with what he was going through," Coleman adds.
"Billy is a fantastic player and he is so crucial to the way we play and we probably need each other really. We're as good for him as he is for us.
"We wanted to get him right first and foremost, his life is more important than football. But we always thought that if he could sort himself out he'd want to be back part of us.
"Thankfully he has signed a long-term contract so he has committed himself to us and I think that has given all the players a lift. We've got lots of players who are on deals with another two years after this season. That was unheard of at Accrington in the past so things are looking up for us."
Cook had a short spell as manager at Accrington back in 2012, before moving on to Chesterfield where he achieved the first of his League Two titles.
"It is a good grounding, it's a different type of grounding. I don't think there's enough emphasis on team spirit and good lads, work ethic and a desire to do well together," Cook says of his time at the Crown Ground. "That comes through the Accrington teams in abundance and then they have good players as well. It was a great grounding for me and something I enjoyed."
"Accrington is one of those clubs that bites you," Coleman adds. "It's like being bitten by a tarantula, you can't get rid of it!"
Both managers have rightly earned a reputation for the quality of their football, alongside the winning mentality that always runs through their teams.
And both men have done it the hard way. Cook had to look further afield in search of the right job after his time at Southport, guiding Sligo Rovers to two FAI Cup victories and European qualification before returning to England and enjoying great success at Chesterfield and Portsmouth.
Coleman has operated on much smaller resources in recent years, keeping Accrington in the league against the odds. Now he is looking to take the club on even further. In a profession that can be notoriously tough to crack lower down the league ladder, these are not just two of the game's great characters but two genuine success stories.
Don't miss Soccer Saturday from 2pm on Sky Sports News on Saturday afternoon