Guillem Balague brings you his five main talking points from the weekend's La Liga action, plus he answers your questions...
Atleti preparing for Griezmann exit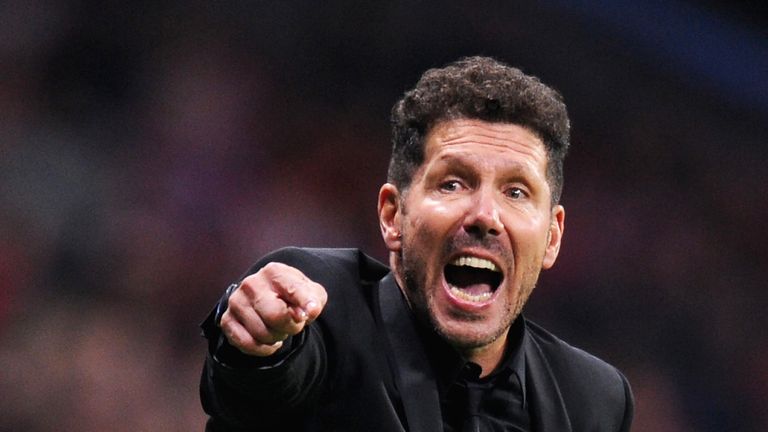 I saw a player who again did not have any service, was on his own up front against Real Madrid and did not have a second forward with him with Angel Correa played out wide. It was only Koke, who is really a midfielder, in the first half who was next to him and at the end of the match, Antoine Griezmann ended up touching the ball only 13 times and he had no shots on goal either. He was replaced for the fifth time this season, four of them with 0-0 being the score line.

The game, in a way, continued in the press conference. Diego Simeone said "if someone is in my family, I will give anything for them and protect them, and until they leave" - the bit about "till they leave" was mentioned twice.

He was talking, of course, about Griezmann, who had been booed by the fans when replaced because they are fed up with him being so open about leaving in certain interviews, recently saying he sees himself playing with Mbappe and Neymar in the future.
In the summer he said there was a 6/10 possibility that he would go to Manchester United, things that were unnecessary because the club were always going to give him an increase in his wages. And he now earns €12m a year and there was an increase in his buyout clause which is €200m until July 1, but will then revert back to €100m.

There was no need to flirt with anybody, but he still did that and so there are players in the dressing room who are doubting his commitment. The club, I know, feel that he will leave in the summer, with United and Barcelona favourites to sign him, while Real may consider him too. Having said no to a huge offer from United after he had spoken to Jose Mourinho, he will now consider those possibilities. PSG, meanwhile, will need to sell first, but they have also made some enquiries about his interest in joining them.

Nothing has been signed at the moment with anybody, I'm told, but the club feel he will leave.
Ronaldo and Benzema not clicking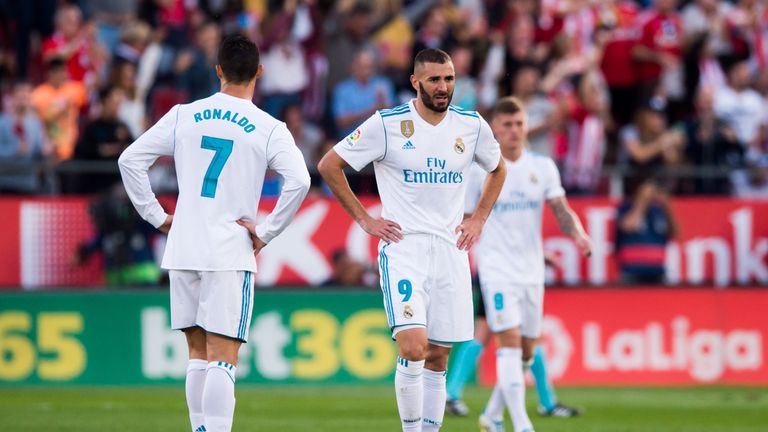 Cristiano Ronaldo and Karim Benzema are currently the worst striking partnership in Europe. Alvaro Morata, for instance, has scored double the amount of goals that the 'BBC' - including Gareth Bale - have managed so far this season - four goals between the three of them, while Morata has eight. Cristiano has scored one goal in the last eight games, the worst goalscoring drought of his Real Madrid career, from 55 shots.

I was at the Wanda Metropolitano and what I saw was a Ronaldo that was off the pace compared to two or three years ago. And that confirms what I have been saying for a few years now that physically he has peaked and he should reduce his area of influence on the pitch.
In fact, most of the time he does - he waits in the area for crosses and the ball to get to him and Real did not do that enough. So a striker can suffer from a lack of confidence and he certainly seems to be lacking a lot of that at the moment, which creates him an anxiety that makes him rush his decisions. But goalscorers also depend on the service, and that was just not good enough, especially down the wings, which is where a lot of Real's attacks took place last season.
Bale convinced he is staying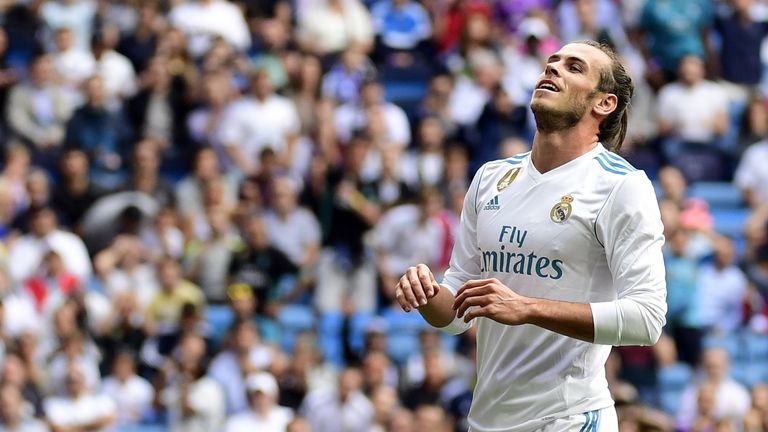 It was confirmed in the international week that Bale had got injured again and that has been a big physiological blow to him. He was almost back from injury, the club and him had been very careful with his recuperation to make sure he came back completely 100 per cent fit. But sadly, his body let him down again.

Coinciding with that, two messages have arrived from his entourage and from himself. The first is that at this particular point, he wants to stay at Real Madrid and keep fighting for his place. They are convinced that when he comes back and recovers his form, everything will be forgotten.

Think of Cristiano last season where he was outstanding for the last three months of the campaign, after he had spent a lot of time injured or out of form. So this is not how it starts, it is how it finishes.

The problem is maybe some of the targets will disappear. Atletico and Real are too far away in the league now and Barcelona will have to really falter for an historical change of fortunes. In my eyes, the league is for Barcelona or Valencia.

To reinforce the idea from Bale and his people, Real Madrid have assured them that they do not want to sell him in the summer. The message comes from the top.

But... a lot of the media in Spain are coming out with the same line - Real feel sorry for Bale, but perhaps it's time to move him on. In Spain, a lot of people have lost patience with him, but for now at least the club are not opening the doors for his departure.

Last summer, at the same time as the possible arrival of Kylian Mbappe, Real wanted to make sure one of the 'BBC' left. Eventually it was decided it would not be Benzema, there were no offers for Cristiano anyway and Bale did not want to go. So that was that and that deal did not go any further.
The Barcelona of defenders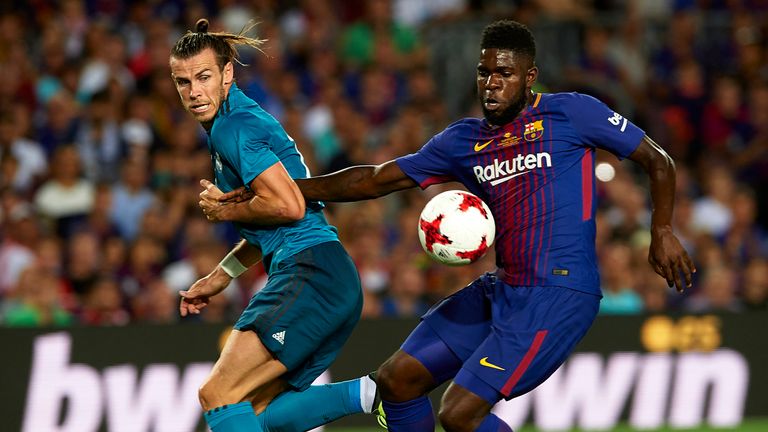 Barcelona were not great, but effective, in beating Leganes 3-0 on Saturday. They are now 17 games unbeaten, and all that without Neymar of course, but also the injured Sergi Roberto and Ousmane Dembele, or an in-form Andres Iniesta and Lionel Messi either.

Messi has scored one goal in his last five games, while on the weekend he had just three shots on goal, 56 touches and had only the third-highest involvement in the game, all in all his worst stats of the season.

This time, though, the goals finally came from Luis Suarez and perhaps the brightest spot was that Paco Alcacer looked sharp with two of his shots being deflected into the path of Suarez to score. Meanwhile, Paulinho has now netted four times.

And this Barcelona has gone from the Barcelona of midfielders, to the Barcelona of forwards under Luis Enrique. And now they depend a lot on, of course still Messi, but also Samuel Umtiti and Marc Andre ter Stegen. So almost like a Barcelona of defenders now.

Nobody has ever recovered a 10-point deficit to win the league, so historically only Valencia can now catch Barca. They have conceded four goals, they are the highest scorers in the league and next up are Valencia. Gerard Pique got booked, though, meaning he will be suspended, even though Barca are trying to get that overturned.
Los Che had one eye on Barca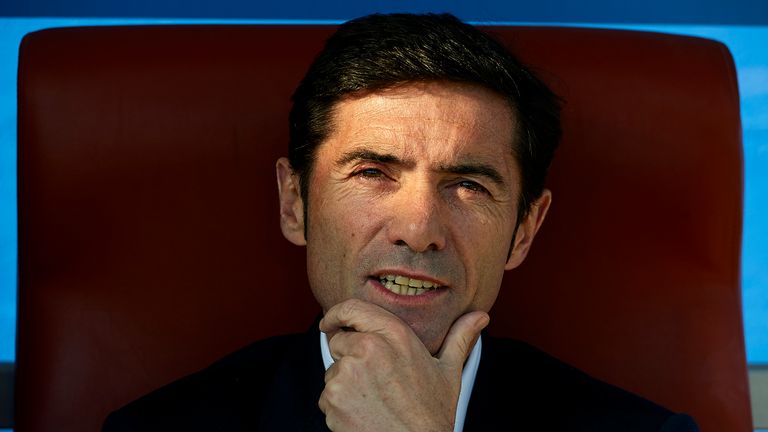 Espanyol played better football than Valencia on Sunday, but the visitors only needed a couple of things to the victory - a shot from Geoffrey Kondogbia and a nice pass from Carlos Soler for their winner.

They have now won eight games in a row, their best league start, although boss Marcelino was sent off and now will not be on the touchline against Barca. The coach clearly had his mind on next weekend's game, leaving Goncalo Guedes, Soler and Simone Zaza all on the bench.

Interestingly, Zaza has a broken cartilage, but is still playing, and on Manchester United's reported interest in Soler, I was with him in midweek and he insisted he has no intention of leaving Valencia. He wants to succeed with the club, he is a Valencia fan and has been at the Mestalla since the age of seven.


Time for your questions - Guillem says...
Is it true Spurs inserted a buyback clause in Gareth Bale's contract when they sold him to Real?
If there is any offer for Bale, Real have to contact Spurs and ask them if they want to match it. So yes, there is a clause.
There have been a lot of stories in the Spanish press recently saying Cristiano Ronaldo is unhappy in Madrid and wants to leave the Bernabeu at the end of the season - is this right?
Yes he has told Real and Florentino Perez he wants to leave. He is again upset, like in the summer, this time because he feels he is not being protected or loved enough by the club. But the Madrid president said there was no chance of him leaving, you have a €1bn buyout clause. So there is no chance of Ronaldo being allowed to go. Also, the club say there have been no offers for the player in the last 12 months.
Real have not decided yet what they will do with their Galaticos, but they have put feelers out about Griezmann and Eden Hazard. Harry Kane is a different case - while Cristiano is there, they do not see him as being a partner for him, and also Kane has said he does not want to leave Spurs.
So in my eyes, I see a centre-forward arriving, but one approved by Ronaldo and who feeds the player. Robert Lewandowski is another who would like to go to Real, although it is still early days.


Will Man Utd look to recall Andreas Pereira in January from his loan spell at Valencia given his form at Mestalla this season?
I have just been in Valencia and Marcelino expects him to stay until the end of the season. And even though he has played well and is improving, you would not say he is at a level quite yet where he demands a recall to United. He still has lots to improve on in his game.

How have Valencia drastically turned their fortunes around from the brink of relegation to challenging Barcelona at the top and what have they done differently? - @sainthammond
Keep an eye on a report that we are doing on a special Revista La Liga show where we have spoken to Ian Cathro, who gives us a bit of context about the club with Nuno Espirito Santo. And we also speak to Marcelino and Gabriel Paulista, who explains everything.
But basically a lot of decisions were right, starting with the arrival of CEO Mateu Alemany. And he then chose Marcelino ahead of Quique Setien, who is now Las Palmas boss, but who had a verbal agreement with Valencia that.