Jose Mourinho might not have agreed with it, but Andreas Pereira's loan is paying dividends. Ahead of Valencia's top-of-the-table clash with Barcelona on Sunday, live on Sky Sports Football, we look at the 21-year-old's improving form and growing influence, and what the future holds...
Nine wins from 12 matches, no defeats, 32 goals scored, and the only serious challengers to Barcelona at the top of La Liga. Valencia have been the story in the Spanish top flight this season.
After several lean years, Los Che have been transformed under new head coach Marcelino, with 16 players leaving in a summer clearout and new, hungrier, younger players arriving in their place. Among those to join were Goncalo Guedes and Simone Zaza - coming off the back of unsuccessful spells at Paris Saint-Germain and West Ham respectively - and Andreas Pereira - a late arrival on a season-long loan from Manchester United.
Pereira's move came on Spanish deadline day and was something of a surprise. He had featured regularly in pre-season for United and, after a successful season-long loan at Granada, had been expected to push for a first-team role, at least in cup competitions. But, perhaps after taking a closer look at the midfield competition at Old Trafford, Pereira opted for another loan, even though Jose Mourinho was not totally on board.
"Andreas Pereira was a personal decision that I don't agree with," he said. "A decision I don't think honestly is the best decision for him, a decision that disappoints me a little bit, because I think he has the potential to be here fighting for a position, for opportunities, and fighting to be a Manchester United player. You have to be ready to fight for a position and I am a bit disappointed that he left."

Pereira, 21, admitted it was a "difficult" decision, but said: "For me individually and for the chances of playing it was better to be here."
It is a decision that appears to have been vindicated, so far. As Valencia have flourished, Pereira has played an important part. He has made 10 appearances in La Liga - five starts and five substitute appearances - and has scored once and made three assists.
While at Granada last season he largely played in a No 10 role behind the striker, at Valencia he has played on either the left or right side of Marcelino's favoured 4-4-2 formation. And he credits Marcelino for much of his, and the team's, success. "He is the one who has created all this, this good environment," he says. "He is a very good coach. He tells us clearly, as individuals, and as a team, what to do in every moment."
Pereira should also take some of the credit as he has started to express himself more on the pitch. There have been stepovers, cutbacks, bursts down the wings and, most of all, excellent crosses for Zaza and Rodrigo to profit from.
"Valencia have three excellent wingers in Carlos Soler, Guedes and Pereira," says Sky Sports Spanish football expert Terry Gibson.
"It's been a real feature of their game to get the ball wide in a 4-4-2 formation and look to attack really quickly. They are not desperately looking for possession, they can keep the ball and are technical and skilful, but they like to play in quick bursts, which means getting the ball out wide and crossing it into the box for two strikers who are always in there.
"It's working perfectly well and teams are finding it very difficult to stop because they are creating so many chances. The crossing from the wide positions has been outstanding."
Little by little he has been winning a place based on frankly stupendous crosses
There has been a blotch on the copybook off the pitch - in October he was fined and banned for driving for eight months after doing 91mph in a 31mph zone in his Bentley. Pereira was remorseful, saying it was a "lesson learned", but on the pitch the reviews of his performances have been positive.
Writing in Valencia-based newspaper Superdeporte, columnist Vicente Bau said in early November, after an influential display against Levante, that Pereira has "grown impressively".
"Little by little he has been winning a place based on frankly stupendous crosses," added Bau. "When Andreas is on the pitch we improve in depth and in danger. It is true that as it is going at Valencia almost all players have raised their performances and it is not good to highlight just a single player, but it would be unfair not to elevate this young player on loan from Manchester United. He seemed set to be a substitute, but little by little he's gaining the confidence of the coach and his team-mates."
Phil Neville worked with Pereira at Manchester United and also kept a close eye on him during his loan spell at Granada, when he said he was a "completely different" player. And Neville now sees this season as crucial for his development.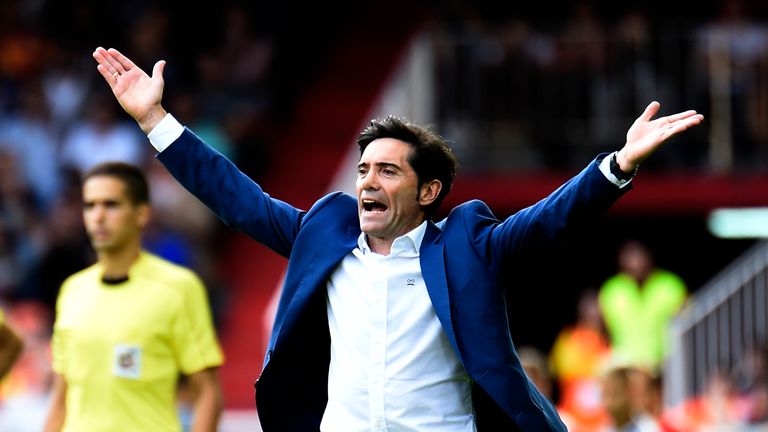 "At Valencia it is a higher level, ideal to develop and grow," he told Superdeporte. "He has qualities that the team needs. He is in a key year where he can decide the direction of his career. If he wants to be a top player, this is his chance."
Neville added that Marcelino is the "perfect coach" for Pereira. "When he has a big challenge his performances always go up. He needs challenges every day to grow and Marcelino will force him to be 100 per cent.
"Pereira suffered when he first arrived, maybe he thought he was going to play every game. Marcelino needed him to earn it, to learn the philosophy. He is a sponge, he can play on the left, the right, anywhere. After two months of work I think Marcelino thinks he is ready to be a starter."
As it stands, Valencia could soon lose Pereira as United have an option to recall him from his loan on January 1, although the 21-year-old has made it clear he does not wish to return halfway through the season. "It is important that I am playing to grow, improve, and help Valencia. It would be very difficult to return to United in the middle of the season and continue with the same evolution I am having now."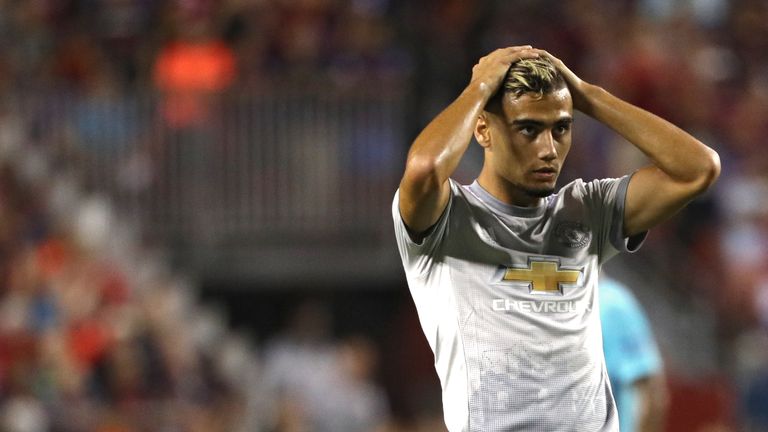 It would be very difficult to return to United in the middle of the season and continue with the same evolution I am having now
Pereira has not even ruled out spending more time at Valencia. Asked by AS about the potential of another year with Los Che, he said: "It's an option, I do not know how things will go here. That is the future. I will not say "no" to anything. This option is open for me."
Superdeporte columnist Bau thinks Valencia must "do everything they can" to keep Pereira until the end of the season. "With Pereira the team's performances improve and Pereira himself grows in confidence."
Interestingly, Pereira has at times been keeping reported Manchester United target Carlos Soler out of the starting line-up. While Soler is technically excellent on the ball, earning comparisons to former Valencia midfielders David Silva and Juan Mata, Pereira is more of a natural winger, happy to take off down the sideline himself rather than wait for an overlapping run from a full-back.
Would there be a place for him at Old Trafford this season or the next though? "It is difficult," says Gibson. "It's a numbers game for him at United. He has the talent to play at a really good level in the Premier League but it's really competitive to become a regular at Manchester United, so it will be interesting to see how it plays out."
If he continues to improve as he has this season then it appears Pereira has a bright future. Where that future is, though, very much remains to be seen.
Watch Valencia v Barcelona live on Sky Sports Football from 7.40pm on Sunday.