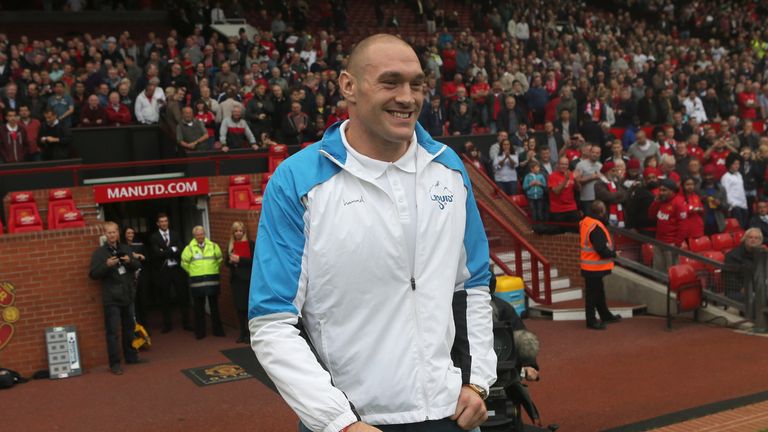 Tyson Fury tells Sky Sports that Jose Mourinho is a "winner like me" who needs no extra inspiration to beat Manchester City at Old Trafford.
Manchester United host their great rivals City on Sunday, live on Sky Sports Premier League, trailing Pep Guardiola's men by eight points, with City chasing a Premier League record 14th successive win.
Fury, who is waiting on the resumption of an anti-doping case before making his return to the boxing ring, is a boyhood United fan, and believes stopping City's winning run will not provide Mourinho with any additional incentive.
"I am hoping to be there, meeting up with a few mates and making a day of it," Fury tells Sky Sports. "We will see how that goes! I try and get to as many games as I can. Anytime I am free and around I will go. I have four kids now and have to help out at home. The last time I was there was when Hughie [Fury, Tyson's cousin] boxed.
"There have been so many good derbies over the years. That is the game I won't miss, if I can help it. I have been to loads of them over the years.
"He [Mourinho] has done well with other teams, and is a good manager. He is doing well this season, it could be better, of course, but it will take time.
"Like me, he is a winner. And, like me, he doesn't need any inspiration or anything to give him a lift before a big game. He likes the big stage. It is where we come alive"
Should Fury make his comeback to the ring in 2018, there is talk of a homecoming bout at Old Trafford, with numerous potential opponents mooted, and Fury admitted such an event would be appealing.
"I would love to [fight at Old Trafford]," Fury adds. "There have been talks. But you need a big fight. That time will come.
"We have even talked about figures before, but nothing became of it. It is all starting to come together. I want to get four or five fights in next year."