Football Commentator & Columnist
Martin Tyler's best stats of 2017: Winning runs, the Premier League 100 club and more
Last Updated: 27/12/17 7:24am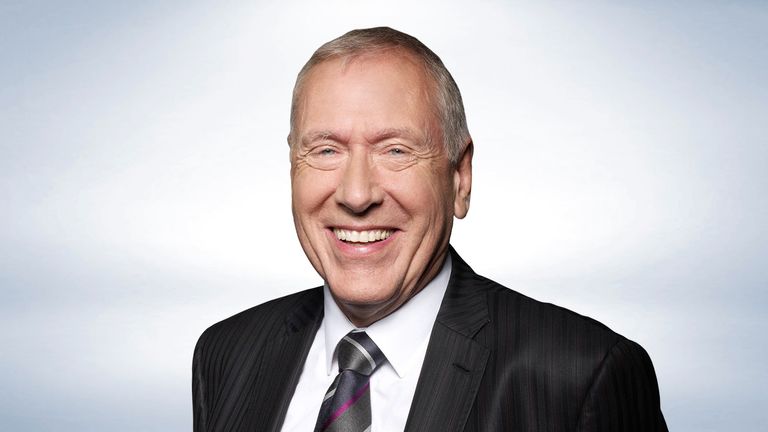 We take a look at the best Premier League stats to come out of Martin Tyler's weekly column this year.
From thrilling starts in Premier League encounters to unbeaten records at home, here's a look at the standout stats from 2017...
Have Manchester United, Manchester City, Liverpool and Everton ever all finished as the top four?
In short, no. We once saw the Manchester and Merseyside clubs finish in four of the top five positions. You have to go all the way back to 1967/68 for that. In that season, Manchester City won the title with Manchester United in second and Liverpool third. Everton finished fifth, just one point behind Leeds who prevented an all Manchester/Merseyside top four.
Peter Crouch reached the 100 club having played for six Premier League clubs. Has any other player scored 100 PL goals having scored for that many teams?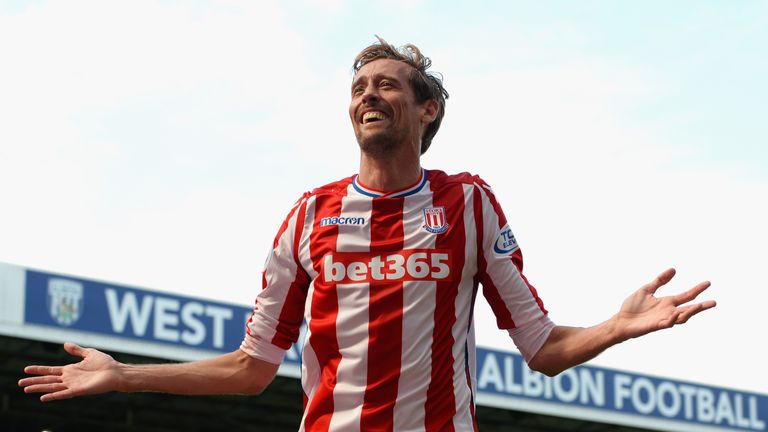 Crouch's 100th Premier League goal came in February for Stoke, have also scored for Aston Villa, Southampton, Liverpool, Portsmouth and Tottenham. Five members of the 100 Club have also scored for six clubs:
Andy Cole: Newcastle, Man Utd, Blackburn, Fulham, Man City, Portsmouth
Les Ferdinand: QPR, Newcastle, Tottenham, West Ham, Leicester, Bolton
Robbie Keane: Coventry, Leeds, Tottenham, Liverpool, West Ham, Aston Villa
Nicolas Anelka: Arsenal, Bolton, Man City, Liverpool, Chelsea, West Brom
Darren Bent: Ipswich, Charlton, Tottenham, Sunderland, Aston Villa, Fulham
Have a team ever gone a whole Premier League campaign without winning on their travels?
Incredibly, then-champions Leeds were the first to suffer that embarrassment back in the inaugural Premier League season in 1992/93 when they played 21 away games, although Howard Wilkinson's men did manage to avoid being relegated. Coventry City (1999/2000) also beat the drop, though the last four teams to fail to win an away game all season were relegated: Wolves (2003/04), Norwich City (2004/05), Derby County (2007/08) and Hull City (2009/10).
Other than Liverpool, has a Premier League team ever won by 4+ goals one week, then lost by 4+ goals the next week?
Liverpool (4-0 v Arsenal on Aug 27, 0-5 v Man City on Sep 7) are not alone. Four other Premier League teams have followed up a thumping win with an equally thumping defeat.
Arsenal's ultimately title-winning 4-0 victory over Everton in May 1998 came before a 4-0 loss to Liverpool. In 2010/11, Blackpool started life in the Premier League with a 4-0 win over Wigan before losing 6-0 defeat at Arsenal.
Last season, David Moyes' joy was short lived at Sunderland after they beat Crystal Palace 4-0 - and were then humbled by the same scoreline against Southampton next time out. And the same back-to-back scorelines were posted by Coventry in 1994 with victory over Manchester City and defeat at Newcastle.
After Everton's 4-2 win over Leicester produced three goals in the opening 10 minutes, has a Premier League game ever seen more goals in that period?
The goals were indeed flying in at the start of Everton's match with Leicester, but the Premier League record is actually FOUR goals in the first 10 minutes of a game, which has happened on two previous occasions.
The first was back in 1997, when Blackburn Rovers beat Sheffield Wednesday 7-2 at Ewood Park. Kevin Gallagher's double put the hosts ahead, Benito Carbone then pulled one back before Graham Hyde's own goal gave Blackburn a 3-1 lead in a crazy opening to the contest.
Eight years later and Aston Villa and Bolton Wanderers were involved in a 2-2 draw on the opening day of the 2005/06 campaign. Kevin Phillips fired the home team in front with a far-post header, only for Kevin Davies to level matters with a close-range volley. Ivan Campo then headed the Trotters 2-1 ahead, before Steven Davis equalised again for Villa.
There were only four goals in five Premier League games on April 29. Has this ever happened before?
We asked our friends at Opta to tell us if there had ever been a day with at least five Premier League fixtures which had seen fewer goals. There is only one - Saturday November 24, 2001, where there were SIX Premier League matches, but incredibly only three goals were scored. The results that day were:
Bolton 0-0 Fulham
Chelsea 0-0 Blackburn
Leicester 0-0 Everton
Newcastle 1-0 Derby
Southampton 1-0 Charlton
West Ham 0-1 Tottenham
Portsmouth have now won all four divisions. Has any other club done this?
Pompey are the fifth club to achieve the feat, and were the second to complete the set last season after Sheffield United won League One. Burnley, Preston and Wolves are the other teams to have won all four divisions.
Spurs went unbeaten all season in the Premier League at home. Have a side ever done this without winning the title?
Of the 13 other Premier League sides to go unbeaten at home for a whole season, five have failed to win the title, so Spurs aren't alone in that respect. However, no team has picked up as many home points (53 out of a possible 57) without becoming champions.
PL sides to go unbeaten at home in season
| Team | Home points | Final place |
| --- | --- | --- |
| Man City 11/12 | 55 | 1st |
| Man Utd 10/11 | 55 | 1st |
| Chelsea 05/06 | 55 | 1st |
| Tottenham 16/17 | 53 | 2nd |
| Chelsea 14/15 | 49 | 1st |
| Arsenal 03/04 | 49 | 1st |
| Man Utd 99/00 | 49 | 1st |
| Man Utd 95/96 | 49 | 1st |
| Arsenal 07/08 | 47 | 3rd |
| Chelsea 04/05 | 47 | 1st |
| Arsenal 98/99 | 47 | 2nd |
| Liverpool 08/09 | 43 | 2nd |
| Chelsea 07/08 | 43 | 2nd |
| Chelsea 06/07 | 43 | 2nd |
Curtis Davies has been in relegated sides a few times now. Does anybody have a worse record?
Hull defender Davies tasted Premier League relegation for the fourth time in May, having previously gone down with West Brom (2005/06), Birmingham (2010/11) and Hull (2014/15).
Nathan Blake was part of five relegations as a player, with Sheffield United (1993/94), Bolton (1995/96 and 1997/98), Blackburn (1998/99) and Wolves (2003/04). Herman Hreidarsson is the other unlucky man to experience five relegations from the top flight, all with different clubs. He went down with Crystal Palace (1997/98), Wimbledon (1999/00), Ipswich (2001/02), Charlton (2006/07) and Portsmouth (2009/10).
Meanwhile, Robert Green, Ashley Ward, Nigel Quashie, Andy Johnson, Marcus Bent, Marc Edworthy, Gerry Taggart, Des Lyttle, defender Paul Robinson and Sebastien Bassong have all been relegated from the Premier League four times.
Following Chelsea's 3-2 defeat to Burnley in August, how many defending champions have lost their opening game?
The only other title winners to suffer such an ignominious start to a campaign were Leicester City, who lost 2-1 at Hull City the season before. Otherwise, there have been 20 wins and four draws for champions since Leeds United kicked off the inaugural Premier League campaign by beating Wimbledon 2-1 at Elland Road in August 1992.
In August, Hal Robson-Kanu came off the bench against Burnley, scored and then got sent off - has this happened before?
It was an eventful afternoon for Robson-Kanu, though the West Brom Albion striker is not the only substitute to have scored and been sent off in the Premier League. It has happened THREE times before.
Bolton Wanderers forward Ivan Klasnic managed it against Stoke City in October 2010, as did West Ham striker Bobby Zamora while playing against Fulham in January 2007.
Those three were all frontmen, of course, but the fourth and final player to make this list is Chelsea defender David Lee, who saw red after coming off the bench to score against Sheffield Wednesday 24 years ago this month.
How many times have the bottom club beaten the Premier League champions?
Crystal Palace's 2-1 win over Chelsea in October saw them become the SIXTH club to start the day bottom of the table and beat the reigning Premier League champions. Coventry City were the first to do so when running out 4-1 winners over Blackburn Rovers in 1995.
Wolverhampton Wanderers achieved the feat twice with 1-0 wins over Manchester United (2004) and Chelsea (2011) - and it was achieved again in 2011 by Blackburn, who beat United 3-2 on New Year's Eve. Fast forward to December 2016 and Sunderland beat reigning champions Leicester City 2-1.
Manchester City claimed a fourth 2-1 win in a row when beating Man Utd in December - what's the longest successive stretch of that scoreline in the Premier League?
City set a new Premier League record for consecutive wins by that scoreline. Everton hold the record for the longest run of consecutive wins by the same scoreline, winning five games 1-0 in the 2002/03 season under David Moyes.