Jose Mourinho has hit back at Paul Scholes over his negative comments towards Manchester United, saying "all he does is criticise" and he hopes he would be "25 per cent" as successful as him if he ever turns to management.
Former United midfielder Scholes, who now works as a pundit, said the players and the manager are "under-performing" after their 0-0 draw with Southampton, while also highlighting his concerns over the fitness and attitude of midfielder Paul Pogba.
And, after United returned to winning ways with a 2-0 win over Everton on New Year's Day, Mourinho responded to Scholes' comments.
"I think the only thing Paul Scholes does is to criticise. I don't think he comments, I think he criticises, which is a different thing, but not every one of us has to be phenomenal, like he was as a player.
"He was a phenomenal player, that doesn't mean that we all have to be phenomenal. Paul (Pogba) tries to do his best all the time. Sometimes he plays very well, sometimes he plays well, and sometimes he does not play so well.
I think the only thing Paul Scholes does is to criticise. I don't think he comments, I think he criticises.
"It is not Paul's fault that he made much more money than Paul Scholes. It is not Paul Pogba's fault, it's just the way football is.
"But I think Scholesy will be in the history like a phenomenal player, not as a pundit. So I prefer to look at him as a phenomenal player who gave so much to the club I am proud to represent and every day I try to do my best.
"If Paul one day decides to be a manager, I wish that he can be 25 per cent as successful as myself, because 50 per cent is 12 and a half silverware, 25 per cent is around six. If he is 25 per cent, he will be quite happy.
"In my mind, Paul Scholes a phenomenal player, one of the best players I have ever seen playing in midfield and he gives so much to my club, I only can thank him for that, because the prestige of this club is based on people like him, so successful here."
United won at Goodison Park thanks to second-half goals from Anthony Martial and Jesse Lingard, who has now scored four in his last five games.
Asked about Lingard, Mourinho told Sky Sports: "These boys, they jump or they don't jump. One thing is to be a young talent and another thing is to be a very good player.
"Some players are not capable of doing that jump, they go from great potential to normal players, but Jesse is giving that jump, he is being more consistent, adaptable, he understands better the game, the different spaces, the different positions, he is going in a good direction."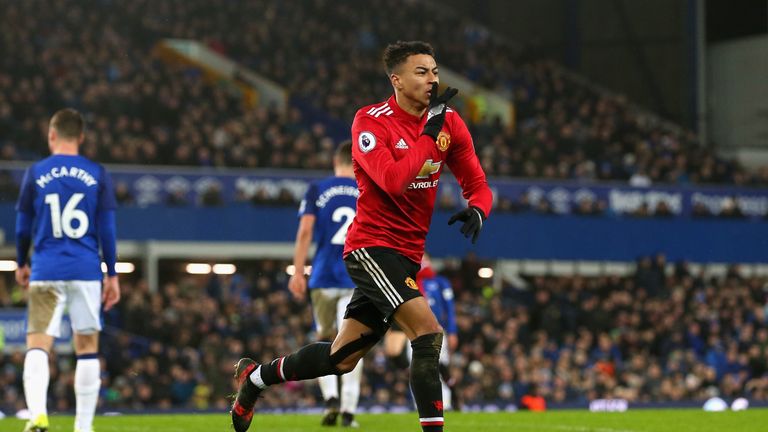 United are still 12 points adrift of Premier League leaders Manchester City, but Mourinho, who has criticised his stars recently, took heart from the way his players battled to subdue Everton.
"The boys deserved it. I keep saying our draws were not bad performances, they had situations that made it more difficult for us and we made our mistakes, especially in the matches against Leicester and Burnley, but the boys were fantastic, their attitude, commitment, pride, their effort, everything was really top class and on top of it we played very well," he said.
"We were always in control. We moved the ball, we had lots of movement, we changed our profile because we didn't have [Romelu] Lukaku, we had to try to win a different way and I am really pleased with the points. Even without points I would be proud of what the boys did."