Ref Watch: Brighton should have had a penalty against Chelsea, says Dermot Gallagher
Last Updated: 22/01/18 4:13pm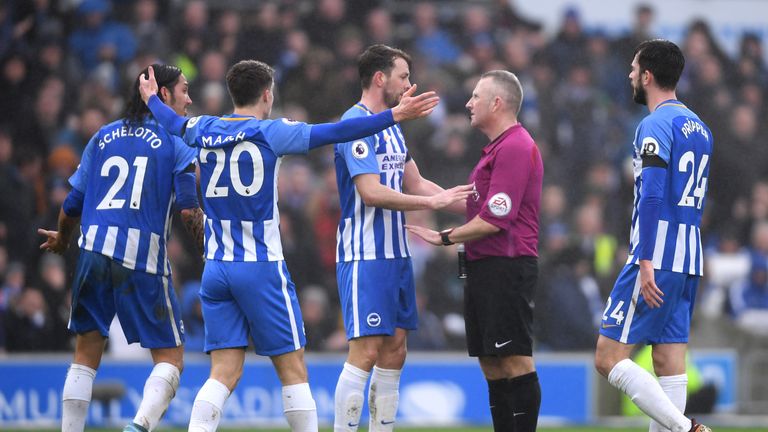 Should Brighton have been awarded at least one penalty against Chelsea? Was Everton's equaliser against West Brom onside? Dermot Gallagher has his say in this week's Ref Watch.
As always, there were a number of hotly disputed decisions over the weekend in the Premier League, however, not to worry as we have Dermot here to run his eye over those big calls.
So whether it is penalties not awarded, tight offside calls and possible red cards not handed out, the former top-flight referee gives us his verdict...
Incident: Brighton manager Chris Hughton felt his side should have had two penalties at the Amex, the first when Willy Caballero tripped Ezequiel Schelotto.
Dermot's verdict: Wrong decision, penalty
Dermot says: It was reported on Sky Sports on the weekend that referee John Moss told Chris Hughton at half-time that he could not see it. And when you see the pictures, he obviously can't because he is on the left side of the picture. Caballero's body then shields him as he goes in. It is a foul on review, there is no doubt about it. And if it had gone to the VAR, it is a clear and obvious error and so would have been a penalty.
Incident: The same Brighton player was involved with the next penalty call with Tiemoue Bakayoko the Chelsea player in question this time.
Dermot's verdict: Correct decision, no penalty
Dermot says: I think not and I also think if this went to the VAR, they would stick with the referee's decision because some people think it is a penalty, I do not, I think it is a coming together. What I would say is if anybody does say it is a penalty, it is certainly not a clear and obvious error, so it would not be referred.
Incident: Was Raheem Sterling offside for his goal that was disallowed?
Dermot's verdict: Correct decision, offside
Dermot says: Just. Another really, really tight call. But when you see it sideways on, as the assistant sees it as speed, I am astonished… that is a really tough call, but a correct call.
Incident: City's penalty - was Raheem Sterling tripped by Javier Manquillo?
Dermot's verdict: Correct decision, penalty
Dermot says: I think it is a foul because he decides to try and pull him, he can't pull him, and then he decides to push him. And I think he does enough to bundle him over and it is a foul.
Incident: Burnley boss Sean Dyche was unhappy Paul Pogba wasn't sent off. The France international was booked later on, but there were two earlier incidents, starting with the midfielder holding back Jack Cork. And then the player kicks the ball away.
Dermot's verdict: Correct decision, no red card as the first incident was not worth a booking
Dermot says: I do not think that is as clear cut as you see as when you see it the Burnley player is also going to kick the ball. So when the whistle has gone, both of them go to kick the ball and Pogba gets there first and kicks it away. So it was not one that was blatantly kicked away with intent or dissent.
The second one, I think that is where the referee [Mike Dean] has been really good. It is a foul, but what he has done is said, 'I have spoken to you there and have already given you a warning.' So that is proactive and really good refereeing.
Incident: Everton's equaliser - there was no offside against striker Oumar Niasse?
Dermot's verdict: Correct decision, onside
Dermot says: The minute that ball got played in, I would have flagged Niasse offside honestly. But he is not offside - he is in an offside position, the ball goes over his head to [Theo] Walcott, who heads it back, and he is then in an onside position and scores. Top draw that from the assistant.