Ref Watch: Dermot Gallagher's verdict on whether Vincent Kompany's goal was offside
Last Updated: 26/02/18 7:13pm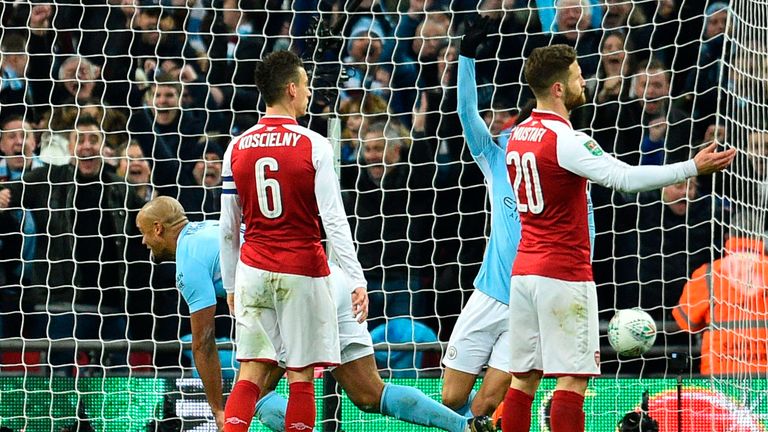 Was Manchester City's second goal in their win against Arsenal at Wembley offside? Should Alvaro Morata's late effort in Chelsea's crucial clash at Manchester United have stood? Dermot Gallagher has his say in this week's Ref Watch.
There were a number of hotly-disputed decisions in the Premier League and the Carabao Cup final over the weekend.
So whether it is penalties not given, offsides, possible fouls, simulation or foul throws, Dermot was on hand to give us his verdict...
Incident: The VAR was used for Manchester City's second goal scored by Kompany. It was ruled that Leroy Sane was in an offside position, but he was not affecting David Ospina in Arsenal's goal.
Dermot's verdict: Correct decision, no offside.
Dermot says: It was a goal because the ball deflected off Kompany and Ospina is diving towards his right. Kompany diverts the ball towards the left, and Sane is nowhere near him [Ospina] and has no impact whatsoever on him. The deflection off Kompany takes it the other way, Sane does not play the ball, so he does not get involved in play and he clearly does not interfere with Ospina's dive because he cannot get back anyhow. It is all about line of vision…
Incident: Shkodran Mustafi believed he was fouled by Sergio Aguero in the build-up to City's opener at Wembley.
Dermot's verdict: Correct decision, no foul.
Dermot says: I just thought he [Aguero] was too strong, he had more desire and wanted the ball. He is looking at all kind of things, but for me it is just not a foul.
Incident: Chelsea defender Andreas Christensen goes down with a head injury in the lead-up to Romelu Lukaku's equaliser at Old Trafford.
Dermot's verdict: Correct decision, the referee was duty bound to play on.
Dermot says: This proves that football is not an exact science and refereeing certainly is not in so much that if a player is down and the referee thinks he has a head injury, he will stop play. In that incident, the two players' heads clashed, the ball is knocked away, Christensen went down quickly and then chose to get up quickly. But by the time Martin Atkinson has looked round, he is already getting up and that sells in his [Atkinson's] mind that he does not have a head injury - he may well have, but in Martin's eyes, the fact the player has got up would tell him he has not and that is what you have to remember. He then carries on and I would admit, is out of position slightly, which is unfortunate and the game goes on. But I think the referee is duty bound to allow the game go on.
Incident: Chelsea striker Alvaro Morata has a late equaliser ruled out for offside.
Dermot's verdict: Too close to call.
Dermot says: It was so, so tight, but what I would say is that it is not guaranteed to be a goal because irrespective of whether it was right or wrong, the referee blew before he shot the ball in the net. So it would not have been a goal, that is what you have to remember. Whether it was an incorrect offside decision is up for debate as I can't tell what part of his body is ahead, whether it is his arm, whether it is his chest… and I think VAR would have had a long time studying this one.
Incident: Spurs forward Dele Alli goes down in the box, but no penalty is given, while the player also escapes a booking.
Dermot's verdict: Correct decision, no penalty.
Dermot says: It is certainly not a penalty because he does not get fouled by the goalkeeper, he goes into the 'keeper. Even before Wayne Hennessey has made contact with Alli, his knees have already crumpled, so it is not a foul. He may well say he is anticipating being hit, but it is certainly not a penalty.
Incident: Serge Aurier managed a hat-trick at Selhurst Park on Sunday, but unfortunately it was of foul throws.
Dermot's verdict: No comment!
Dermot says: Well, he did at least manage to keep one foot behind the line on the first of those examples!