Arsenal 0-3 Manchester City: Five talking points as Gunners lose again
Last Updated: 01/03/18 11:01pm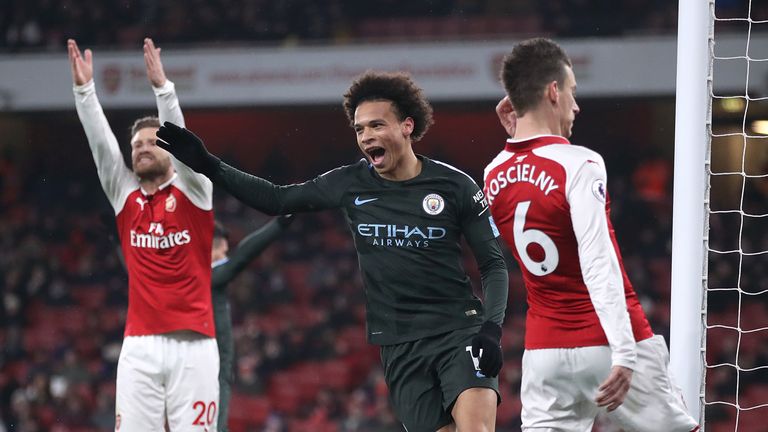 We round up the talking points from Manchester City's 3-0 win over Arsenal at the Emirates Stadium.
Pep Guardiola's side triumphed by the same scoreline as in Sunday's Carabao Cup final as first-half goals from Bernardo Silva, David Silva and Leroy Sane underlined the gulf between the two sides.
The result takes City 16 points clear at the top of the Premier League table and piles more pressure onto Arsene Wenger, whose Arsenal side have lost four of their last five games. Here are five talking points from the game.
City's brilliance
Manchester City's brilliance has become normal this season but they found yet another level in the first half on Thursday night. Many wondered whether Guardiola would be able to coax a performance from his players so soon after winning the Carabao Cup, but the doubts were quickly forgotten.
Arsenal showed intent and worked hard in the early stages, but City were utterly ruthless, scoring from three of their four shots on target and becoming the first side in Premier League history to score three first-half goals in an away game against the Gunners. Each one came from individual brilliance and dazzling combination play.
The performance was even more impressive given that the team was missing two key players in Fernandinho and Raheem Sterling. Sky Sports pundit Jamie Carragher described it as "a testament to Pep Guardiola", adding: "What we're seeing now is the best football in Europe. This football is breathtaking. It's some of the best football I've ever seen in this league."
Super Sane
Leroy Sane was named man of the match having had a hand in all three goals and tormented Arsenal from start to finish. His contribution to the opener was perhaps the highlight, as he danced through a crowd of defenders on the left flank before teeing up Bernardo Silva.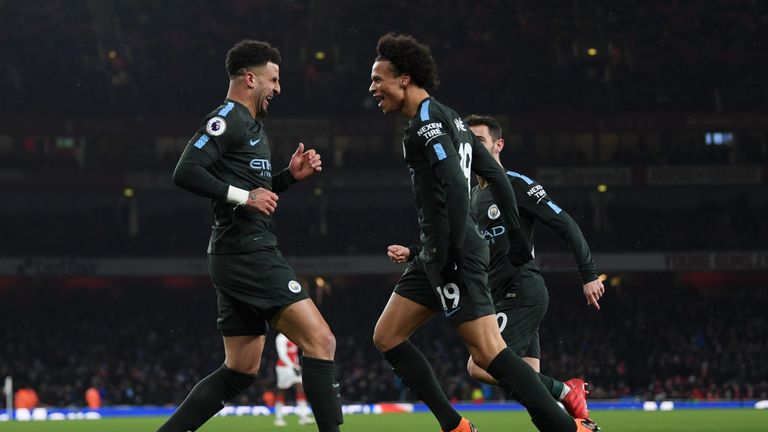 The German twisted and turned again before finding Sergio Aguero to set up David Silva for the second goal, and he scored the third himself, ghosting into the box to convert Kyle Walker's cut-back following a scintillating counter-attack. Arsenal couldn't handle his pace, movement and skill.
The performance, which took him to eight Premier League goals and 11 assists for the season so far, came just two weeks after he was hauled off at half-time during City's FA Cup defeat to Wigan Athletic. His response shows he has grit and determination to match his ability.
Aguero improvement?
There was no 200th goal for Sergio Aguero but this was another performance which underlined how he has changed his game to satisfy Guardiola. The Argentine selflessly set up David Silva's goal and he was instrumental in the third too, coming short before flicking the ball around Laurent Koscielny to set the move in motion.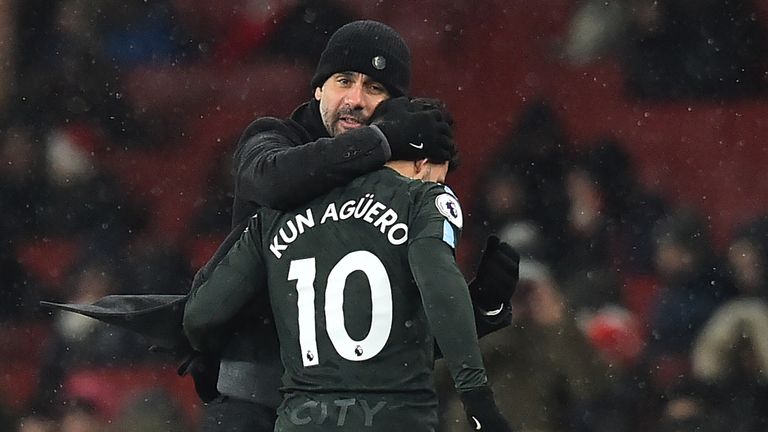 "There was a time when I thought he maybe wasn't in Pep Guardiola's plans, but I feel less so now," said Sky Sports pundit Gary Neville in the commentary box. "Watching him in the last couple of months - particularly since Jesus' injury - he really looks confident and happy on the pitch."
Apathy at Arsenal
Carragher warned that the atmosphere could turn "toxic" if City scored an early goal, but despite Bernardo Silva's 15th-minute opener, the mood at the half-full Emirates Stadium was one of apathy rather than toxicity. There were boos at half-time and again at the end, but for the most part the fans who braved the cold barely had it in them to be angry.
It is a damning indictment of where the club is at and it was a similar story on the pitch. Arsenal had the opportunity to pull a goal back with their penalty early in the second half, but Pierre-Emerick Aubameyang's tame effort summed it all up. "We all called it," said Thierry Henry afterwards. Arsenal's dejected players played out the final half-hour at walking pace.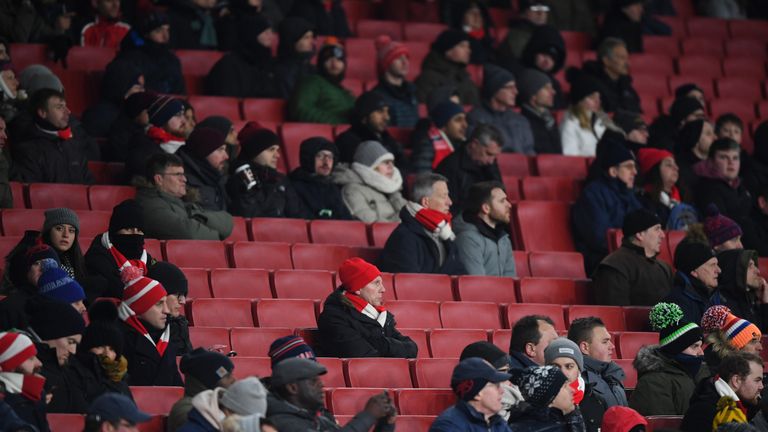 The apathy seemed to extend to the manager, too. Despite the obvious tiredness of his players, Wenger did not make any of his three substitutions. "They just looked shattered and knackered of any real hope or belief," said Carragher. "It was just a procession, the second half."
Arsenal are now 10 points off the top four with just 10 games of the campaign remaining. Continue like this and, with an away trip to Brighton to come on Sunday and the first leg of their Europa League last-16 tie with AC Milan next Thursday, the worry now is that their season could be consigned to the scrapheap within a week.
Time for change?
According to Carragher, Arsenal's best hope of salvaging the situation would be to announce a change of manager at the end of the campaign. "He is a legendary figure not just for Arsenal but in the English game, but they have to change it, it has to be done," he said.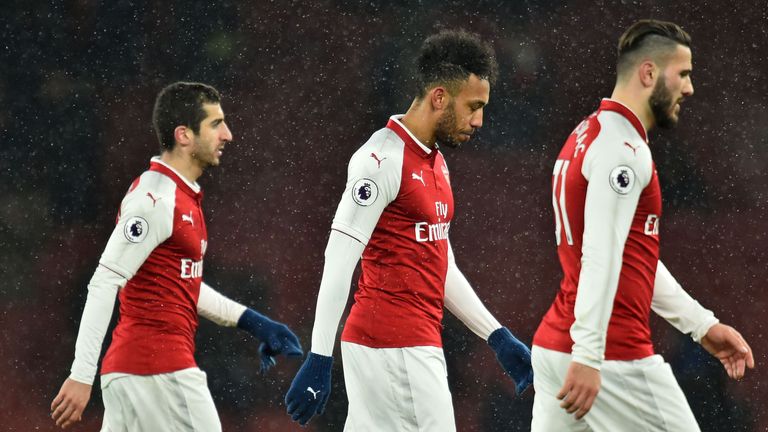 "There's no way that the end of the season should be about going through that, with empty stadiums. Announce now that you're going to change the manager at the start of next season, and I'm sure everyone in this stadium, everyone on TV, on the radio, will say: 'Give this man a send-off'.
"I'd love to see him go out and win the Europa League and put Arsenal in the Champions League. It's not that being in the Champions League next season means Wenger keeps his job or not. For me that's got nothing to do with it. Make the decision now and give this fella a send-off, what he deserves for what he's done over the last 20 years."