Pep Guardiola warned by FA chief Martin Glenn over 'political symbol'
By Bryan Swanson, Sky Sports Chief News Reporter
Last Updated: 05/03/18 9:09am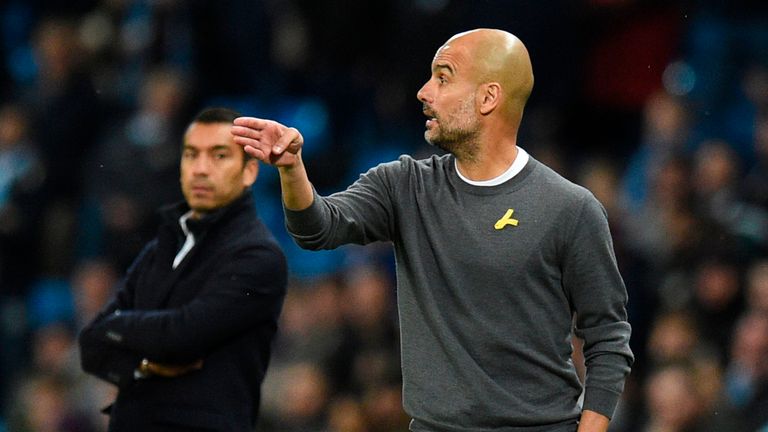 Manchester City manager Pep Guardiola should not wear a "political symbol" following his charge for displaying a yellow ribbon, according to FA chief executive Martin Glenn.
Guardiola has continued to wear the ribbon despite being charged by the FA for doing so during league and domestic cup matches this season, and the 47-year-old has until Monday to respond.
The ribbon, worn in protest against the imprisonment of pro-independence politicians in Guardiola's native Catalonia, was deemed to break the FA's kit and advertising rules.
"It's the same rule and we don't want football equipment to display political symbols," said Glenn following a meeting of football lawmakers in Zurich.
"That has always been the case. The problem we had with poppies is that, for some reason, a new person at FIFA seemed to think poppies were a political symbol and we fought hard against that notion and thankfully sense broke out.
"We have re-written Law 4 of the game so that things like a poppy are okay, but things that are going to be highly divisive, and that could be strong religious symbols, it could be the Star of David, it could the hammer and sickle, it could be a swastika, anything like Robert Mugabe on your shirt, these are the things we don't want.
"And, to be honest, and to be very clear, Pep Guardiola's yellow ribbon is a political symbol, it's a symbol of Catalan independence, and I can tell you there are many more Spaniards, non-Catalans, who are p****d off by it.
"All we are doing is even-handedly applying the laws of the game. Poppies are not political symbols, that yellow ribbon is. Where do you draw the line? Should we have someone with a UKIP badge, someone with an ISIS badge?
"That's why you have to be pretty tough that local, regional, national party organisations cannot use football shirts to represent them."
Guardiola has said he will stop wearing the ribbon if the Premier League-leading club's officials ask him to or if it adversely affects the team's form.
"My personal opinion is not a political opinion," Guardiola said last week. "When men and women put on a red (pink) ribbon it's because of the support for the breast cancer initiative.
"The same as when I wear the prostate cancer badge. The idea is the same... Of course, I don't want to damage my team or club."