Sin-bins will 'almost certainly' be introduced in football, says Neale Barry
Last Updated: 21/03/18 6:16am
Sin-bins will "almost certainly" be introduced in English football in the future, says the FA's head of referees Neale Barry.
Local park leagues in Nottinghamshire are already experimenting with sin-bins, whereby players take 10 minutes out of the game if they receive a yellow card, after IFAB (International Football Association Board) gave national associations permission to test the initiative two years ago.
Barry, speaking on Sky Sports for Support The Ref week, is positive about its use so far, though its use may be more suited to grassroots football rather than the professional game.
Barry said: "I think it is almost certainly something that could work, and almost certainly something that we will, as a football association, introduce in the future.
"Last year we had 32 leagues experimenting the sin-bin phase, and it's been positive. We're extending the number of leagues in the experiment next year, and then looking to extend it again in 2019/20.
"The discussion we're having is how far up the leagues do you go with the sin-bins. It's been a very, very positive start, and people understand that it can work, we just need to make sure we bring it in slowly. Undoubtedly, though, it will be rolled out across grassroots football in the coming years."
Barry also believes the introduction of sin-bins would reduce dissent, and says the stats prove that players take more responsibility for their actions if they feel it could harm their team.
"Anything that we can bring in to make the referee's job easier, and helps people take responsibility for their own actions, then hopefully the image of the game can improve. There has been a 38 per cent reduction in dissent in the 32 leagues experimenting with it, and I think a lot of that comes with peer pressure.
"If I'm in the sin-bin having had a go at the referee, and I'm in there for 10 minutes, then my team-mates are not very happy with that. So I think it does reduce the dissent."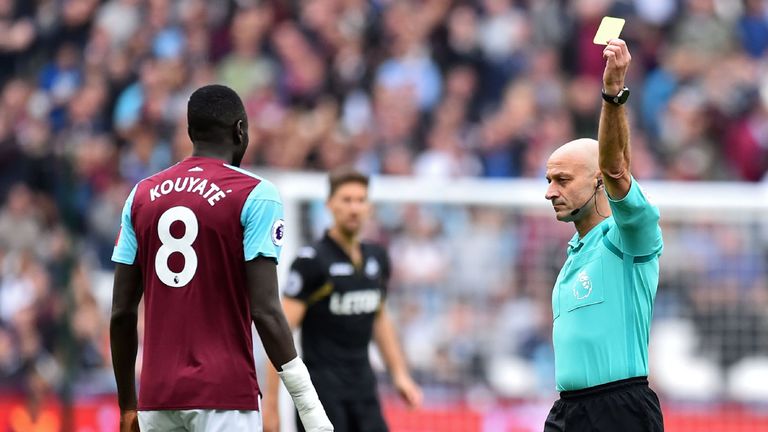 Former Premier League referee Dermot Gallagher feels the policing of sin-bins could become troublesome, however, and does not feel the new rule would be right for the game at present.
"Some referees think it works, some don't. It's very hard to police, because if I give somebody a 10-minute sin bin, then give another player a 10-minute sin-bin, you have no fourth officials at those levels, so they're policing themselves.
"It's quite difficult with what else they have to deal with on the field. It's a good idea, I think, but I'm not sure it's quite right at the moment."