Aidy Boothroyd being assisted by Iffy Onuora for England U21 double-header
By Dev Trehan
Last Updated: 22/03/18 5:59pm
Aidy Boothroyd has confirmed former Huddersfield and Gillingham striker Iffy Onuora is working with England's U21 squad as part of the FA's efforts to increase inclusivity within the game.
Earlier this week, the FA made a pledge to have an ethnic minority coach as part of the coaching staff with all 28 England teams wherever possible.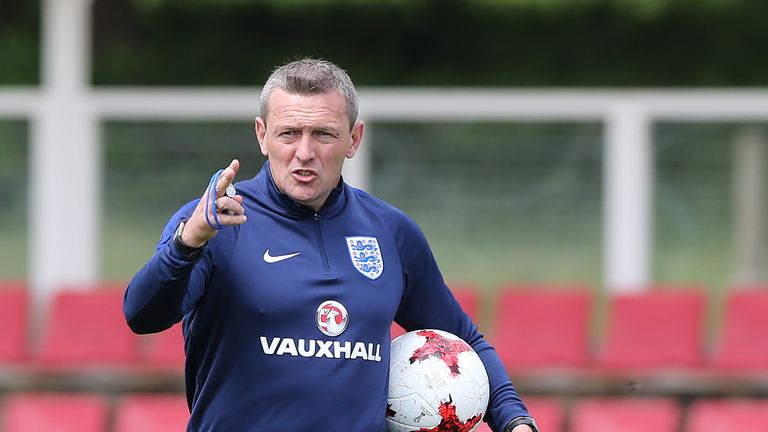 Boothroyd is supportive of the initiative and says PFA regional coach Onuora - who has had managerial spells with Swindon, Gillingham and Lincoln - is the perfect candidate to help England's U21 squad.
"It's a scheme that the chairman has been pushing and Iffy Onoura has come with us," Boothroyd told Sky Sports News.
"Iffy is a guy that has had international experience as a manager with Ethiopia and has also played the game. He also works within the PFA.
"So Iffy is exactly the right kind of candidate to come into this scheme because he is experienced, he's been around football and he wants to be a coach. He is exactly the sort of guy we need."
Boothroyd's U21 side face Romania in a friendly at Molineux this weekend, before they host Ukraine in a European Qualifier at Bramall Lane the following Tuesday.
Saturday's game is dedicated to ex-Wolves and England striker Cyrille Regis, who passed away earlier this year. Wreaths from all four of his former clubs, and the FA, will be placed on the turf ahead of a minute's silence to celebrate Regis' contribution to football in England and the Midlands.
Boothroyd knows the game will be an emotional affair and hopes his side can put on a performance to honour Regis.
"In his later years when he [Regis] was still working in the game is when I really got to know him," Boothroyd said.
"I always found him courteous. He was a real gentleman of football, who had respect everywhere he went.
"It will be a sad day but it is important we show our respect, and if we can put on a performance and have our No 9 score as couple of goals like Cyrille used to, then I think it will be a good occasion."