Rainbow Laces wins Campaign of the Year at Sport Industry Awards
"Winning this award is such a proud moment for Stonewall and TeamPride," says LGBT rights charity's director of sport Kirsty Clarke; Sky Sports among consortium of companies supporting the campaign
Last Updated: 27/04/18 11:20am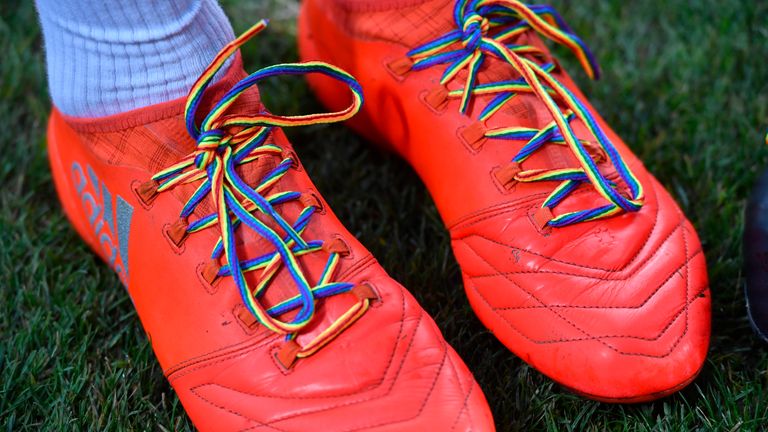 The Sport Industry Awards' Campaign of the Year is Rainbow Laces, the LGBT inclusion in sport initiative run by Stonewall and TeamPride, which includes Sky Sports.
LGBT rights charity Stonewall have declared the campaign's success in the category as "a proud moment" after collecting the prestigious honour at Thursday night's ceremony in London.
Rainbow Laces' mission is to 'make sport everyone's game', ensuring that all lesbian, gay, bisexual and transgender people can enjoy and be a part of sport.
TeamPride is the consortium of companies that work with Stonewall to help make the campaign possible, and includes Sky Sports alongside adidas, Aon, Aviva, Barclays, eBay, Manchester United, O2, the Premier League, and Visa.
The businesses and brands not only provide funding, but also invest expertise and strategic guidance, engage leading sports institutions and bodies, and create a team of Rainbow Laces supporters through their staff and customer networks.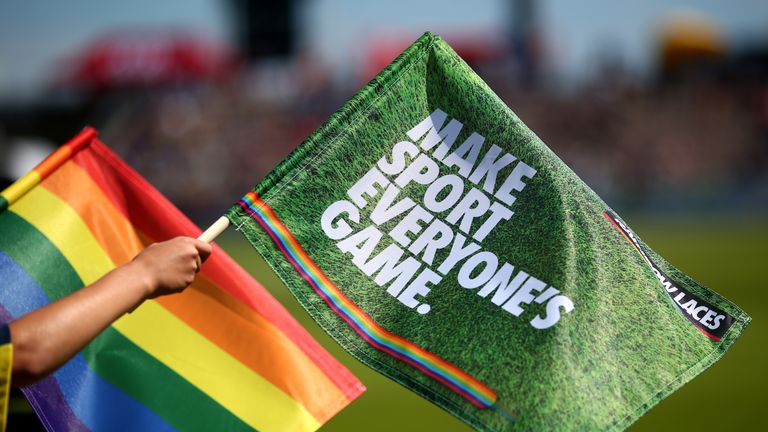 This unique style of partnership impressed the award judges, who also praised the campaign for its creativity, execution and strategy. Since its launch in 2013, Rainbow Laces has become a fixture in the sports calendar and thousands of laces have been bought by fans.
Arsenal and England legend Alex Scott presented the Campaign of the Year award to Stonewall's head of campaigns Robbie de Santos and director of sport Kirsty Clarke.
Clarke said: "Winning this award is such a proud moment for Stonewall and TeamPride, and it's great for all those who make Rainbow Laces happen to have their passion and commitment recognised.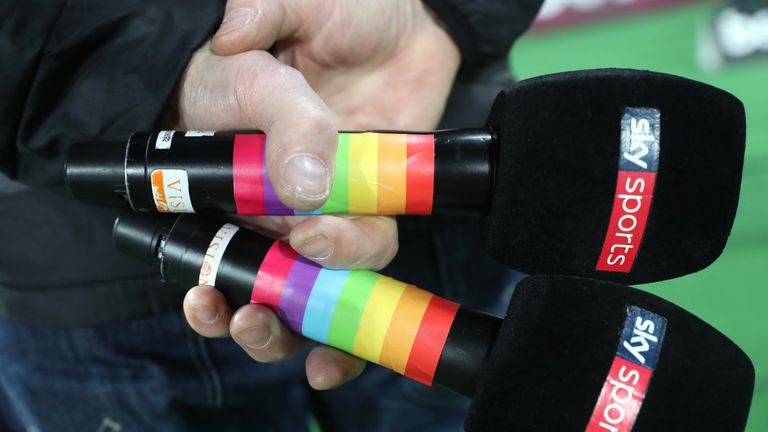 "With a simple shoelace, we've inspired senior sports leaders, institutions, grassroots clubs, fans, athletes and the wider public to support lesbian, gay, bi and trans people in sport like never before.
"We've placed Rainbow Laces firmly in the sporting calendar, creating a campaign that sports bodies and organisations actively want to get involved with, if they're not already.
"We've been able to further our reach through innovative partnership work, creating a collaborative funding model that allows the campaign to be adopted by all sports, regardless of sponsorship deals. Our partners - who together form TeamPride - enable us to speak to sports communities in a new and more direct way.
"We would not have been able to do this without the support, insight and determination the amazing team of people that make up TeamPride."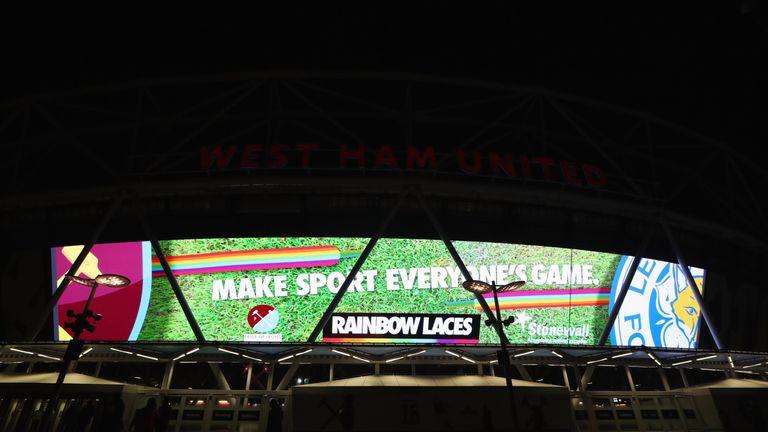 Some of the sports bodies who take part in Rainbow Laces include British Basketball, the British Olympic Association (Team GB), British Cycling, England Hockey, England Rugby, the English Cricket Board, English Football League, the Football Association, Great Britain Wheelchair Rugby, the Premier League, Premiership Rugby, the Professional Football Association, Rugby Football League, Scottish Professional Football Association, UK Athletics, Welsh Football Association and Welsh Rugby.
The BT Sport Industry Awards are the leading commercial sports awards in Europe, and Thursday's ceremony was attended by guests including Sir Mo Farah, Johanna Konta, Sir Ben Ainslie, George Groves, Brian O'Driscoll, Casey Stoney, Jordan Nobbs, Chris Eubank Jr and Snr, Kate and Helen Richardson-Walsh, and Ellie Simmonds.