Should Wayne Rooney join Steven Gerrard at Rangers? Paul Merson and Craig Bellamy discuss
Last Updated: 10/05/18 11:42pm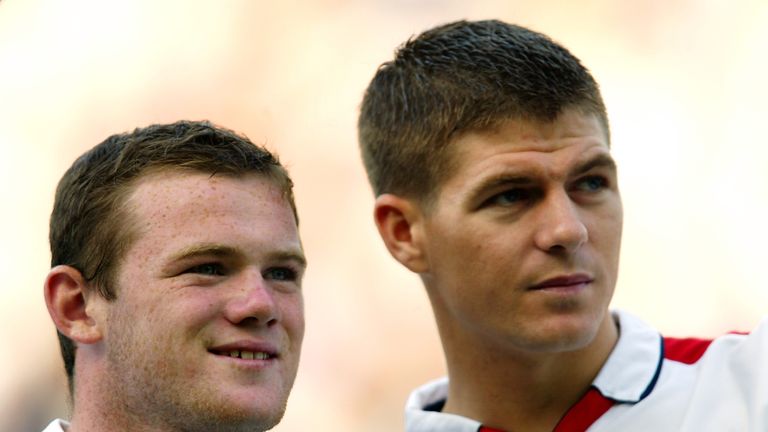 Should Wayne Rooney reconsider his move to the MLS and join Steven Gerrard at Rangers? Paul Merson and Craig Bellamy discuss.
Sky Sports News understands Rooney has agreed a deal in principle with DC United that would see the former England captain join the MLS club for £12m.
Rooney's last Premier League game is likely to be at the London Stadium against West Ham on Sunday but Merson thinks a move across the border to join Gerrard - who was appointed Rangers manager on a four-year deal last week - could suit the former Manchester United striker.
Speaking on the The Deabte, Merson said: "It'd be great for Scottish football - if it was me, I'd go to Rangers."
However, Bellamy, who spent time in Glasgow playing for Celtic, thinks the way of life across the pond would be hard to turn down.
He said: "He's proved what he is. We know everything about Wayne Rooney. This next move has to be right for his lifestyle and his family. It's a great opportunity to go somewhere different. Glasgow is a tough city - if I was Wayne, I'd go to America."
Rooney's move is likely to be confirmed on July 10, when MLS's mid-season transfer window opens.
The former England captain has one year remaining on the two-year deal he signed last summer when re-joining his boyhood club after 13 seasons at United.
Rooney has scored 10 times in the league for Everton this season but the last of those goals came in a 3-1 victory over Swansea on December 18.
Despite Rooney's recent lack of influence on games, Merson thinks the former England skipper will enjoy the pace of play in the MLS, where he's likely to see plenty of the ball.
He said: "I've always looked at Wayne Rooney as someone who just wants to play football, wants to get on the ball, touch the ball 40, 50, 60, 70 times and sometimes that has been his Achilles heel.
"If you watch Lionel Messi play football in a live game you cannot believe how many times he stands still in a football match. He isn't chasing the ball, he just stands and the ball will come to him.
"The problem with Wayne is he always wanted to go and get the ball. Fair play to him, he could probably have stayed at Man Utd and drifted in and out but he's gone back to his boyhood club. If he goes to America, he's going because he just loves playing football. He isn't worried about the money, he just wants to play football."