Mesut Ozil Q&A: Key questions on his dispute with the German FA
Mesut Ozil announced his international retirement on Sunday
Last Updated: 25/07/18 8:05am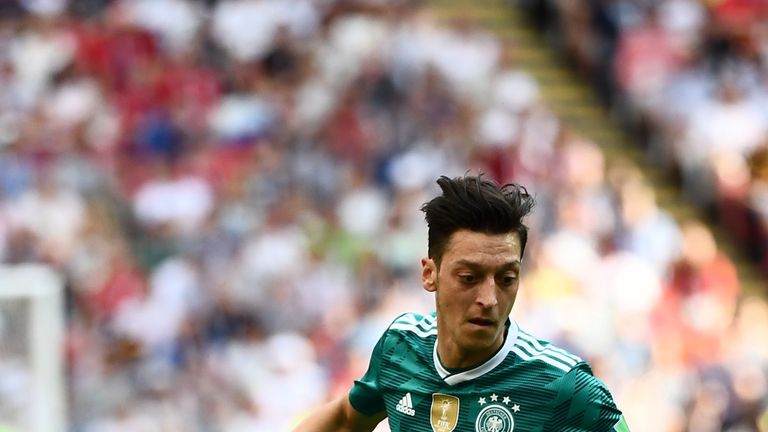 What's the latest on Mesut Ozil's dispute with the German Football Association? Is there any chance of a return to the national team fold? We asked Sky in Germany for the lowdown.
Ozil announced his retirement from international football on Sunday and accused German FA (DFB) officials of racism following the media storm surrounding his photograph with Turkish President Recep Tayyip Erdogan ahead of the World Cup.
The DFB have rejected Ozil's accusations, instead calling for the 2014 World Cup winner to provide answers regarding the controversial photograph with Erdogan, who has been accused of abusing human rights laws and restricting press freedom.
Ozil has faced fierce criticism over the affair, most notably from Bayern Munich president Uli Hoeness, who is now embroiled in a war of words with Ozil's agent, Dr Erkut Sogut.
Here, Sky in Germany reporter Alexander Bonengel helps us untangle the situation and gives us his views on what might happen next…
Why were so many people in Germany offended by the photograph?
There are different reasons. The majority of Germany is offended because Erdogan is a despot and autocrat. Taking a picture with him was interpreted by many as a support for Erdogan, especially because the elections in Turkey were right around the corner.
Some people also interpreted the picture as a confession of loving Turkey more than Germany while playing for the German national team.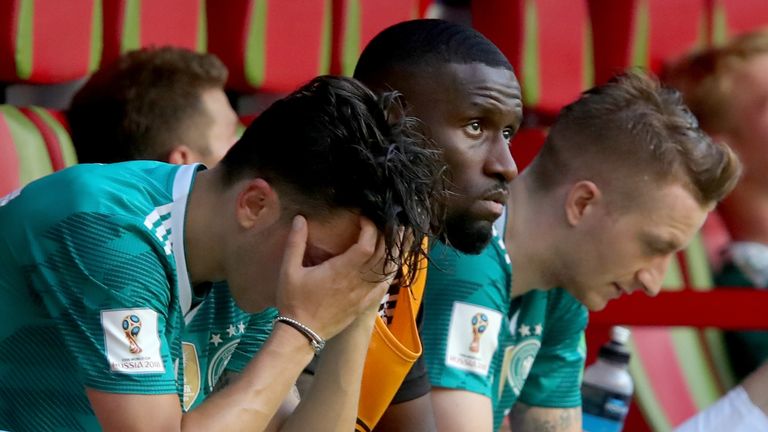 But the main reason for irritation is the fact that he was photographed with a person who suppresses people, puts his opponents in jail and denies press freedom.
Of course, there are also some right-wing people who have been attracted to the affair. The tragic thing is that the more it has escalated, the more the fires they are keen to spread have been fuelled.
Is there a climate of hostility between German and Turkish communities in Germany?
There are no hostilities in general. People of Turkish heritage have been living in peace here in Germany for generations. People like Ozil were role models for integration and multicultural living. But politically, of course, there are tensions as Erdogan is a despot and autocrat.
Could the episode have been handled better by the DFB and Ozil before the World Cup?
Of course. The DFB did nearly everything wrong from the beginning. Also, Ozil spoke out about it way too late. If Ozil had spoken directly afterwards, he could have killed the matter sooner.
But he didn't, and the DFB stayed silent too. They didn't put pressure on him. Now, after the World Cup disaster, they have questioned his behaviour and tried to make him a scapegoat. That was wrong, that was dirty, and people here realise that. The pressure on DFB and president Reinhard Grindel is huge.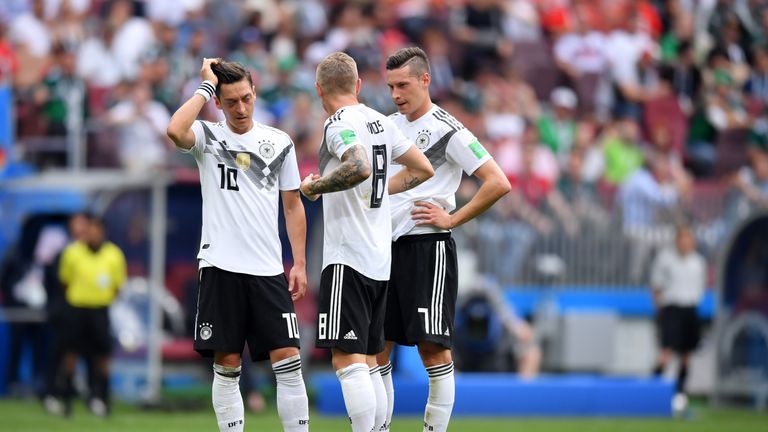 How much did it really affect Germany's World Cup campaign?
It's hard to say now. It caused some irritation, of course, but most likely is that it didn't affect the performance of the team on the pitch.
Why has Ozil received so much more criticism than Ilkay Gundogan, who was also in the picture?
Because he didn't speak directly afterwards like Ilkay. However, what Gundogan said was pretty soft and no excuse for the photograph at all. But he behaved smartly.
By not speaking, Ozil inadvertently shifted the attention to him. That's the strange thing. Ilkay made a personal dedication on the jersey he gave Erdogan, saying "my president". That made it political, whereas Ozil's behaviour was just naïve.
Is Ozil correct when he says he is made a scapegoat for Germany's problems?
In this case, yes. Grindel and Oliver Bierhoff only started to put pressure on Ozil after the World Cup, having left him alone completely in the weeks before that.
What was the general reaction in Germany to the statements released by Ozil on social media?
It was very divided. But people realised that his statements didn't contain a single word of self-criticism, nor an excuse, so the compassion is limited.
Was there surprise in Germany about Hoeness' comments?
Yes, but on the other hand, that's how Hoeness is. He is very emotional, often populistic. He likes to make headlines sometimes. This is not the first time it has happened.
What does the future hold for DFB president Reinhard Grindel now?
He has to speak out on the subject. He has to find the right words and deliver believable facts to refute Ozil's accusations. He is politically responsible for the whole affair and he has also made mistakes himself, especially by making Ozil a scapegoat.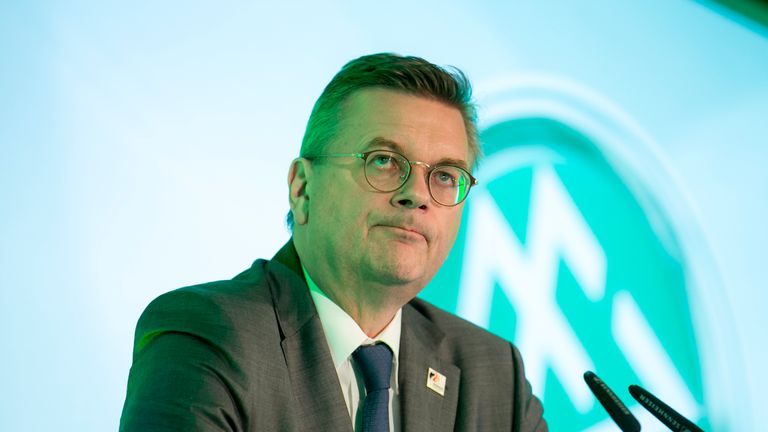 If it's true that Grindel was partly responsible for Ozil's silence, he can't survive that as a president of DFB. In addition to that, he was one of the most unpopular DFB presidents from the beginning, especially among the league officials. More and more people are criticising him now.
He is an ex-deputy of the Bundestag [the German federal parliament], and politicians talk about his leadership style, how he is opportunistic and aggressive, and he is even described as right wing. In 2004 he described the idea of a multicultural society as a "myth", as mentioned in Ozil's statement.
Where does Joachim Low stand on all of this?
He has tried to stay away from the discussion. There has been no statement from him yet.
He has lost one of his favourite players, but on the other hand he will no longer be torn between Ozil's footballing ability and the furore around his future.
There might be an element of relief because there are overlapping connections between their agents in the background. Ozil's agent, Sogut, and Low's, Harun Arslan, are closely linked in a business sense. Now there will be no conflict of interest there.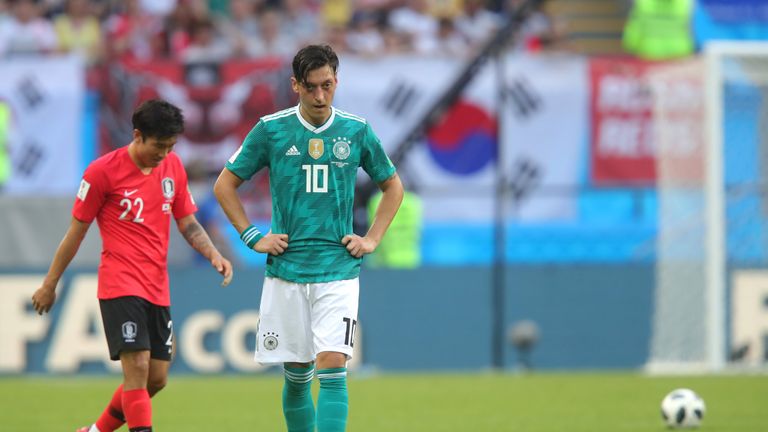 Is there any chance of Ozil playing for the national team again?
Very unlikely. There is too much which can't be repaired. If Grindel stays president, there is zero chance. If he leaves or is forced to leave, there may be a very slight chance of a return, but Low is expected to rejuvenate the side after the disappointment of the World Cup.
There are still a lot of talented players in Germany who will develop for Euro 2020, but if the team struggles during qualification and Low and his staff think Ozil is the missing piece, there may be a small chance of talks - but only under new DFB leadership.
All in all, it seems very unlikely. This chapter is pretty much closed.