'Mario' movie now available to watch on Sky Store
Film shows the struggle of two footballers at a club in Switzerland after they unexpectedly fall in love; watch interviews with director Marcel Gisler and actor Aaron Altaras here
Last Updated: 10/09/18 6:17pm
The football movie 'Mario', which follows the relationship of two team-mates and its consequences, is now available to watch on Sky Store, and on DVD.
The film, co-written and directed by Marcel Gisler, played in UK cinemas in July and August and has been winning widespread acclaim at film festivals around the world.
The plot is centred on the eponymous Mario (Max Hubacher) and Leon (Aaron Altaras), who joins Mario's football club in Switzerland at Under-21 level; together, they compete on the pitch for the chance to secure a place in the first team.
However, when asked to share an apartment, their rivalry takes a more passionate, intimate turn. As their relationship intensifies, attitudes within the club force them to make a choice between their careers or each other. Should they follow their hearts or play by the rules?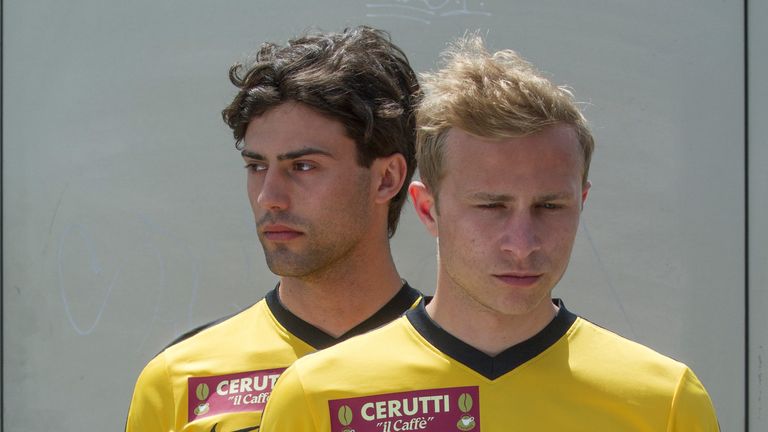 To coincide with the release of the movie for home viewing through Peccadillo Pictures, you can watch interviews with Gisler and Altaras in two short films here.
In 'Making Mario', the director and actor discuss the challenges of bringing a realistic film about professional footballers to the big screen, with footage shot at Swiss club Young Boys Bern - who host Manchester United in the UEFA Champions League next week - and Bundesliga.2 club St Pauli.
Altaras says the football action scenes were "extremely difficult" to put together. "You're not only training 11 players and a camera and a crew, but another 11 players from the other team, so you have to get all of that right," explains the German actor.
Special effects were needed for the scenes at St Pauli's Millerntor Stadium in Hamburg. "We shot the audience in a real match, then our game in an empty stadium before a huge green screen, and put it digitally together," says Gisler.
The authentic scenes of on-the-pitch action are combined with intense drama, making 'Mario' a highly relevant and topical film which shines a light on the pressures put upon professional football managers and associates alike to keep quiet about players who identify as gay in favour of preserving their careers.
In the second short film, 'Breaking Taboos', Gisler describes how portraying this part of the game accurately was hugely important to the success of the movie - something he couldn't have achieved without support from the professional game itself.
"I tried not to tell a fairytale, but to tell a story which is the most realistic possible today," says the writer-director. "Young Boys Bern opened the door for me. They supported us from the beginning of the project."
The film highlights homophobia within the game as well as wider issues around bullying and inclusion that are being addressed by many national and local football clubs as well as wider sports organisations.