Manchester United must solve slow-start issue for Manchester City derby clash
Man City v Manchester United, 4.15pm, Sunday
By Ben Grounds
Last Updated: 10/11/18 6:55pm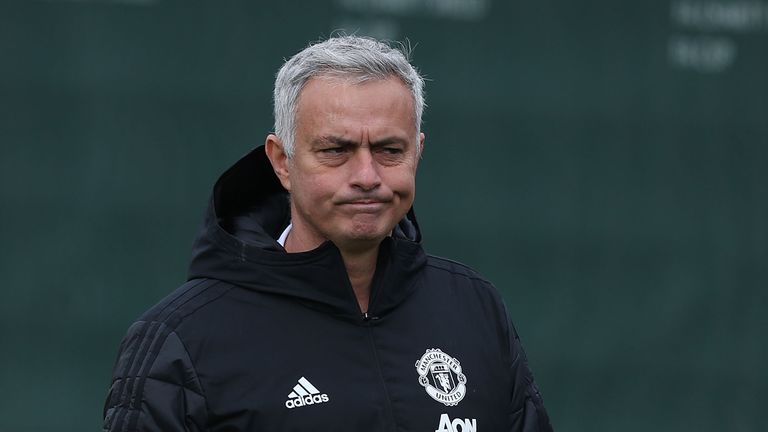 Jose Mourinho has told his Manchester United players to "grow up" and stop relying on their powers of recovery. They can ill-afford another slow start against Manchester City, writes Ben Grounds…
Manchester United have overcome two of their three hurdles away from home this week, but the trip to face Manchester City at the Etihad, live on Super Sunday, will be their stiffest test.
The late 2-1 midweek victory over Juventus in Turin has been heralded as the club's best in Europe since Sir Alex Ferguson retired in 2013, but there was little convincing about it beyond the viable option Marouane Fellaini offers as an impact player.
Juventus, like Bournemouth four days previously, ought to have been out of sight, and United know they cannot expect their swashbuckling neighbours to be as profligate when the opportunities present themselves.
Mourinho has been seeking solutions for his side's lethargy this term, and there were signs of encouragement in Turin, where his defence was only breached by a stunning strike from Cristiano Ronaldo after 65 minutes.
But the fact remains they were again forced to come back from behind in a match this season.
United's first comeback, against Newcastle on October 6, was even more impressive, with Mourinho galvanising his players to recover from a 2-0 half-time deficit to win 3-2 at Old Trafford.
On October 20, Chelsea were 1-0 up against United at Stamford Bridge when Anthony Martial's double put the visitors on the brink of an unlikely win before Ross Barkley's dramatic late equaliser.
United also came back from 1-0 down at Bournemouth last weekend to win, meaning they have taken 10 points from losing positions in their last six games. When things become wild and chaotic, United seem to be at their best.
But Mourinho sent a warning to his players at Friday's press conference. "If we keep conceding goals before the opponent, the day will arrive when we cannot come back," he said.
That day could easily come this weekend. United cannot afford to give Manchester City a head start.
City have won all nine Premier League games this season when they've scored - recording a 32-3 aggregate score.
In fact, they have won 38 of their past 40 games when scoring first, drawing one and losing the other to Manchester United in this fixture last season.
"We have to grow up not just in our approach, but we have to grow up in our compactness and start matches well," added Mourinho.
Importance of an early goal
Manchester United are unbeaten in their last 67 PL games when scoring first (W58, D9) since 2-1 defeat v Swansea (A), Aug 2015.
Since September 29, United have played eight games in all competitions, and theyve conceded seven first-half goals, scoring just twice.
City, on the other hand, have led at the break in all-but three of their 11 Premier League matches so far this season, scoring an unrivalled 17 goals.
At the other end, only Liverpool have conceded fewer goals than Pep Guardiola's side (3) by half-time, while only five teams have conceded more goals than United (9) at the break.
City v United - tale of their first halves
| | Man City | Man Utd |
| --- | --- | --- |
| Goals scored | 17 (1st) | 9 (6th) |
| Goals conceded | 3 (T-2nd) | 9 (T-15th) |
| Shots on target faced | 10 (2nd) | 28 (17th) |
How can United prevent another slow start?
The midfield three which beat Juventus on Wednesday were the same trio which played without fear in the second half at the Etihad last April - Ander Herrera, Nemanja Matic and Paul Pogba, and that is likely to be the same combination Mourinho selects this weekend.
The manager has suggested he will try to go toe to toe with City in a bid to take them out of their rhythm. "We are going to try," he said. "I can't say if we're going to be successful in our motivations and in our desire, but we've played two very difficult matches away to two very difficult teams, Chelsea and Juventus, and we managed to get good results.
"Even if the good results were not in our pockets, the performances were there. The positive attitude was there, so we are going to try. Manchester City is a very powerful team."
The positioning of Pogba could be crucial to United's success. United's 3-2 win away to City last season was largely down to a change to a more direct approach in the second half, with Pogba scoring twice having been moved further up the pitch.
Having been given greater licence to roam in Turin, Pogba could be deployed in a similar manner this weekend.
City have won just two of their last eight matches against United in all competitions, and Danny Higginbotham believes both Pogba and Anthony Martial hold the key to Mourinho's side avoiding another slow start this weekend.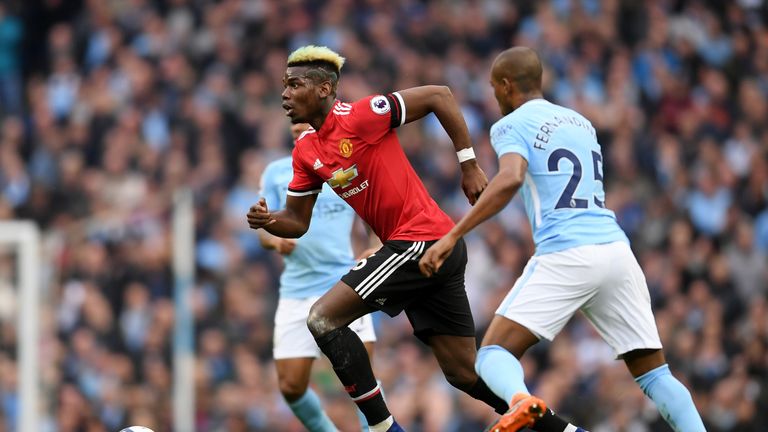 He told Sky Sports News:: "We know the areas that Pogba likes to drift into and we know Martial likes to keep his width.
"Pogba is a very powerful runner, and when he gets into his stride, he's very difficult to stop. When Alexis Sanchez plays as a centre-forward, he tends to drop deep or drift over to the right, which creates space between City's right centre-back and right-back.
"If you're a full-back up against Martial, the last thing you want is for him to get the ball and run at you, so automatically Kyle Walker will get tight to him so there's no space.
"But then Pogba can go into the space if Martial keeps the width. The space becomes huge, and that would leave so much room for Pogba to get into."
United would fall 12 points adrift of City should they lose - a virtually unassailable gap given the hunger of Guardiola's side to eclipse even last season's feat of 100 points.
While the rediscovery of the resilience that was the hallmark of the Ferguson era has been at the heart of United's revival in the past month, they will have to be fast out of the blocks on Sunday if they are to stay in touch of their neighbours.