Manchester City 3-1 Manchester United: Gary Neville's derby verdict
Last Updated: 12/11/18 12:15pm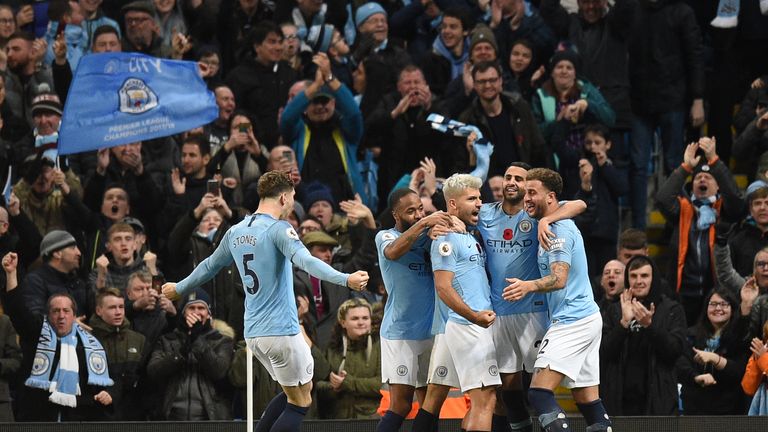 How good were Manchester City in their derby win over Manchester United? How far are City ahead of United? And where do United need to improve? Gary Neville gives his verdict...
City were largely comfortable as they beat United 3-1 at the Etihad on Sunday, with David Silva, Sergio Aguero and Ilkay Gundogan scoring the goals for the hosts.
Former United defender Neville gave his view on the game, and the state of the two teams, on the Gary Neville podcast...
'The gulf is so big'
"Manchester City are 12 points clear of Manchester United with 12 games gone in the season. It's sobering really. You could argue this is a far better Manchester City team but United should be a lot closer, they are under-achieving in terms of how they have started the season.
"For City, the demands that were placed on them by pundits at the end of last season were could they go and win back-to-back titles and repeat the great performances? They are a third of the way through the season and they are delivering.
Click here to listen to the Gary Neville podcast
"You saw Pep Guardiola at the end with Raheem Sterling, remonstrating with him, telling him it's not good enough to do that at the end of the game and he has to play the game properly until the very last minute. It's the demands you can see and the expectations that he drives into the dressing room. He doesn't accept a bad pass let alone a bad half or a bad game. They are miles in front of Manchester United at this time.
"There is no Manchester United fan who could sit here and say they haven't watched a team that is far better.
"It's worrying because the teams have spent similar money over the last two or three years but every time you watch them play, Manchester United are playing on scraps, it looks like they are looking for that set-piece, that mistake from Ederson for the goal, or a moment of magic from one of their talented players, but there isn't really a plan to damage Manchester City pro-actively because they don't feel good enough.
There is an absolute gulf between them...It's a humbling experience if you are a Manchester United fan or player or coach because Manchester City are just better in every single department.
Gary Neville
"That's not a criticism in a sense because we had a spell during my time with Manchester United when we were playing against an unbelievable Arsenal team where we had to go back to go forward, and that's not a bad thing. But the gulf is so big."
How do United close gap?
"It's sobering to say but we shouldn't compare Manchester United with Manchester City - watching both at this moment in time there is an absolute gulf between them. A 12-point gap is about right after 12 games and United's biggest problem isn't Manchester City but how to get closer to the rest of the top four and into that race. At this moment in time City are at a different level all over the pitch to everyone.
"United are nowhere near City, but they can't afford to be many points behind Tottenham and Arsenal and Liverpool and Chelsea. At this moment there is real pressure in terms of whether you think Manchester United will finish in the top four this season. I thought before this game they would, because they have shown determination and doggedness and resilience. But a game like today brings it home.
"You should judge Manchester United off today because that is where the club needs to be, at the top of the Premier League, but you also can't judge Manchester United off today because they were nowhere near this team. You have to judge them against Tottenham, Liverpool, Arsenal and Chelsea.
"It's a humbling experience if you are a Manchester United fan or player or coach because Manchester City are just better in every single department."
Where was Fred?
"Fred, who was signed for £60m, started the season against Leicester and you thought he looked bright and tidy, but does he look like what you expect for £60m? Does he look like he is going to change a game, defend your goal or connect back to front? At this moment in time no, but he is still developing and getting used to Manchester United and he is coming into a very difficult position as the club isn't the most stable in terms of the performance levels and the scrutiny on the club. "I wouldn't put it all onto Fred, but it's right to ask the question where he was today when Marouane Fellaini and Ander Herrera are still there, both of whom are determined players and give their all, but it's not a lack of effort, it's a lack of quality.
"Manchester United lacked quality in central midfield. You look at Bernardo Silva and David Silva for Manchester City and every time they touch the ball it's amazing to watch. When you watch Fellaini and Herrera on the ball it's completely different.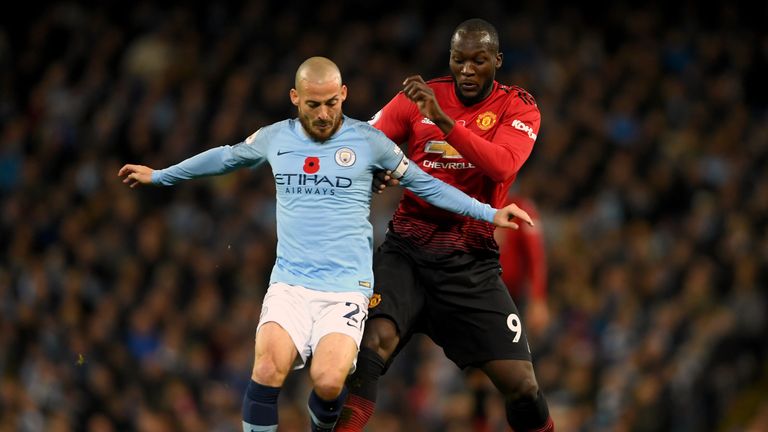 "City's front three are living off good passes while United's front three are living off scraps.
"Then in defence, Victor Lindelof and Chris Smalling have done well the last few weeks but it falls below the level of a Manchester United partnership that would win the league. They don't keep clean sheets, so the reality is a team that doesn't keep clean sheets and also plays in moments going forward rather than waves of sustained attacks, which means you are asking a lot.
"Obviously, Manchester United's ultimate goal has to be to win a Premier League trophy but to win a title you need to look at the whole team; they can't keep a clean sheet, their midfield can't pass the ball forward and their front three don't have the precision and ruthlessness of Liverpool or City. So they aren't going to win titles because in every part of the pitch they are behind the team's going for a title."