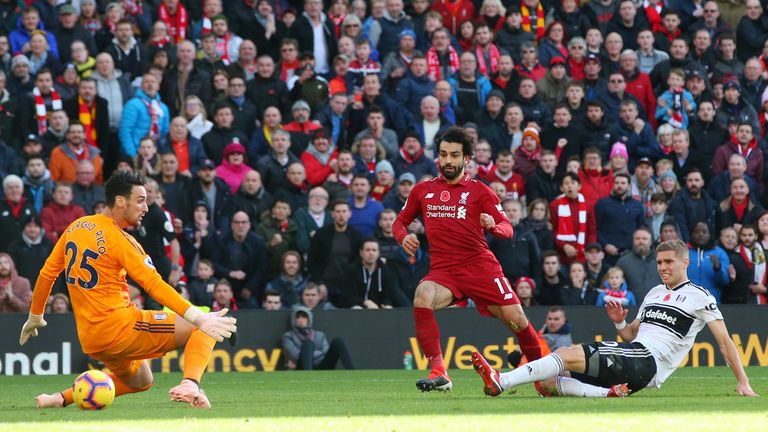 Former Premier League referee Dermot Gallagher analyses all the big decisions from the weekend, including two controversial calls in Liverpool's win over Fulham and more.
Jurgen Klopp's side were struggling to break down the bottom-of-the-table team at Anfield on Sunday when forward Aleksandar Mitrovic thought he had headed the visitors into a shock first-half lead.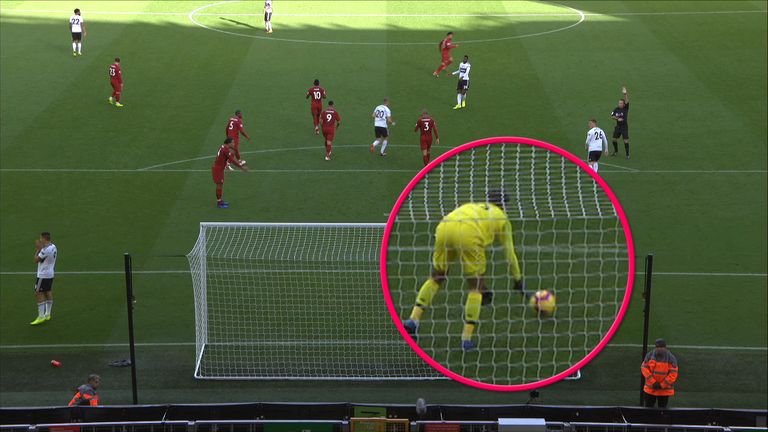 However, the Serb's 'goal' was ruled out for offside, with the hosts then immediately breaking upfield to open the scoring through Mohamed Salah. However, there were questions about whether the ball was moving when Liverpool goalkeeper Alisson took the free kick to start that move off.
What does our refereeing expert think though? Here is Gallagher's view on that incident, as well as a whole host of other debatable calls from the weekend's Premier League action...
INCIDENT: Fulham forward Mitrovic has a goal ruled out for offside.
VERDICT: Correct decision, offside.
DERMOT SAYS: The line shows that he is just offside, so what you would say is it is a fantastic decision by Adrian Holmes. It is just offside and it is very difficult to criticise someone when he has got the decision right.
INCIDENT: Salah opens the scoring against Fulham, but was the ball moving when Alisson started the move with a quick free kick?
VERDICT: Hard to say precisely without a microscope.
DERMOT SAYS: What Alisson does is he spins the ball so it is going to stop. If it is moving, you have to put the microscope on it and look at it. It is moving so minimally that I do not think the referee could have spotted it.
INCIDENT: Charlie Austin thinks he has put Southampton 2-1 up against Watford, only for his goal to be ruled out for offside.
VERDICT: Wrong decision, onside.
DERMOT SAYS: It should have been a goal, there is no doubt about that. Simon Hooper incorrectly thinks the ball strikes Maya Yoshida on the chest. And because he is in an offside position, he has asked the assistant Harry Lennard, who tells him he is an offside position and that is all he knows. And Simon makes the decision that the ball has struck Yoshida on the chest and therefore he has disallowed the goal. But unfortunately it has not.
INCIDENT: Nathaniel Chalobah is upended in the box by Southampton left-back Ryan Bertrand, who is already on a yellow.
VERDICT: Wrong decision, penalty and a possible second yellow.
DERMOT SAYS: It is a penalty, Chalobah is taken down and when Bertrand makes a tackle like that, he has to get the ball. And he does not. It is a case then of whether the referee deems it careless or reckless. Many would say careless, many would say reckless. I think the fact he is on a yellow card means, I have given a penalty, am I going to send him off? I do not know, but that would be in the referee's mind at the time. But he did not give it, so it is immaterial.
INCIDENT: Ederson brings down Manchester United striker Romelu Lukaku in the box, with a penalty given.
VERDICT: Correct decision, penalty.
DERMOT SAYS: Penalty. The referee [Anthony Taylor] has got in a great position and seen that Ederson has not got any touch on the ball whatsoever.
INCIDENT: Everton centre-back Yerry Mina gets booked for a tackle on Eden Hazard.
VERDICT: Correct decision, only a caution.
DERMOT SAYS: It is a yellow, but no more. The fact he has gone for the ball, he is reckless - there is no doubt about it - he is a little bit late, he is low, he has gone one footed. So for me, that is a yellow card.
INCIDENT: Jorginho gets booked for a tackle on Everton playmaker Gylfi Sigurdsson.
VERDICT: Wrong decision, red card.
DERMOT SAYS: Easy to be wise after the event, but I think he [Kevin Friend] should have given a foul on the halfway line, that went in far too long. When you see the first clip, it looks a bad and reckless tackle. When you see the second clip from the other angle in slow motion, it is a red card because he has jumped in, but it is very difficult for the referee to see as he jumps in a short distance.
INCIDENT: Both players are booked after an off-the-ball clash between Bernard and Antonio Rudiger
VERDICT: Correct decision, not a red card for Bernard
DERMOT SAYS: Excellent teamwork as quite clearly the referee can't see it. It is definitely not a red card. He [Bernard] has not caught him in the face in any way, shape, or form, and that is what he is holding!
INCIDENT: Cardiff snatch victory in the final minute as Sol Bamba, after seeing an overhead kick strike the post and attempted rebound come blocked onto the crossbar, lashes home the winner from close range. Bamba appears to be in an offside position when the free-kick is played into the area, but with Junior Hoilett blocking the linesman's view, the game stands.
VERDICT: Incorrect decision.
DERMOT SAYS: It's a really tough call. The linesman has to judge the first one when the ball comes off the Brighton player's head. Junior Hoilett also impacts on his vision. That was the linesman's first point of contact and, at that point, I don't think he can see where Sol Bamba is.
In that case he is duty bound to continue play but it's a tough call for him. When you draw a line across the pitch you can see he's just offside, but only just. Bamba is going backwards which doesn't help the assistant and it isn't the direction for a forward to be going.