In the first edition of the Sky Sports scout report, utilising Wyscout data to pick out emerging talent, we look at the top-performing right-back in France so far this season...
Wyscout is a digital scouting platform used by most major clubs worldwide. Its ranking system, taking into account all player stats, puts Rosier in the Ligue 1 team of the season so far, lining up alongside the likes of Neymar and Thiago Silva.
Sky Sports will be using Wyscout to watch upcoming stars across the leagues and pick out who we think you need to know about next. After all, they could soon be coming to a club near you.
Below you will find a full profile on the player, a comparison against the other top-five performers in his position Ligue 1, what he excels at, where he could improve, and some expert opinion from his current and former coaches...
Profile:
| | |
| --- | --- |
| Name: Valentin Rosier | Club: Dijon FCO |
| Age: 22 | Positions: RB (RWB, LB) |
| Contract: 2022 | National team: France U21 |
| Birthplace: Montauban, France | Passport country: France |
| Foot: Right | Height/ Weight: 175cm/ 75kg |
Position: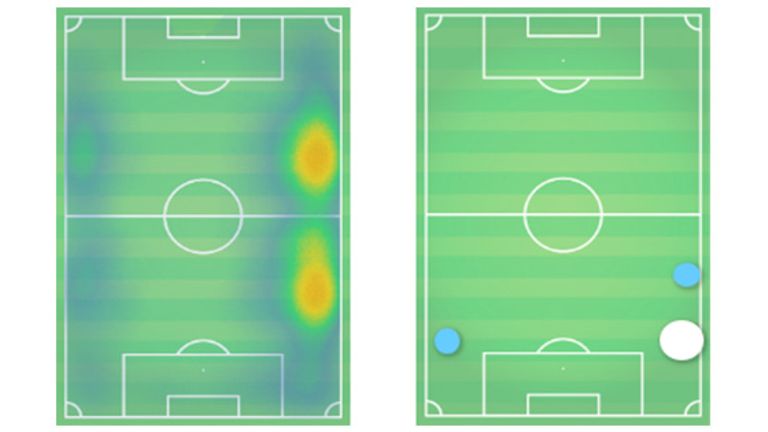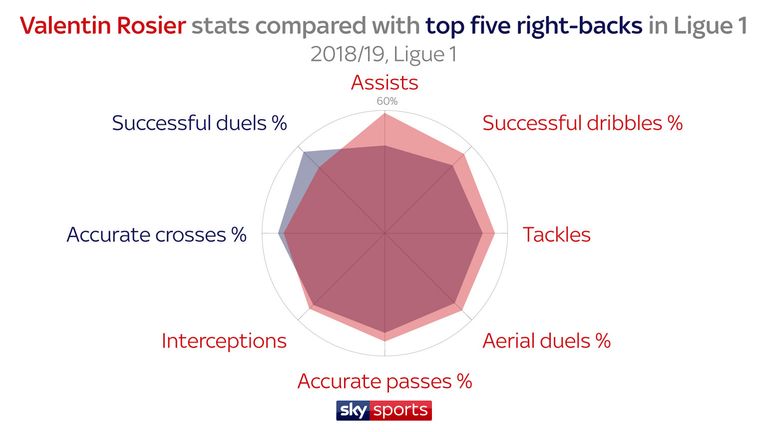 Stand-out stats:
Assists: 3 | Pass accuracy: 86% | Interceptions per90: 5.18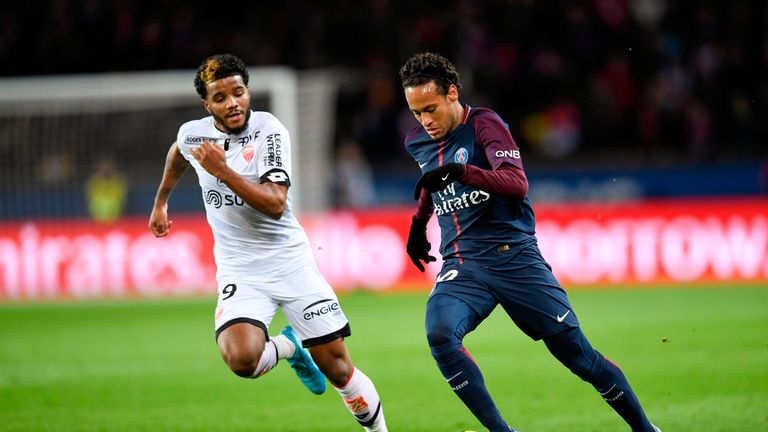 Ligue 1 stats (2018-19):
| | | |
| --- | --- | --- |
| Def. duels: 9.06 | Total: 39.1 | Assists: 0.22 |
| Interceptions: 5.18 | Long: 3.67 | Shots on target: 0.79 |
| Clearances: 2.09 | Through: 0.43 | Dribbles: 3.67 |
| Tackles: 0.79 | Crosses: 1.87 | Goals: 0 |
Summary:
Wyscout's ranking system places Rosier as the second-best performing of all full-backs in Ligue 1 so far this season, and the top-performing right-back; this despite playing for a team currently in the bottom three in Dijon. His game is well-rounded, illustrated in the comparison radar above, showing him to be defensively solid, with above-average tackles and interceptions per 90 minutes.
The attacking side could improve, however. Despite three assists - the joint-highest of all full-backs in Ligue 1 so far - his crossing is below average for his position. He is clearly strong, supported by his successful duel-rate, and appears brave in the tackle. He also reads the game well, as shown by his amount of interceptions per 90 minutes.
Expert opinion:
"In February-March, we started to see him open up and become a real Ligue 1 player. It's a real satisfaction for me, but also for the recruiters and for the whole club. Advancing players is my priority. It's nice to have been a trainer for that."
- Dijon head coach Olivier Dall'oglio, August 2018
"The first time I saw him was during a trial when I arrived. Every year, we bring four to five young people from the club to test them. He played on the right, I think. He had the athletic qualities of a modern, dynamic footballer, with a great capacity for acceleration."
- Rodez head coach Laurent Peyrelade, December 2017
Club career:
| | | | | |
| --- | --- | --- | --- | --- |
| 2018-19 (current) | Dijon | 13 (1) | | N/A |
| 2017-18 | Dijon | 31 (5) | | N/A |
| 2016-17 | Dijon | 3 | 1 | N/A |
| 2016-17 | Dijon II | 19 | | N/A |
| 2015-16 | Rodez | 21 (5) | | N/A |
International career:
| | | | | |
| --- | --- | --- | --- | --- |
| 2018 | France U21 | N/A | 4 | 1(1) |