Dermot Gallagher
Former Premier League referee
Ref Watch: Was Joe Gomez throw-in legal in England's win over Croatia?
Last Updated: 19/11/18 6:57pm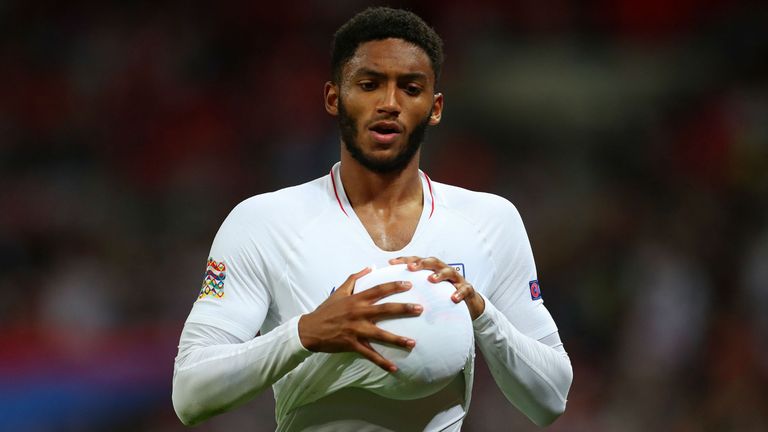 Should England's equalising goal against Croatia have been allowed to stand? Should Gareth McAuley have been sent off for tussling with Marko Arnautovic? Should Kasper Dolberg or Ethan Ampadu have seen red in Wales' defeat to Denmark?
Former Premier League referee Dermot Gallagher was on Sky Sports News on Monday to review all the big refereeing decisions over the recent international games.
Watch the incidents below and read Dermot's verdict...
England 2-1 Croatia
INCIDENT: Joe Gomez launches a long throw into the Croatia area which leads to Jesse Lingard's equalising goal. The goal was allowed to stand, despite replays showing the Liverpool defender placed his foot on the touchline while taking the throw.
VERDICT: Correct decision
Foul throw rule
'At the moment of delivering the ball, the thrower must have part of each foot on the touchline or on the ground outside the touchline.'
DERMOT SAYS: "Gomez is fine. His foot is on the line, it's not over the line so it's fine. He hasn't entered the field of play. That was actually one of the better throws I've seen in the competition, there have been so many foul throws that have been accepted."
INCIDENT: Croatia forward Andrej Kramaric goes to ground under a challenge from England defender Gomez. The referee ignores the appeals for a penalty.
VERDICT: Correct decision
DERMOT SAYS: "It's definitely not a penalty. The contact is minimal at best and, if you look closer, it's Kramaric that actually steps on Gomez's foot. The referee quite rightly plays on."
INCIDENT: Raheem Sterling latches onto a ball over the Croatian defence before being clattered into by goalkeeper Milan Kalinic, who gets both man and ball while clearing his lines. The loose ball immediately falls for Harry Kane, and the referee plays advantage to England.
VERDICT: Correct decision
DERMOT SAYS: "The goalkeeper has gone to head the ball. Both players are committed, he cannot handle the ball otherwise he'll be sent off, so he's gone with his shoulder and collided with Sterling, who was competing for the ball. It's a natural collision and the referee quite rightly played on. One way or another, Kalinic was going to make sure the ball or Sterling didn't pass him. That made it difficult for the referee, because if he gave a foul he would have had to give a red card."
Northern Ireland 1-2 Austria
INCIDENT: Gareth McAuley and Marko Arnautovic come to blows in Austria's victory at Northern Ireland after McAuley robustly helps Arnautovic to his feet. McAuley is booked for his role in the fracas.
VERDICT: Correct decision
DERMOT SAYS: "The referee dealt with this really well. Arnautovic backed into McAuley, they come together in a manner which nobody could describe as violent. It's aggressive but it's certainly not violent."
Albania 0-4 Scotland
INCIDENT: Albania captain Mergim Mavraj was initially booked for a challenge on Scotland's James Forrest and picked up a second yellow immediate after appearing to head-butt Ryan Christie.
VERDICT: Correct decision
DERMOT SAYS: "I just despair. The initial tackle is not a good one; he makes a tackle on the halfway line he doesn't have to make and rolls his foot over the ball. He gets a yellow card quite rightly and then inexcusably throws his head into Christie. Once you're on a yellow card, what possesses you to do something like that, I just don't know. Beggars' belief."
Wales 1-2 Denmark
INCIDENT: Denmark's Kasper Dolberg was booked for a shoulder charge on Wales' Ethan Ampadu - but could it have been more?
VERDICT: Correct decision
DERMOT SAYS: "I think not. He's gone in, it's not nice but he's not gone in with his studs and it's hip to hip almost. I think it's a yellow card."
INCIDENT: Ampadu is booked after seeking his own retribution with a late challenge on Dolberg.
VERDICT: Correct decision
DERMOT SAYS: "Ampadu has been clattered once and he sees his chance to have a go back at the same player. The referee did really, judging one as a yellow and the other as a yellow."
INCIDENT: Martin Braithwaite had a first-half goal ruled out for offside in Cardiff.
VERDICT: Inconclusive
DERMOT SAYS: "This decision would test VAR. When you see it it's so tight. I would suspect that would be allowed to stand in the Premier League because it's so difficult to say he was in an offside position."
Switzerland 5-2 Belgium
INCIDENT: Belgium midfielder Nacer Chadli is adjudged to have fouled Switzerland forward Kevin Mbabu in the area. The referee points to the spot and the Swiss convert the penalty, which helps them overturn a two-goal deficit to win 5-2 and reach the Nations League finals.
VERDICT: Incorrect
DERMOT SAYS: "I don't actually think this is a penalty, although everyone I speak to does. As the forward goes to kick the ball he actually catches Chadli's foot and goes down. It's Mbabu's kicking motion so I don't think it is a penalty."