Metropolitan Police release statement on 'shocking' violence ahead of Millwall-Everton tie
By Sky Sports News
Last Updated: 28/01/19 3:56pm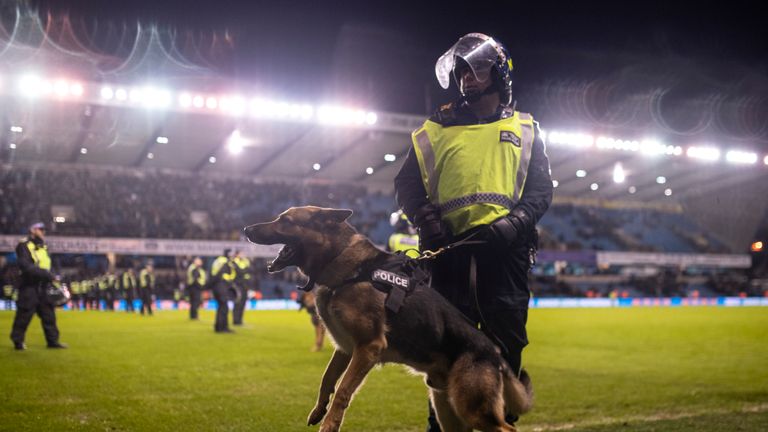 The Metropolitan Police have condemned the "shocking football violence" and "abhorrent behaviour" that occurred around Millwall's 3-2 FA Cup win over Everton.
One police officer was injured, but has been discharged from hospital, while a member of the public sustained a 'life-changing injury to his face'.
In a statement, the Met Police praised the courage and professionalism of the public order officers who restored order while bottles, glass and furniture were thrown at them, and made clear that the perpetrators would be brought to justice.
Deputy assistant commissioner Matt Twist said: "The disorder which occurred before, during and after the Millwall v Everton Cup match on Saturday 26 January was some of the most shocking football violence we have seen for some time.
"The abhorrent behaviour lasted a number of hours, involved dozens of people, and resulted in at least one serious injury.
"Dedicated evidence gatherers put themselves in the way of danger, and obtained a substantial amount of footage of the violent disorder.
"We have a highly-skilled team closely reviewing this evidence as we speak, and I am confident we will soon know the identities of those involved.
"We will use this evidence and all tools within our power to locate the individuals involved in this ridiculous behaviour, whether they come from London, Liverpool or elsewhere. We will bring them to justice.
"Once identified we will also proactively explore ways of restricting those intent on engaging in violence and disorder from attending these events in future."
Anyone with information should call police on 101, quoting CAD 5117/25 January, or call Crimestoppers anonymously on 0800 555 111.