Pierre-Emerick Aubameyang talks favourite positions, telepathic understanding with Alexandre Lacazette and the quality of the Premier League in the latest Renault Match Zone.
The Gabon international has scored 25 Premier League goals in 37 appearances since joining from Dortmund last January, hitting the quarter-century landmark faster than both Thierry Henry (42 games) and Ian Wright (51 games).
Speaking with Jamie Redknapp ahead of Arsenal's trip to the Etihad to face Premier League champions Manchester City, Aubameyang gave an insight into his playing style and thinking on the pitch…
First goal in 5-1 win vs Everton, February 2018
It was a tough first game, I remember I was sick and lost five kgs at the time. It was not easy. But I was so happy because we had a great game and I scored as well.
Henry's influence and reaching 25 PL goals
It's nice to see it and reach that kind of goals. It's nice to be compared to [Wright and Henry]. Legends of course.
Thierry inspired a lot of strikers, because what he did in the past was amazing. He was so fast and clinical, so I think a lot of strikers took some things from him.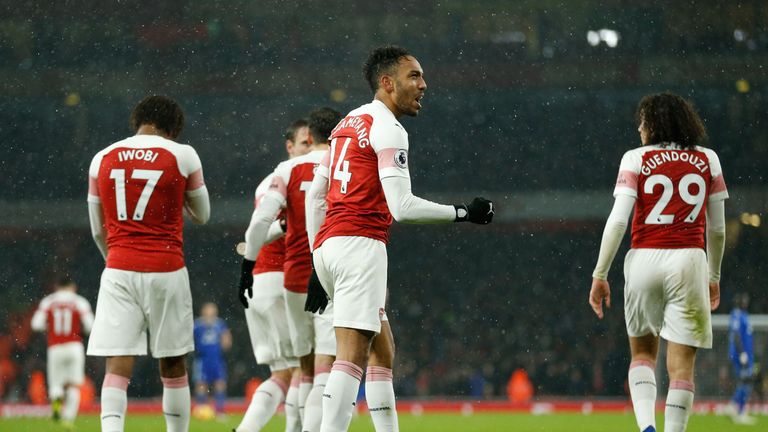 First of all, he was so quick, which is my game as well, so it inspired me a lot.
Premier League the best in the world
Physically it is so hard. Some of the defenders are so tall, and so ready physically. It is really harder than the Bundesliga, but at the same time I love it because all of the teams try to play football.
It's really nice, that feeling when you score a goal here in England, it's always a pleasure, everybody knows it's the best league in the world.
Understanding with Lacazette
It's a feeling, we know when one is coming, so we have a good feeling. We were rivals before in France, I was not expecting for him to be my friend, but today is different. At first when I came here, he gave me a lot of confidence, because we spoke straight.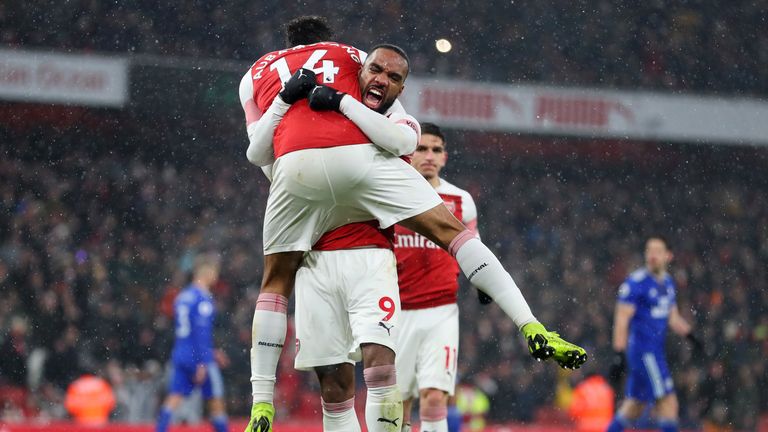 We have the same vision about football, which is a good point between us, and that's the point that started this friendship.
When one comes to the ball, the other goes deep. It's about filling in. You lift your head up and see he is going into space, it's about feeling as well. If we have to give the ball to a guy in better space, you have to give him the ball. That's what happens between us.
Unai Emery's impact
I think it was a long time they didn't change coach, 22 years, and he did well of course. Now I think the new coach brings to the team something new, some new energy, and it's going very well.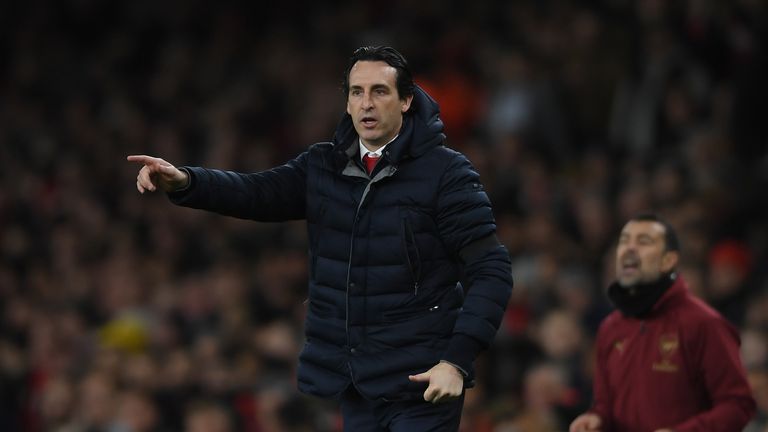 Favourite role
My favourite role is playing striker, in front. I also like playing on the wing, but I think my best position is striker. I like to play with two up front, it's nice because you can do some combinations with the other strikers.
If the coach needs me on the right or on the left, it doesn't matter, I go and I fight for the team, it's no problem.
Facing Manchester City, live on Super Sunday
It's a great team, I think one of the best at playing football in the world now. It will be tough but we have to try something, I think we are confident. We have to try our game there in Manchester. We know it will not be easy but you never know, they lost the last game so maybe we have a chance.