Aleksander Ceferin has been re-elected unopposed as UEFA president for a four-year term at the governing body's annual congress in Rome.
Ceferin, who began his term as president in 2016 as permanent successor to Michel Platini, was voted in by acclamation from the delegates of the 55 member associations of UEFA.
The Slovenian vowed to work alongside European Club Association leader Andrea Agnelli in order to protect the Champions League from a breakaway 'Super League' of elite clubs.
"It's not a promise, it's a fact," said Ceferin. "Major clubs, if you had carried out your alleged plan, your clubs would have lost their status as 'great clubs' in the hearts of the people.
"The only thing 'great' about you would have been your past, and nothing else.
"By respecting the football pyramid, the promotion and relegation system that lies at the heart of our sporting culture, results on the pitch, which sometimes differ from those in the account books, you remain great clubs in the world's eyes."
Ceferin also urged FIFA to listen to UEFA's reasons for opposing plans for two new competitions - a global Nations League and 24-team Club World Cup.
"By telling FIFA that we disagree with their current proposals, we show them respect and we show respect to football, the game we love and the game we must protect," he said.
"We sincerely hope that FIFA will also show us respect by listening to our views."
Ceferin says UEFA will do "everything possible" to bring the 2030 World Cup to Europe and that Financial Fair Play (FFP) rules will be updated to make the game fairer.
"We will adapt the financial fair play rules to establish a new European balance in which everyone can find their rightful place," he explained.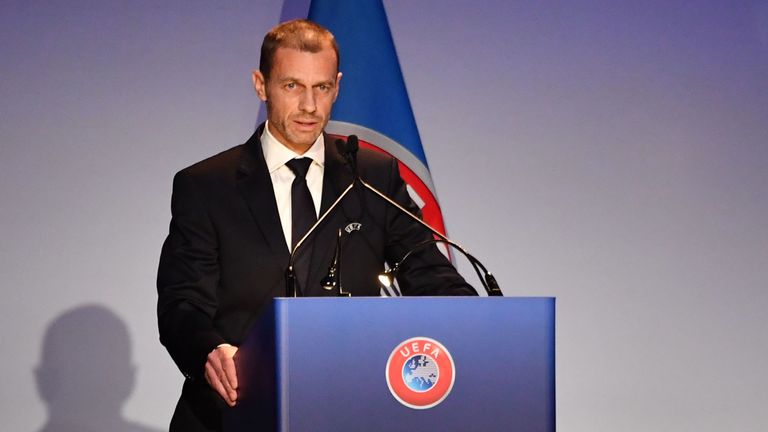 "The initial objectives of financial fair play have been achieved.
"European clubs are financially healthier than ever, the problem of debt has been sorted out in many countries, and unpaid debts owed to clubs, coaches and players seem to be becoming nothing more than a bad memory."