Charlton fan so sick of racism he will not attend matches
By Sky Sports News
Last Updated: 17/02/19 11:03am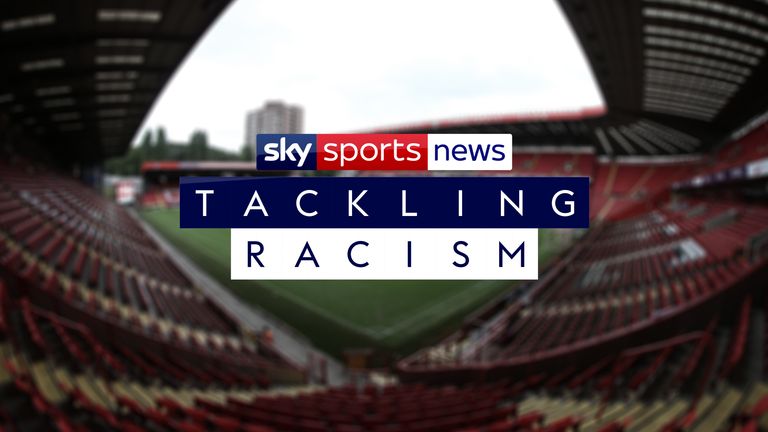 After Sky Sports News broadcast the first instalment of its Tackling Racism series, one Charlton Athletic supporter, who wishes to remain anonymous, told us about his experiences of being racially abused while going to watch the Addicks home and away during the early 2000s. 
The incidents of racism from other Charlton supporters, some of which were directed at him, made him feel "ashamed" to be a supporter and he insists he will never go to watch them again.
Charlton say they worked with authorities to identify individuals involved in the historical incidents, and have not received any reports of racist abuse at the Valley for a number of years and continue to work on anti-racism and anti-discrimination projects.
Here is the account:
"I have supported Charlton since 1996 and I had a season ticket between 2000 and 2012. My early memories of going to the Valley were always positive. When the stadium was full there was a general camaraderie that was unique and I loved being a part of it. I would hardly refer to these as 'glory days' but during this time I was happier. I was also in my early teens then, so it could have been that the problem at my club existed but I was not able to notice it.
"One of the most attractive things about Charlton is the anti-racism day called 'Red, White and Black Day', which was established in the early 1990s. The day used to be a proud spectacle that was appreciated by the fans around me. This was something that I was really proud of, especially as it set a trend for other clubs to start their own anti-discrimination days. If I'm honest, this day was much better celebrated in the early 90s and the start of the 21st century than more recently.
"In general, throughout the Premier League years and the first in the Championship after relegation in 2007, I felt comfortable with the atmosphere. There were some isolated incidents that were shocking, but they were isolated, so I did not strongly believe there were sections of fans that brought their racist views to games on a regular basis.
"But I remember on St George's Day 2005, when we played Norwich away, a group of guys were drinking in the pub by the station all day and were very drunk. One of the guys in the group was black. I assumed they were all friends. By the time we got to the stadium, the police were with the black guy and not letting him into Carrow Road. To my absolute shock, his own 'mates' were monkey chanting at him. This soured my whole day. Thankfully, I never saw those guys again.
"It was at the start of the 2008-09 season, our second in the Championship, that I started to notice changes that did not sit well with me. I noticed that the general language and behaviour of fans became more cynical and even borderline-vulgar towards certain black players. I went on fan forums as well and noticed how some individuals were talking about certain themes with absolute disdain.
"A lot of my friends rip it out of me and say that I don't go to Charlton games anymore since we got relegated from the Premier League. The irony is that between 2009 and 2012 we were in League One for three seasons and I missed only four home games during that period. I followed Charlton to many away games and it was the experiences that I had there that have contributed to me not going anymore.
"It was bad enough having to listen to the sheer vitriol at times, but to have to endure long train journeys with alcohol-infused, ignorant comments was just too much over time. Due to the fact that our attendances decreased at home and that we have never had a consistently big away following, it was much easier to notice this hostility. However, on the occasions we did fill a large allocation, you could guarantee there would be a handful of idiots who would take their 'support' too far.
"Experiences at three particular away games left me feeling dejected and deflated, and not wanting to go back anymore. I remember during the 2009-10 season, against Swindon in the league, older fans were distributing far-right paraphernalia to kids as young as 14 after the game, and encouraging them to go to rallies and on marches.
"At the Swindon away game in the play-off semi-final, a group of fans were also singing about an ex-player - Kevin Lisbie - being a monkey and living in a tree. I caught the eye of one of them and he said at me: 'for ****s sake, not another black ****'.
"I was thinking to myself 'I support the same team as you, why are you extending your bigotry to me?' We lost the play-off semis and I reflected a lot over that season, and it felt as if supporting Charlton had turned into doing an awful nine-to-five job, as opposed to a fun hobby. I carried on going to home games, but I greatly reduced the amount of away games I went to.
"The lowest moment for me came after our FA Cup defeat to Fulham in 2012. I was on a train after the game when a group of lads started loudly chanting songs glorifying the murderers of Stephen Lawrence (Charlton banned the five men suspected of murdering Stephen in 1998 because they were believed to be supporters).
"I was thinking 'how low can you actually go?' People were looking on in absolute disgust and disbelief. Every time they got challenged, they viciously defended their actions as if it was their God-given right to share their rank views with everyone.
"When I got off the train, one of the passengers looked at my Charlton scarf and gave me a filthy look, as if I was affiliated with those idiots. This story hit the mainstream media and so many of my friends just started to grill me about it, almost as if they were surprised that such vulgar people frequented Charlton games.
"It actually made me feel ashamed to be a Charlton fan.
"Thankfully those morons got put in prison, but I realised that I did not want to go to games again because there were plenty more people that went that were like that.
"I would not go back. No matter what the club tries to do, there will always be the idiots there, they just come in different forms. The Swindon away game was telling - if people were passing far-right paraphernalia to young kids then, now those kids will be the next generation of idiots who spread this rubbish at games.
"I don't want to go there again."
In a statement to Sky Sports News, Charlton said: "The club are saddened to hear of this individual's experiences. We were aware of some of the incidents described at the time and worked with the authorities to ensure individuals involved were identified.
"The club totally condemns any kind of racist abuse and, working with our Community Trust, have been pioneers on anti-racism and anti-discrimination initiatives in football. Our fans have played a key role in this either participating or leading on many of these initiatives.
"The incidents described are isolated and do not reflect the behaviour of the majority of Charlton supporters. The club take pride in offering football for everybody and the Valley being a safe place to come and watch the sport.
"We haven't received any reports of racist abuse at the Valley for a number of years and the club and Community Trust continue to work on anti-racism and anti-discrimination projects."
Charlton will host their next annual 'Red, White and Black Day', which is aimed at fighting discrimination of any kind, when they play Portsmouth on March 27.