Manchester United vs Liverpool - Soccerbox rewind: Eric Cantona's return
Man Utd vs Liverpool is live on Sky Sports Premier on Sunday, followed by Chelsea vs Man City in Carabao Cup final on Sky Sports Football
Last Updated: 20/02/19 1:14pm
Ahead of the Super Sunday clash between Manchester United and Liverpool, we take a look back at a classic encounter from the 1995/96 season, when Eric Cantona made his long-awaited return...
Gary Neville sat down with former Liverpool striker Robbie Fowler on Soccerbox to discuss the match ahead of their latest battle this weekend.
Manchester United 2-2 Liverpool - October 1, 1995
The fixture that always stands alone in its own right as one of the best in the calendar had an extra layer of intrigue.
It was the second coming of Cantona at Old Trafford and Liverpool were the visitors.
Cantona had served his eight months for a moment of total madness against Crystal Palace at Selhurst Park, the infamous kung-fu kick on an opposition fan.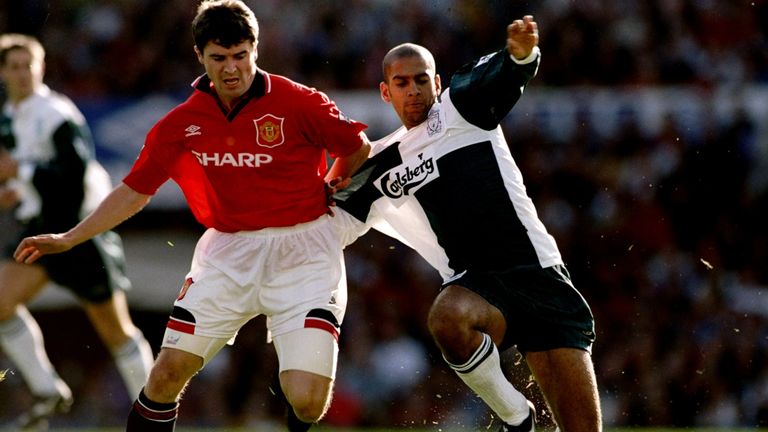 Fowler: "Every so often, you get players in the Premier League who just have an aura about them. John Barnes was certainly one of them for us, and Eric Cantona was one for you.
Neville: "This was massive for us. Eric was like the last piece of the jigsaw in terms of winning the league for the first time, then we won it the year after.
"When he got banned, we lost the league to Blackburn [in 1995], so we'd never really won a league without Eric Cantona.
"Having him back was like having the catalyst again. The media was massive going into this game, but we needed to get him back as he was the presence that just settled everyone down.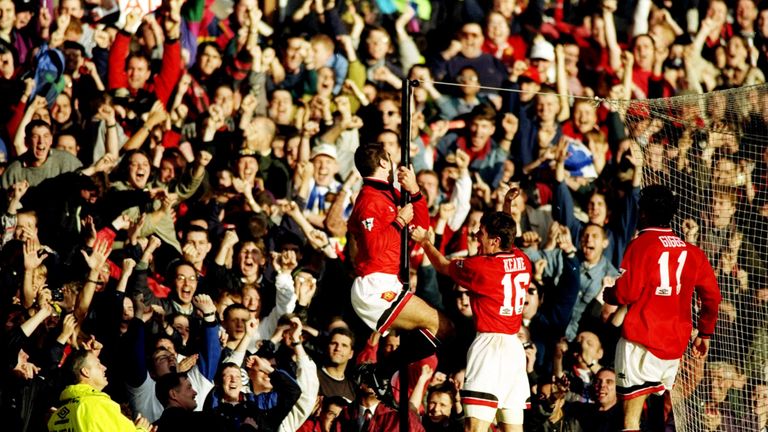 "I remember thinking when Nicky Butt gave us the lead, that this would be one of those magical days, with Eric setting up the goal.
"The crowd was absolutely buzzing and you just thought we were going to do them here."
Fowler equalised half an hour later after Neville was caught up field, leaving Steve Bruce and Garry Pallister exposed to the Liverpool striker's preference to drift out to the left.
Steve McManaman found his team-mate, and with Ian Rush waiting in the centre, Fowler found the top corner at Peter Schmeichel's near post.
Fowler: "I'd normally go across goal, but I fancied it because a few minutes before I'd played it across to Rush who should've scored so I thought I'd give it a go."
United moved to a three at the back with Phil Neville playing on the right for the second half given the problems Fowler was causing, but he would complete the turnaround with another composed finish.
Gary Neville was brushed off the ball from Michael Thomas' pass, and Fowler did the rest.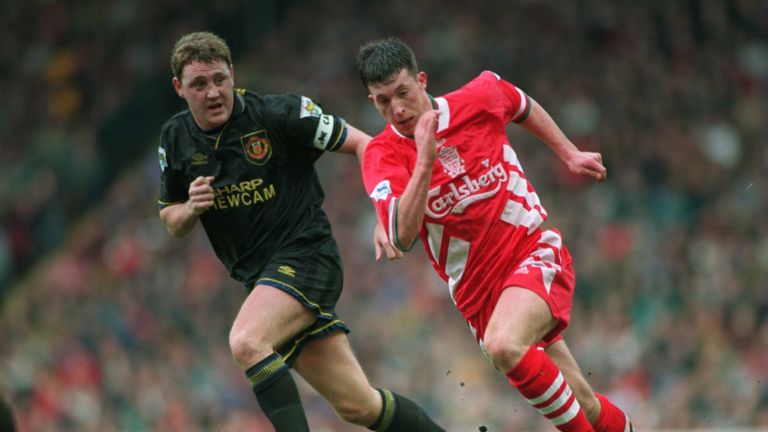 Neville: "I thought Bruce was behind me. Actually, is that a foul?"
Fowler: "Not a chance. I knew you were going to claim that."
But Liverpool could not hold onto their lead as Ryan Giggs was brought down inside the box by Jamie Redknapp.
Cantona stepped up and scored, sparking pandemonium inside Old Trafford, complete with the Frenchman's infamous pole-twirling celebration.
Fowler: "It's hard to gauge where the foul took place but he was always going to give a penalty. If you wanted anyone to take a penalty in a red-hot atmosphere, or in a big game, Cantona was so cool."
Neville: "He always said, he didn't make his mind up [on where to put the ball] until the very last second. He waited for the keeper to go. It's a gift to be able to do that."
What happened next?
Liverpool would go on to finish in third place behind runners-up Newcastle, with Manchester United winning the Premier League title by four points.