Maurizio Sarri unsure if he will be Chelsea head coach next season
By Joe Shread
Last Updated: 13/05/19 12:38pm
Maurizio Sarri admits he is not sure whether he will still be Chelsea head coach next season, despite achieving the club's aim of returning to the Champions League.
The Blues ended their Premier League campaign with a 0-0 draw at Leicester on Sunday that, thanks to Tottenham's failure to beat Everton, secured third position and a place in the Champions League next season.
Sarri also led Chelsea to the Carabao Cup final, where they lost to Manchester City, and the Europa League final against Arsenal later this month.
However, he has frustrated some supporters with his refusal to change his favoured 4-3-3 formation and his use of N'Golo Kante and Callum Hudson-Odoi, leading to dissent from Blues fans on several occasions this season.
When asked if he would still be in his job at the start of the next campaign, Sarri said: "I think so, but I am not sure. I can say only that the club asked me for the Champions League, and we reached the target.
"As you know very well, I love English football. I love the Premier League; it's fantastic and the level is the best in the world, I think. The atmosphere in the stadiums is wonderful. I would like very much to stay here."
While he acknowledged Chelsea have struggled at times this season, with a 4-0 defeat at Bournemouth and a 6-0 thrashing at Man City particularly troubling, Sarri believes their season has been "very good".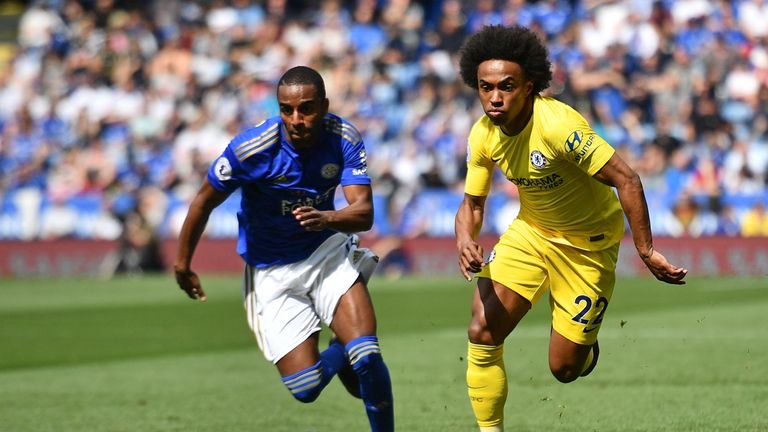 "The season was really very difficult for us," admitted Sarri. "But I think at the end we are happy because we were in trouble three months ago, but were able to react very well.
"In the end we are in the third position and reached the target of the club - the Champions League.
"We played a final against Man City in the League Cup, and before the final in the League Cup we played against Liverpool and Tottenham, the two finalists of the Champions League.
"Now we have to play a very important match, the final in the Europa League. At the moment the season is very good, but the season can become wonderful."