Emma Hayes to replace Maurizio Sarri at Chelsea? Sunday Supplement panel debate...
Rob Draper of The Mail on Sunday and The Daily Telegraph's James Ducker discuss if Hayes would be considered a top candidate for the job with Sarri's Chelsea future in doubt.
Last Updated: 20/05/19 8:22pm
The Sunday Supplement panel assess whether Chelsea Women coach Emma Hayes has the credentials to take charge of the men's team should Maurizio Sarri leave.
Sarri has secured Chelsea a third-placed finish in the Premier League and a spot in the Europa League final.
But speaking after their 0-0 draw with Leicester on the final day of the Premier League campaign, the Italian admitted he is not sure whether he will still be Chelsea head coach next season.
Hayes guided Chelsea Women to third in the Women's Super League title and to the semi-finals of the Women's Champions League final this season.
The Sunday Supplement panel discussed whether she would be in with a chance of taking over the men's team.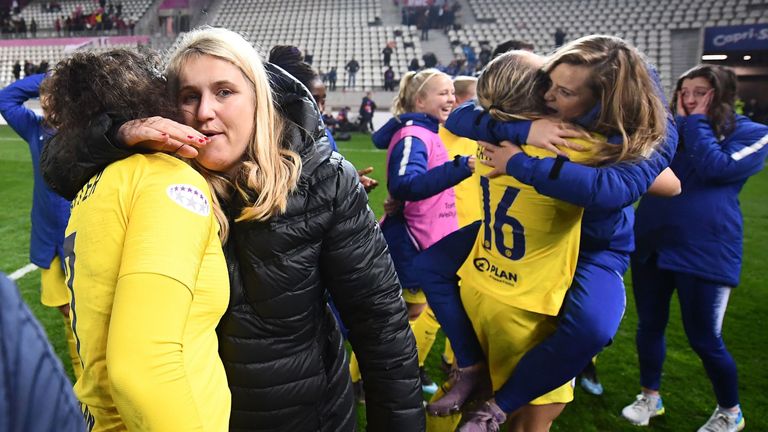 Draper: She would be interviewed
"She'd certainly be interviewed. I'd be surprised if she got it this time but she will get a job.
"I say surprised, not because she hasn't got the qualifications to do the job, but surprised because it's probably going to take a bit longer for someone to make that leap. The chief person making the appointment will be Marina Granovskaia, who is one of the few female executives at boardroom level.
"I think Chelsea are looking at other people but at some point it will happen. There will be a woman in charge of a men's professional club and eventually a Premier League club. It's just logical that the gifts of management, motivation and football knowledge are not confined to the male sex.
"There may be as many women who are good at that as there are men.
"I'd just be surprised if she got it this summer but possibly in two or three years. In the interviews you'd hope she gets a fair crack at it and if she's the best person for the job she gets it."
Ducker: Evidence of integration needed
"If clubs are going to treat this as a serious option going forward then integration may be the way they go. Are there any notable women involved the upper echelons of the management staff at professional clubs? I don't know of any.
"We are talking about potentially appointing a female manager in charge of a Premier League or Football League club, if there are none actually in the men's coaching fraternity then it seems like an enormous jump that they have to make.
"Maybe there are changes that will happen on that front but it would be very interesting if they do decide to sack Maurizio Sarri and give her an interview.
"You would just hope that if she did get an interview it wouldn't be tokenism and they'd do it on the grounds that after seven years in charge of the women's team there's merit there, she'd add value and be a worthy candidate."