Greg Clarke has resigned as FA chairman in the wake of referring to black footballers as "coloured" while giving evidence to MPs.
Clarke used the phrase when answering a question around the difficulty of gay players in the men's game coming out because of social media backlash during a Digital, Culture, Media and Sport Committee meeting on Tuesday.
The former FA chairman said: "If I look at what happens to high-profile female footballers, to high-profile coloured footballers, and the abuse they take on social media... social media is a free-for-all."
A few minutes later, DCMS committee member Kevin Brennan MP asked Clarke if he wished to withdraw the use of the outdated word "coloured".
We can confirm that Greg Clarke has stepped down from his role as our chairman.

Peter McCormick will step into the role as interim FA Chairman with immediate effect and the FA Board will begin the process of identifying and appointing a new chair in due course.

— The FA (@FA) November 10, 2020
"If I said it, I deeply apologise for it," Clarke replied.
"Secondly, I am a product of having worked overseas, I worked in the USA for many years, where I was required to use the term 'people of colour' sometimes because that was the product of their diversity legislation and positive discrimination format. Sometimes I trip over my words."
After his resignation was confirmed, Clarke said he "put the interests of football first" when making the decision to step down - something he had been "actively considering for some time" - and apologised again for his comments.
His resignation statement read: "My unacceptable words in front of Parliament were a disservice to our game and to those who watch, play, referee and administer it. This has crystallised my resolve to move on.
"I am deeply saddened that I have offended those diverse communities in football that I and others worked so hard to include.
"I would like to thank my friends and colleagues in the game for the wisdom and counsel they have shared over the years and resign from the FA with immediate effect."
In a message to Sky Sports News' chief reporter Bryan Swanson, Clarke said: "I've enjoyed my time in football and move back into the business world having deeply appreciated my time in football and the great people I've worked with."

Clarke also told Sky Sports News that he will resign as FIFA vice-president in February. He has opted against stepping down immediately to protect UEFA's voting rights until then. His replacement will be appointed in February.
The FA said vice-chairman Peter McCormick, a former chairman of the Premier League, would be stepping in as interim FA chairman with immediate effect as they "begin the process of identifying and appointing a new chair in due course".
Clarke was also criticised for referencing 'differing career interests' between people from south Asian and African-Caribbean backgrounds when he was asked what the FA was doing to improve diversity within the governing body.
"I was talking to the chair of a county FA from the west country. He has tried to now make sure he has representation within diverse communities," Clarke said.
"(He told me) 'I'm over-committed with South Asians, I'm not getting enough people from Afro-Caribbean backgrounds'.
"The BAME communities aren't an amorphous mass. If you look at top-level football, the Afro-Caribbean community is over-represented versus the South Asian community.
"If you go to the IT department at the FA, there's a lot more South Asians than there are Afro-Caribbeans. They have different career interests."
Later, Clarke discussed the environment in football that would await a male professional player who came out publicly as gay. In doing so, he used the phrase "life choice", although it was unclear whether he was referring to sexuality itself or the decision such a player would make to come out.
"The real issue is once you run out in front of 60,000 people and you decided on Monday that you wanted to disclose your sexuality - and I would never pressure anybody to disclose their sexuality - what I would want to do is to know that anybody who runs out onto the pitch and says, 'I'm gay. I'm proud of it and I'm happy. It's a life choice, and I've made it because my life is a better place', I'd like to believe and I do believe they would have the support of their mates in the changing room," Clarke said.
"I believe we have things in place so that anybody who misbehaves in terms of homophobic or misogynistic or racist abuse, we will find them and we will ban them from football, we have the power."
In a statement before Clarke's resignation, Maria Munir, Associate Director of Community Engagement at the LGBT+ equality charity Stonewall, said: "The language we use matters, which is why it's a shame Greg Clarke used such a harmful phrase like 'life choice' to describe being gay.
"This highlights how much more there is to do before football is everyone's game. Words have impact; they influence the way that people are treated on a personal level, as well as the institutional opportunities that are available to sportspeople."
Timeline of Greg Clarke's reign as FA chairman
Sept 4, 2016 - Two months after his nomination he starts role as FA chairman, replacing Greg Dyke
Sept 27, 2016 - Less than a month into the job, he sacks England boss Sam Allardyce after only one game in charge following comments in an undercover newspaper sting
Oct 16, 2017 - He comes under scrutiny for his role in the governing body's handling of Eni Aluko's claim of racism against national women's team manager Mark Sampson, who was eventually sacked
Sept 27, 2018 - He backs plan to sell Wembley Stadium to Fulham owner Shahid Khan to raise finances, a deal that eventually fell through
Oct 14, 2019 - He leads calls for stricter punishments from UEFA after England's black players suffer racist abuse during Euro 2020 qualifier in Bulgaria
Oct 19, 2020 - He is heavily criticised for being involved in talks regarding Project Big Picture - a movement designed to change the landscape of English football
Nov 10, 2020 - Clarke apologises before resigning after using the word
Analysis: 'This was not just one throwaway remark'
Chief reporter Bryan Swanson has given his verdict on Greg Clarke's resignation:
"This has been swift and it has been decisive.
"I think once you got the statement in particular from the chairman of Kick It Out, Sanjay Bhandari, talking about Greg Clarke's comments as completely unacceptable, you sensed that this was only going one way.
"I think what has happened is that it has been a build-up of comments today [Tuesday].
"This was not just one throwaway remark, there has been a couple of remarks picked up, that he himself [Clarke] has said are unacceptable.
"You have nowhere to go when he himself has said, 'what I said was not right'.
"He will have seen the criticism, you suspect those within the FA, the FA board, have probably spoken to him.
"I think we should also point out that Greg Clarke at the FA has tried to do a lot for diverse communities.
"He and Martin Glenn [CEO] wore the Rainbow Laces flag inside the Kremlin at the World Cup draw in Russia in 2017, as a show of support for the LGBT community.
"That said, look at what Stonewall have said today - there is no doubt that his words have offended."
Kick It Out: Clarke resignation 'the only possible outcome'
Kick It Out chair Sanjay Bhandari felt Clarke's comments had been "staggering" and welcomed the swift action taken by the FA.
He told Sky Sports News: "We are not just talking about anybody here, we are talking about the leader of our national game on a really major strategic issue for the FA, which is driving greater diversity and inclusion, making everyone feel they belong in the game.
"These were archaic attitudes which were really revealing themselves in comment after comment - a well-briefed chair or CEO would know exactly how to navigate that.
"It is not as if this is the first time, there have been previous incidents - like referring to institutional racism as 'fluff'.
"What it shows is there is an attitude underlying which is really not the right attitude to be leading the English game."
Mings: No shame in admitting we have a very long way to go
Aston Villa defender Tyrone Mings was asked to comment on reports Clarke was set to quit, which were later confirmed by the FA, while speaking at an England news conference.
The defender said: "I will reiterate my point that we do still have a very, very long way to go, and there is no shame in that.
"There is no shame in knowing we can all improve, there is no shame in knowing we all have to have uncomfortable conversations, because whilst it does not affect large proportions of society or the community, it does affect some segments of it.
"Football is such a diverse community that we have to be aware of what is appropriate for one another and we have to be careful and mindful of the terminology which we use.
"I won't comment too much on that, but I am sure there will be other people around the country who are angry as well."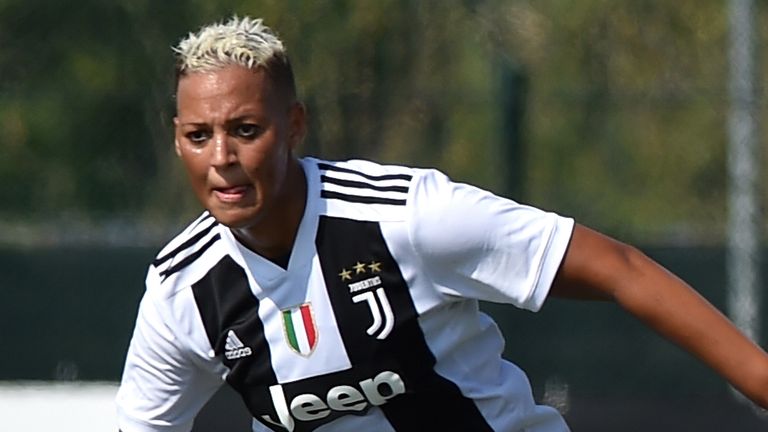 Sanderson: I don't think Clarke realises severity of what he says
Former England international Lianne Sanderson gave evidence to MPs three years ago in support of team-mate Eni Aluko, over alleged racist comments made by former manager Mark Sampson.
Following Clarke's resignation, she told Sky Sports News: "This is a subject that is very close to my heart.
"I often question how these people get into these positions in the first place.
"And then we wonder why racism and homophobia is on the rise, when we have somebody who can say subconscious racism is 'fluff' in the Houses of Parliament [in 2017, when Clarke had been summoned to discuss racial discrimination in football] and think that is acceptable.
"I don't think he realises the severity of what he says."