Ole Gunnar Solskjaer has been sacked as Manchester United manager after an "embarrassing" 4-1 defeat at Watford, with Paris Saint-Germain boss Mauricio Pochettino the club's top target to take over next summer.
United have confirmed Solskjaer's assistant Michael Carrick will be placed in temporary charge, with the club also revealing their intention to appoint an interim manager until the end of the season.
Pochettino is the club's first choice as Solskjaer's permanent replacement, with the former Tottenham manager potentially becoming more attainable by the summer than he is currently. Ajax head coach Erik ten Hag is understood to be United's second choice.
Solskjaer signed a new three-year deal in July but leaves after overseeing five defeats in their last seven Premier League matches - a run which sees them 12 points behind leaders Chelsea.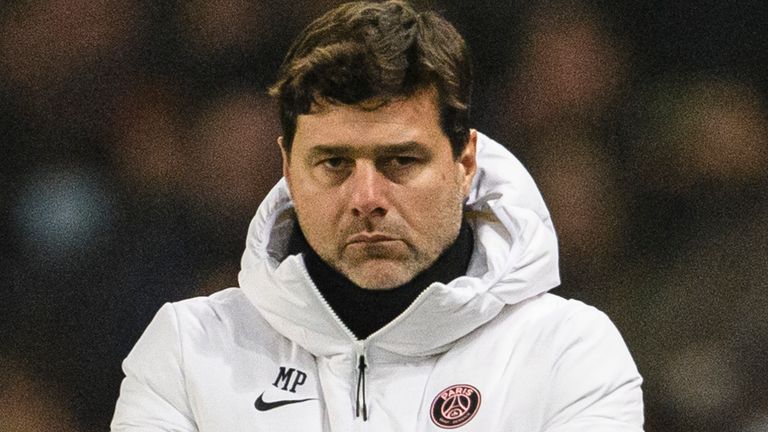 The Old Trafford hierarchy had ignored increasingly vociferous calls to relieve Solskjaer of his duties in the wake of a humiliating 5-0 loss to rivals Liverpool and a 2-0 derby defeat to Manchester City in early November.
But his position was discussed by United officials on Saturday evening following the crushing defeat at Vicarage Road, before the announcement of his dismissal followed on Sunday morning.
Manchester United can confirm that Ole Gunnar Solskjaer has left his role as Manager.

Thank you for everything, Ole ❤️#MUFC

— Manchester United (@ManUtd) November 21, 2021
A club statement said: "Manchester United announces that Ole Gunnar Solskjaer has left his role as manager.
"Ole will always be a legend at Manchester United and it is with regret that we have reached this difficult decision. While the past few weeks have been disappointing, they should not obscure all the work he has done over the past three years to rebuild the foundations for long-term success."
Pochettino was heavily linked with United following his sacking by Spurs in November 2019, but eventually joined PSG in January 2021. His side are currently 12 points clear at the top of Ligue 1 and on course to qualify for the knockout stages of the Champions League.
Pochettino signed an 18-month contract when he joined PSG but there was an option for an extra year which the French club have since activated. He is currently living in a hotel in Paris while his family still lives in north London.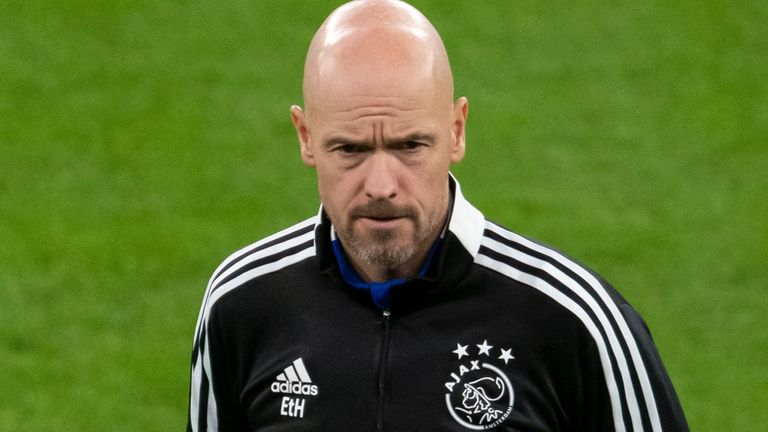 It is understood that Ajax would not entertain the idea of allowing Ten Hag - who is contracted until 2023 - to leave them mid-season, but Sky Sports News has been told the Dutchman would "100 per cent be interested in the job" come the summer.
The United hierarchy believed Solskjaer had earned the chance to turn around his side's slump, but the chastening nature of Saturday's defeat made it clear to them change was needed.
Following a second-placed finish in the Premier League last season and the summer signings of Cristiano Ronaldo, Raphael Varane and Jadon Sancho, United chiefs expected to see further progress this campaign.
The club are satisfied Solskjaer has left them in a far stronger position than when he took over in December 2018, with their recent appointments of Darren Fletcher as technical director and John Murtough as football director considered to be crucial in minimising the disruption of a mid-season managerial change.
United added: "Ole leaves with our sincerest thanks for his tireless efforts as manager and our very best wishes for the future. His place in the club's history will always be secure, not just for his story as a player, but as a great man and a manager who gave us many great moments. He will forever be welcome back at Old Trafford as part of the Manchester United family."
Solskjaer was booed by a number of the United fans in the away end at full time at Watford, although midfielder Bruno Fernandes appeared to try to redirect their frustration towards the players.
Goalkeeper David de Gea labelled the defeat "embarrassing" and "unacceptable".
After the game, Sky Sports pundit Jamie Carragher described Solskjaer's position as "untenable" but described the performance of the club's players as "scandalous".
Ronaldo keen on Enrique as Solskjaer replacement
United forward Ronaldo is understood to be keen for Spain head coach Luis Enrique to take over at Old Trafford.
Enrique, who won the treble with Barcelona in 2015, is expected to be one of several candidates placed under consideration to replace Solskajer.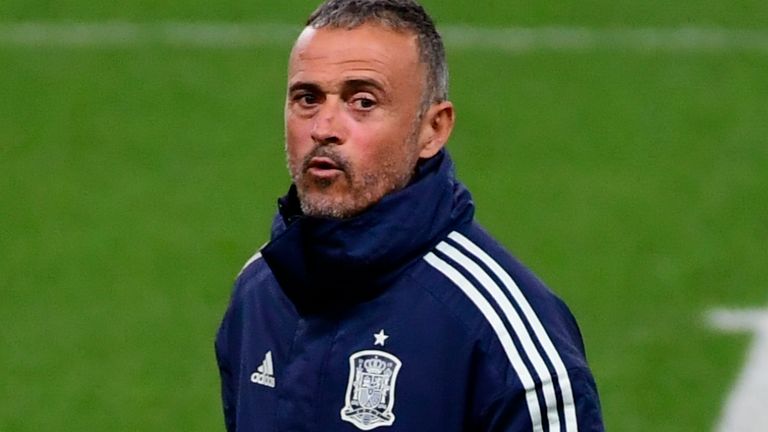 It is thought Enrique would be interested in talking to officials about the vacancy, and he is understood to have the backing of Ronaldo, who thinks he is the right calibre of coach to enable United to compete with Manchester City, Liverpool and Chelsea.
With United looking to appoint an interim boss until the end of the season before finding a permanent manager in the summer, the club's and Enrique's timeframes would need to align.
Spain last week secured qualification for next year's World Cup, and it remains to be seen whether Enrique would leave the role just months before the tournament, which begins in November 2022.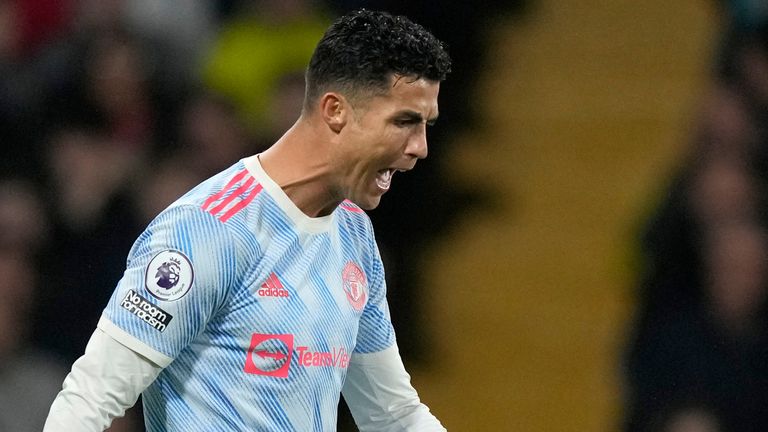 Ole's journey 'at the wheel' ends without a trophy
Former United striker Solskjaer returned to the club initially as caretaker manager after the dismissal of Jose Mourinho in December 2018 and immediately produced an upturn in United's form - including the 3-1 win at Paris Saint-Germain in the Champions League.
'Ole's at the wheel' became a trending topic as Solskjaer was appointed on a permanent basis in March 2019.
He was unable to lead United into the top four of the Premier League that season but did achieve third and second-place finishes in his two full seasons in charge.
However, Solskjaer failed to deliver silverware during his tenure, with the defeat on penalties to Villarreal in last season's Europa League final being their best effort.
Neville: Ole couldn't get a performance out of them
Sky Sports' Gary Neville reflects on Solskjaer's dismissal:
He has always had that result in the past that has pulled him out of the mire when you thought it might get a little bit too tricky for him. But this time the results have just got worse and worse. The worst thing has been the performances.
Yesterday, some of the defending is absolutely woeful, the goalkeeper, the defenders. It is a back four or back five that have played together a number of times and Watford are not the best team in the league by a long stretch. They mauled Manchester United. Ole could not get a performance out of them in the end. The players looked drained of confidence.
I am not surprised today that it has ended.
The worst thing for Ole Gunnar Solskjaer would have been if he had become a bridge for a dark period in the club. Hopefully, it will be a bright future. They need to get the next appointment right. Maybe that will be at the end of the season.
Schmeichel: It's a really sad day for Man Utd
Peter Schmeichel tells Sky Sports he feels "really sorry" for his former clubmate Solskjaer in the wake of his sacking.
It is a very, very sad day. It's the fourth time now [since Sir Alex Ferguson left] that we've had to sack a manager. Clearly something is not going right at the club, so hopefully the fifth time they can get the club better organised and get the right person in.
I just feel really, really sorry for Ole because I actually think he has done a really good job. We only see what happens on the pitch, but what he has had to do is deal with a lot of issues and work with a very big squad that he hasn't picked.
I thought he did fantastically behind the scenes and trying to organise what a club should be. There isn't a lot of time for managers these days and hopefully Ole can bounce back and hopefully he is okay.
I want Manchester United to get back to being a winning club, I don't want a manager that wins one trophy and he's away two years later. I want somebody who is going to compete for the Premier League and Champions League every year and build the club up.
I want someone who is going to be there for the long-term, someone who sees into the future and who is going to work with the academy and are prepared to wait six years for somebody to break into the first team, who has a big enough network to pick the best players and bring that Manchester United DNA back.
I have to say that Ole was on his way to doing that.
How did Solskjaer compare?
The Norwegian departs Manchester United with an inferior win percentage to that of Jose Mourinho, the man he replaced. Here, we take a look at the numbers...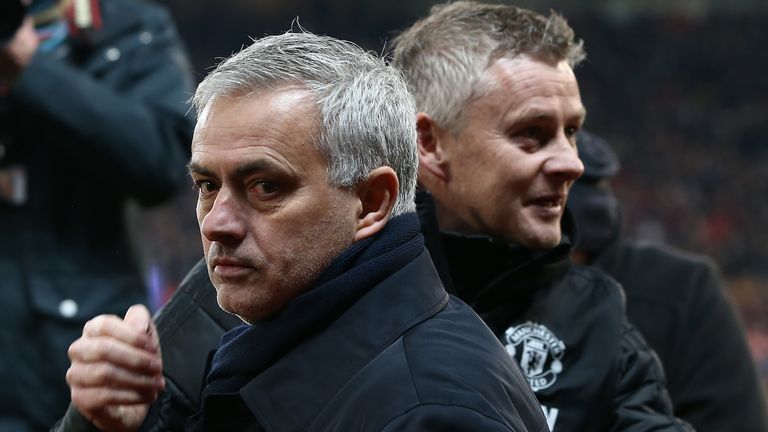 Saturday's defeat to Watford was Solskjaer's 168th game in charge of the club. In total, he won 91 of them, drawing 37 and losing 40.
Of Manchester United's four permanent managers since Sir Alex Ferguson's departure from the club, including David Moyes, Louis van Gaal and Jose Mourinho as well as Solskjaer, the Norwegian's overall win rate of 54 per cent puts him second.
Mourinho's win rate is the highest of the four at 58 per cent, while Moyes and Van Gaal trail on 53 per cent and 52 per cent respectively.
Overall, Solskjaer's record against the traditional big-six - Manchester City, Liverpool, Chelsea, Arsenal and Tottenham - was mixed, with 14 wins, 10 draws and 12 losses.
Indeed, a big-six mini-league of head-to-head meetings since Solskjaer's appointment puts Manchester United 18 points behind City and 23 behind Liverpool.
That, of course, is despite heavy investment in the squad. This summer, Manchester United brought in Cristiano Ronaldo, Jadon Sancho and Raphael Varane at considerable expense.
Their latest round of spending pushed their net spend under Solskjaer to £312m - £33m more than any other Premier League side and £196m more than City and Liverpool's combined.
Manchester United have long been lavish spenders in the transfer market but they have now invested more under Solskjaer (£441m) than they did under Mourinho (£430.8m) or Van Gaal (£309.2m).
Manchester United will now pin their hopes on a new manager to restore their former glories.
November 23: Villarreal (a) - Champions League, kick-off 5.45pm
November 28: Chelsea (a) - Premier League, kick-off 4.30pm, live on Sky Sports
December 2: Arsenal (h) - Premier League, kick-off 8.15pm
December 5: Crystal Palace (h) - Premier League, kick-off 2pm
December 8: Young Boys (h) - Champions League, kick-off 8pm